Professional Grade Full Drawer Service Cart and Tool Storage
Sunex tool carts do not disappoint. With over 40 years in the tool industry, Sunex knows a thing or two about the types of tool storage that professionals want. If you're searching for one of the best tool carts on the market, Sunex is a top notch choice. Here are some of our favorite Sunex cart features:
Unlimited Storage
With multiple drawers and cabinets, there's definitely no shortage of tool storage space here. Drawers are large and spacious, so you'll have room for all of your tools. Each drawer is also lined with Eva foam liners for added protection against scratches, dings, dents, and more. Select Sunex tool carts feature a locking top bin with gas controlled shocks for raising and supporting the lid.
Built To Last
Sunex tool carts are very high quality. Constructed with 18 gauge (1.2 mm) steel, select models to have a load capacity of up to 1000 lb. which should be more than enough for the pros.  Sunex tool carts are available in a variety of colors, and a powder coat finish helps prevent scratches in the paint. Down to the details, these carts are well-built, super heavy duty, and build to last.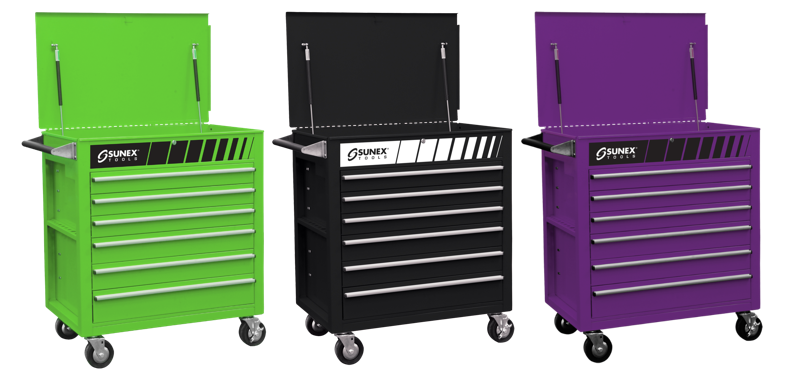 Take It With You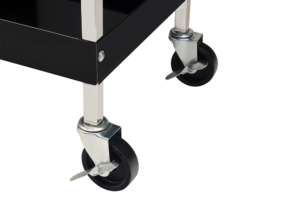 Sunex tool carts also have two extra-large 5 in. x 2 in., locking, free spinning casters that won't budge when locked and allow great maneuverability when unlocked. This tool cart goes where you go; take it with you anywhere! One of the best features: no assembly needed. Sunex tool carts are fully assembled and ready for you to use today!
Easy On The Checkbook
Sunex tool carts are heavy duty but don't have the heavy duty price tag. They range in price from $234-$700 depending on the size and features you need. Quality and functionality without breaking the bank!