Every workshop could use a little more organization, especially ones with more than a dozen batteries and power tools laying around. That's where StealthMounts comes in. The innovative design of their mounts keeps all of your battery storage organized, so you know where they are whenever you need them. They also double as protection for battery terminals when bouncing around in your toolbox.
With the ability to be mounted practically anywhere, including walls, panels in a vehicle, toolboxes, under shelves, or a belt, they provide flexible battery storage for any user. Batteries connect and release from the mount in the same way they do on a tool. Mounts are available in various colors to match your tool's brand or to color code batteries by charged or not charged.
DEWALT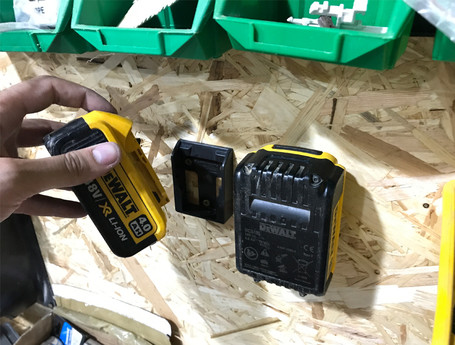 DEWALT features one of the most extensive lines of batteries, with a 20V and 60V FLEXVOLT, and StealthMounts has both voltages covered. They also have a mount for DEWALT's 12V and 36V batteries and their chargers.
Milwaukee
StealthMounts produces mounts that fit both the XC and HD lines of batteries for Milwaukee's M18 tools. They also feature mounts that hold Milwaukee's 12V batteries.
Makita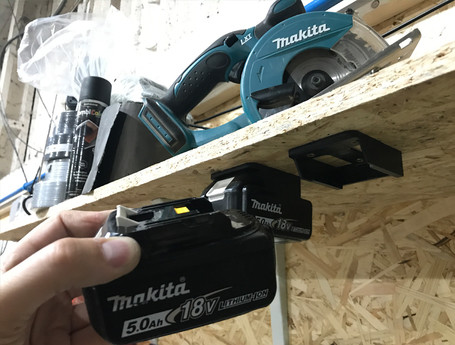 Makita has one of the largest collections of cordless tools on the market, and StealthMounts has options for both their 18V and 12V batteries. They even make mounts for Makita chargers.
Bosch
StealthMounts provide storage and organization for Bosch's tools from rotary hammers to oscillating multi-tools. Mounts are available for Bosch's 12V, 18V and 36V batteries.
Other Brands
Mounts are also available for many other brands via 3D printing, including:
AEG
Black & Decker
Erbauer
Festool
HiKOKI
Hilti
Hitachi
JCB
Metabo
Porter Cable
Ridgid
Ryobi
Stanley Fat Max
Triton
Worx
Get early access to deals, hacks, new products, and more by texting ACME to 41928, and don't forget to follow our blog for more brand highlights!