This month we're tackling a one-of-a-kind project that is easy for both beginners and professionals. Grab that cool piece of wood you've been saving and turn it into a statement clock in just a few simple steps.
Materials Needed:
Piece of wood
Clock insert
Forstner bit
Drill Press
Sandpaper or sander (depending on the size of your wood)
Finish
Building the Wood Clock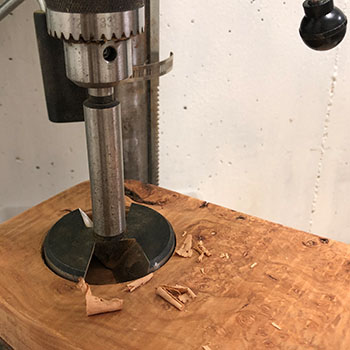 Start with an interesting chunk of wood. Perhaps you found in on a trip, or it's from a local tree that was removed. It could be that you just like the interesting shape or grain pattern. Whatever wood you choose, make sure that it will be at least 1″ thick and has a flat bottom to make a stable base.
Next, get a friction-fit clock insert with a size and style you like and determine the hole size required to mount it. Using a forstner bit, drill a hole about ¾" deep into the wood where you'd like the clock face. Sand, finish, and push in the clock insert. Wham! You have a beautiful one-of-a-kind timepiece.
Follow our blog for more projects and text ACME to 41928 for early access to deals, hacks, new products, and more!