Metabo HPT has unveiled two new additions to their MultiVolt System, an 18V MultiVolt One-Handed Compact Reciprocating Saw (CR18DAQ4) and 18V MultiVolt Jig Saw (CJ18DAQ4). Each cordless saw is part of Metabo HPT's revolutionary system that connects their 18V and 36V tools under one platform. So, you only need one battery to power all your devices, increasing efficiency. These saws bring the power expected from Metabo HPT's products while also offering unparalleled flexibility.
Metabo HPT One-Handed Reciprocating Saw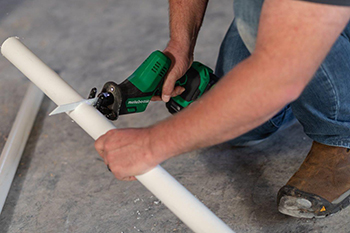 The 18V MultiVolt One-Handed Reciprocating Saw provides unmatched versatility and performance. It can accept reciprocating saw blades, and t-shank jig saw blades, making it one of the most unique saws on the market. That flexibility allows for more detailed cuts, such as cutting arches in plywood or cutting a 1-1/2 inch hole in a cavity that is only 6 inches wide between studs. Being flexible, along with a no-load speed of up to 3,200 strokes per minute and a variable speed trigger, makes it easy to cut through many types of materials from PVC pipe to plywood without heavy vibration. 
The tool body weighs just 2.9 pounds and is very compact at 13.8 inches front to back. The compact size combined with the tool's slim profile allows easy access to cuts in tight spaces where comparable tools won't fit. It accepts both 18V and MultiVolt batteries for up to 8 Amp hours of runtime per charge. The saw features a center-balanced design, making it easy to use with less fatigue throughout the day. This design is helpful if you're switching from an 18V battery to a heavier and more powerful MultiVolt battery.
Metabo HPT Jig Saw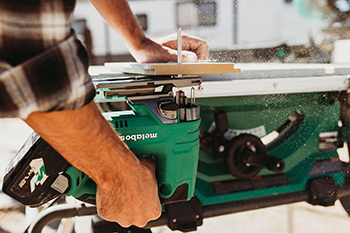 Metabo HPT's other release, the 18V MultiVolt Jig Saw, adds to the flexibility of the two new saws for precision work. Producing 2,500 SPM with a 1-1/32-inch stroke length, this saw gets the cuts faster and more efficiently. The jig saw features four speed settings for flexibility based on the type of material being cut. The saw features three orbital action modes that modify how fast you can cut, making cuts through tough woods easier. The CJ18DAQ4 features a 45-degree adjustable base that makes it easy to make angled cuts—a provided hex wrench for adjusting the base mounts securely to the base plate for easy access.
For any precision work, the jig saw features a straight cut mode that's great for cutting angles and details. An included splinter guard creates smoother edges, which means less time spent sanding your project. The tool's D-handle design, soft vibration-reducing grip, and only weighing 4.2 pounds allow for longer work time with less fatigue. Other features, such as a smooth variable speed trigger, convenient dust blower, and LED light to illuminate the cut path, all add to the convenience of the tool. 
Metabo HPT 18V
Reciprocating Saw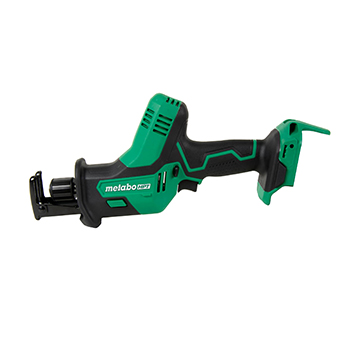 Metabo HPT
18V Jig Saw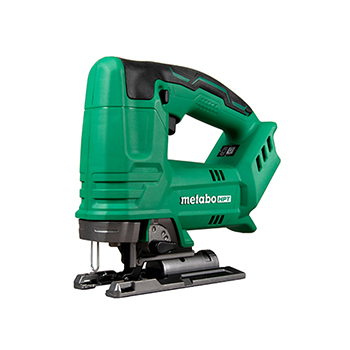 Shop more of Metabo HPT's products in their MultiVolt system at Acme Tools.