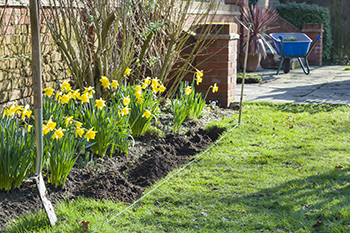 Landscaping is the difference maker that can take a home from good to great. The key is finding cheap landscaping ideas to create that leap forward outside your home. Simple improvements, such as a planter, to larger improvements, like a paved walkway, each add value and livability to your space. Landscaping ideas on a budget should be your focus when making upgrades. You don't have to do everything at once. Start small and work your way up.
Sprucing up your front and backyard can be a pricey affair, though, especially if you hire a professional. There are ways around all the expensive improvements if you're willing to get your hands a little dirty. Building these projects add a sense of accomplishment and ownership while being easy on the pocket at the same time. We have a handful of affordable landscaping ideas to help you upgrade the surrounding areas of your home.
Backyard Landscaping Ideas
The backyard may not be the first thing people see when approaching your home, but that doesn't mean it isn't important. It's the place you probably spend the most time outside of your home so why not make it a space that both you and guests can enjoy. Backyard landscaping ideas can be as simple as building a raised garden bed or adding some lighting to your patio. Any idea is sure to turn your yard into an area you love.
1. Raised Garden Bed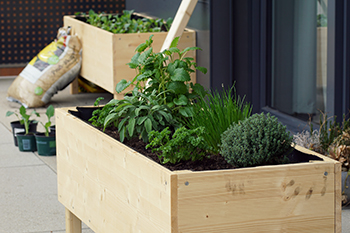 A raised garden bed is the perfect idea for anyone looking to give their garden a more finished look. There are a variety of ways to build your frame, such as old railroad ties, cinder blocks, or good-old-fashioned wood. These materials can be found at your local hardware store or Habitat for Humanity ReStore if you're looking to save on costs. So, you have options to fit any taste you could think of. It's super simple too and can be completed in less than a day. Other materials needed include, soil, landscape fabric, screws, a shovel, a drill, tape measure, and a saw. All of which can be found at a local garden center and Acme Tools.
2. Stone or Paver Walkway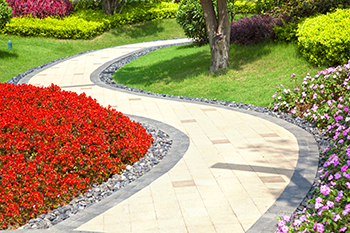 After building your raised garden bed, a walkway is a great addition to give your space more flair. A path makes your entire backyard look more refined and can direct visitors from one part of the yard to another. You can really save on costs by using reclaimed wood planks as a walkway. They're easy to install by just digging out a shallow path and can easily be changed out if a plank rots. If you want something a little more high-end try pavers or stone. Most pavers and stones can be purchased for $1 to $10 apiece depending on size at a paver store. For added refinement put mulch or pea gravel between the pavers.
3. String Lights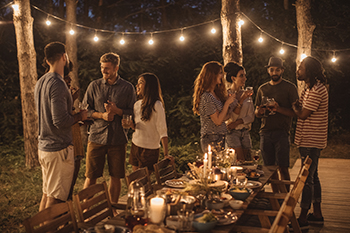 String lights are one of the cheapest landscaping ideas possible. They give your home that country feel and brighten a space during the evening hours. String lights are perfect for hosting late night dinner parties and will keep the festivities going throughout the evening. They're very easy to hang as you can install them virtually anywhere with a staple gun or on nails. String lights can be as cheap or expensive as you like depending on how fancy you want to get. Generally, they cost anywhere between $10 to $40, but can even be found at a local dollar store or outlet store, such as TJ Maxx or Big Lots for under $10.
4. Handmade Fire Pit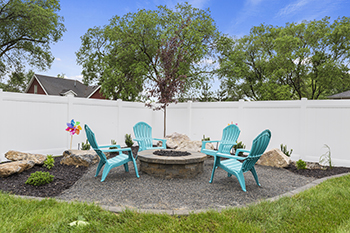 Everyone loves a good fire on a chilly evening but your fire pit doesn't have to be an eyesore in your back yard. There are portable options, but a stationary fire pit gives your yard a classy look and can be made relatively cheap by yourself. An outdoor fire pit can be built in a variety of ways. An example is using landscaping blocks, which are a little more expensive but creates a very nice look. Using a caulk gun and construction adhesive to bond the bricks together the project can be built in a few hours. If you're looking for something cheaper while also creating an inviting space you can build a dirt floor fire ring using natural stones from around your area. The best part is this option is completely free.
Front Yard Landscaping Ideas
Your front yard is arguably the most vital part of your home. It is the first and last thing guests see when visiting. Also, if selling a house, it's the number one area buyers focus on when either searching for your home or walking through it. So, the front yard is definitely the place to take the most care and keep it looking as great as possible. Although, you don't have to break the bank keeping your yard looking classy. There are plenty of front yard landscaping ideas that can be made affordably.
5. Lighting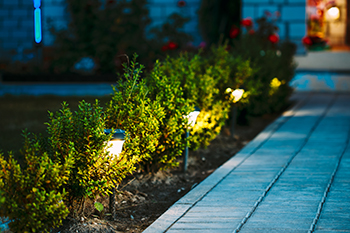 Lighting your front walkway is a super affordable way to add class to your home. It also helps make it safer to walk to your front door with an added sense of security. Small walkway lamps that are inserted in the ground are an excellent solution. A lamp post in your front yard is another option. A post can be built relatively cheap and in a decorative fashion by cutting wood posts with a smaller lamp on top. Walkway lamps usually come packaged in a bundle of 4 to 10 and can cost between $20 to $60 at your local bulk retailer like Sam's Club or Costco. For a cheaper option check any local home goods store.
6. Plant a Tree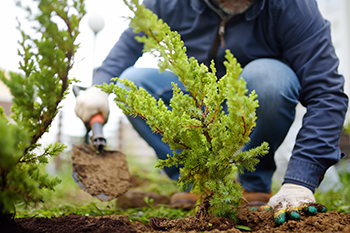 Planting a tree is an excellent way to create a focal point in your front yard while saving on energy costs at the same time. You can plant a sapling easily by yourself using a spade shovel. Create a small rock garden around it using decorative edging to create a refined and finished look. Once the tree gets larger it can provide shade over your home to save on air conditioning costs in the summer. Also, with a larger tree you can put a rocking bench beneath it to give your home a farm look. A young tree can be purchased at your local garden center for less than $5.
7. Mailbox Revitalization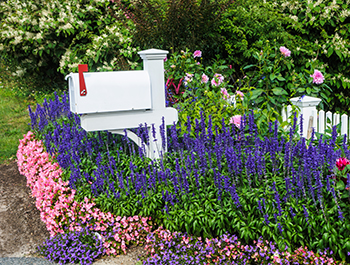 Your mailbox is probably rather plain and looks like the majority of others on your street. Why not spruce it up a bit and maybe you'll become the talk of your neighborhood. Plus, it makes it easier identifying which house is yours, especially if many houses on your block look similar. There are a couple routes you can take. You could install edging using pavers around the mailbox and fill it in with either rock or mulch that would match the colors of your home. This can be done affordably with just a shovel, sand, and torpedo level. Flowers are another excellent option to put around your box. Perennials are great because they regrow each spring, making it easier to upkeep the area around your mailbox.
8. Perennials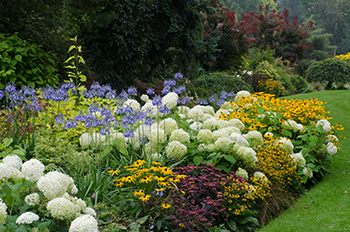 Speaking of perennials, they can be used in more places than just your mailbox. They look great in planters, around trees, or along the front of your home, and they can be placed in both the front and back yard. Planting them is very easy and cheap since all you need is a shovel to dig their new home. Perennials are more expensive than annual flowers. Although, they'll save you money in the long run by cutting down on yearly gardening and purchasing new flowers. Perennials can also be used as natural ground cover, therefore reducing the number of weeds in your yard that need to be picked each year. Perennials can be found at your local nursery for $10-$30 per plant.
Landscape Edging Ideas
Edging is something that seems small but can make a world of difference for your garden. It's the added touch that gives your space a more polished feel. Edging can either be used to accent a walkway or to outline a garden or rock bed. It assists in keeping mulch, rock, or dirt in place so your yard always looks cleaner. The key is finding landscaping edging ideas that accent your home's style and color. It's time-consuming, hard work but in the end, it's totally worth all that effort. Plus, it will boost your curb appeal and increase your home's value.
9. Plastic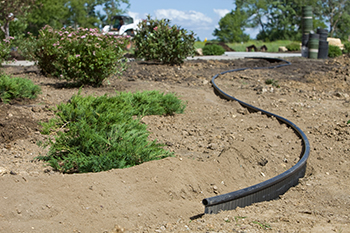 Plastic is the most affordable option for outfitting your yard with edging. It does, like all choices, have it's pros and cons. It's long lasting so you won't have to worry about replacing it every year. Considering the cheap cost of plastic it's affordable to replace if a section should become damaged. The drawback of plastic is it isn't the most glamorous choice available. It comes in short individual sections or as long rolls, both which require you to dig a trench the edging sits in.
10. Timber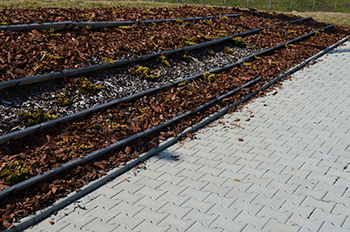 Timber can be very cost effective, especially if you can find some at your area Habitat for Humanity ReStore. It's great for those that have no issue working with power tools because you'll need to cut the sections yourself. Timber is also great because it's usually pressure-treated preventing any rot so they'll last for a long time once installed. It's relatively easy to install only requiring the ground to be leveled and the boards to be cut to fit. If you're looking for something flexible though timber may not be the option for you since it can't be used to create any curved designs.
11. Pavers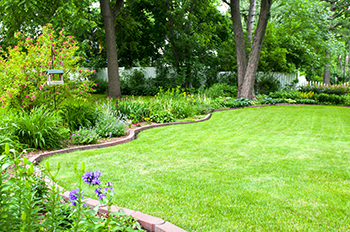 Pavers are arguably the most attractive edging option and some of the most flexible. Paving stones are available in many different styles and sizes to fit almost any home color. The biggest draw is they're usually made of concrete so they'll last a very long time and because they come in individual pieces they're easily replaced if one should break. Pavers can also be used to make paths alongside edging. The biggest caveat is installing them is a long and hard process. Also, they're one of the pricier edging options available at a paver store or garden center.
12. Natural Rock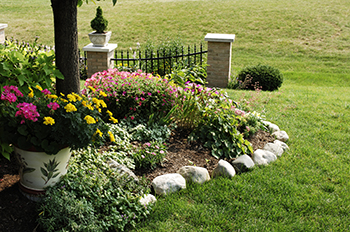 Natural rock is another flexible option considering it comes in a wide array of sizes, colors, and shapes. They're great for blending your edging into the surroundings, creating a more outdoor feel for your space. You'll want stones about the size of a cantaloupe or larger to have more impact on your yard. Rock is great because they'll last basically forever if you want them to. Although, it is time-consuming getting them to naturally fit together in a visually appealing way. You can purchase the rock at your area nursery or garden center or find some rocks in a local quarry or woods.