Is your garage piling up with tools, materials, and other things, that you can't find anything? Maybe it's time to get organized.
You want to clean and organize your garage this year, but you know standard bins and labels won't do. There are plenty of ways you can go about organizing your garage: overhead storage, drawers, shelves, cabinets, and rolling boxes. But no matter what you go with, the overall goal needs to make your space neater to walk through and make you more efficient.
You need to know where everything is, everything needs to have a place, and it needs to look neat so that you can work or at least park your car. We will talk about a few ideas, systems, and storage devices that you can use to get your garage to its maximum potential.
What Do You Need?
This one is self-explanatory but is crucial for the next steps. Take a second and look at your garage, the stuff you have, and what you want to do in that space. Once done, you can go into a purge of things you don't need by separating them into a trash pile or a keep pile.
Now that you know what you want to keep, you can then use that information to decide what you want or need in your garage. Is there an assortment of tools laying around? Maybe you need a toolbox. Screws, nails, and other fasteners everywhere? Perhaps a little organizer to sort them would be required. Lots of wood used in your shop? Maybe a bin to hold your scrap wood would help minimize the clutter. But if you don't know where to begin, here are a few options for you to browse.
Garage Storage Ideas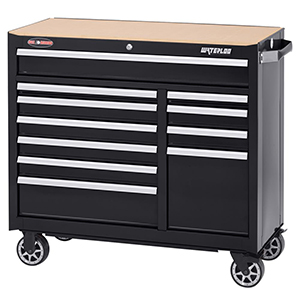 A rolling toolbox is for the person who has a lot of tools and works in their garage a lot. Having the mobility of a rolling toolbox means you can rearrange your space to fit the job. Not to mention that with portability, you can have your tools right next to you. Perfect for an item you can't move, but you still need to swap between different tools.
For the person who likes things set where they are, you have the stationary workbenches. Have a set place where you can work, store your tools, and not wonder where you placed them last. You could even make an island workstation and stack other tools on top or secure a few together and make a more massive workbench. Customize your workspace to space to get the best work out of you by having easy access to all supplies you'll need.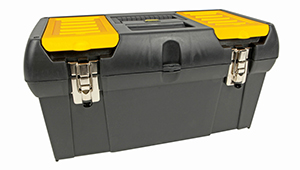 For the handy person in the house, you might only have a few tools, but you need to keep them organized and localized in one place. Having a tool box will do that while allowing you to store other accessories in the box as well. Get a compartment to store nails, screws, and other fasteners, as well as separate your tools. A toolbox is crucial as well if you have children in your home. Keeping them locked away and out of reach will decrease the chance of them getting their hands on the sharp objects.
Now for the trades professional, the weekend warrior, or the DIYer, there are also versions for you where you can store your tools into hard cases and can take them on the road with you if you have the need. With the Milwaukee PACKOUT system, you can easily stack boxes on top of each other for easy storage and quick transportation. You also have DEWALT TSTAK and ToughSystem 2.0 for modular organization and storage.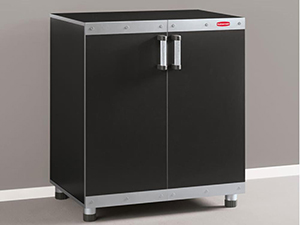 Finally, to help round out your garage, add some cabinet space and some bins if you are always in their working. Cabinets, standing or connected to the wall, will add storage for other things like paint, seasonal tools, or other accessories that you don't often need or don't need right now. Depending on your space, budget, and how you work, you can get cabinets in either metal, plastic, or even wood.
Use bins for miscellaneous items that don't need to be sorted out or for garbage. That way, you keep your shop clean and tidy.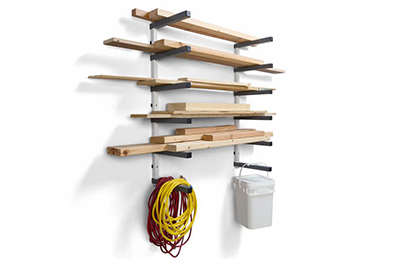 Wall-mounted storage allows you to take advantage of all the vertical space in your garage. There are several options for wall-mounted storage, such as track systems, pegboard, and panel systems. Going vertical is an excellent option to keep items off the floor. Milwaukee offers an entire wall-mounted storage system that features many storage solutions for cordless tools, batteries, and more that is part of their PACKOUT line. You'll notice the simple movement of items off the floor will make your space appear less cluttered even though the same amount of items is still in the garage.
Pegboard is the easiest to use and one of the cheapest options. It's easily customizable and works great above a workbench to hold several hand tools, such as wrenches, hammers, and pliers. A track system is the best option for holding heavier items. The system attaches directly to wall studs and can be used in conjunction with shelves or hooks, which can be adjusted to many levels to handle different shaped objects. A panel system is a mix between a pegboard and track system where it has slots that can hold hooks, shelves, or cabinets to maximize every inch of space on a wall.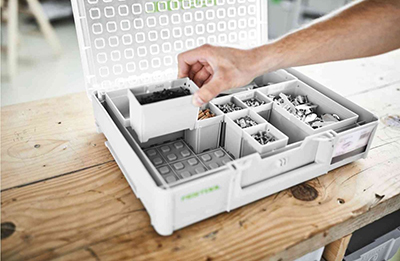 In a garage, hardware is one of the biggest headaches you'll deal with. You'll find screws, bolts, nuts, and more rolling around in every corner of your tool box, floor, workbench, and so on. Keep all those little pieces inside a storage organizer. Many storage organizers are split into sections, so you can keep specific-sized screws and such in their own bin so they can be easily identified when you need them. Festool has an entire line of storage solutions with customizable inserts to handle everything from screws and bolts to cordless tools.
Overhead storage is often an overlooked area of the garage. By hanging items from the ceiling, you can utilize as much space in your garage as possible. Good items to hang from the ceiling include bikes, kayaks, surfboards, and other large sports equipment. There are many ways to accomplish this, whether you go with hooks that screw into ceiling trusses or an entire shelf system. Regardless, keep items up high that you don't need constant access to, for example, seasonal items.
Random Tips & Tricks
Label bins so the contents can easily be identified without pulling them down.
Use opaque bins so you can't see the contents. If you use clear bins, it'll still make your space appear cluttered.
Organize items into zones of similar items, which will make it easier to find things.
Place frequently used items lower to the ground and seasonal items higher up.
Use cube organizers to keep shoes looking neat and tidy.
Final Thoughts
Now, there are plenty of other storage devices I could have gone over, but I do not want this blog post to be too long. When it comes to your garage, only you know what you're going to need. Garage storage can help optimize your space so you can work faster, find what you're looking for, and make it easy to clean afterward. Using toolboxes will stop the clutter of tools, workstations with drawers make switching from tool to tool easier, and a cabinet or two will keep all the items you rarely use out of your way until you need them.
Cleaning out your space may not be what you need but having it neat is something that is necessary. You can't get work done if you're area is cluttered, and you can't park your car if there are tools and scrap everywhere on the floor. Keep your garage sorted with some simple garage tool storage. Then be amazed at how you can Do Your Best Work with these improved conditions.
---
Did you find this article useful? Let us know in the comment section down below what other tricks you use to keep your garage organized. Don't forget to keep checking our blog for more of the latest tool news and other posts like this. Also, check out our website for great deals on tools and to buy all your storage needs in one spot.