Learn about the newest system from Little Giant Safety, the King Kombo Pro Combo Ladder. Find out how this little thing can help you in multiple ways on the job site.
You need to be able to be flexible and adapt to the project as it changes. That means when the job gets you off the ground and in tight spaces you need to do them. The newest ladder from Little Giant Safety, King Kombo Pro Combo Ladder allows for that need. Coming in various sizes with additional features you can get to work no matter where or how high.
What's Different?
The King Kombo Pro Combo Ladder is the first and only 3-in-1 extension ladder, leaning ladder, and step ladder combination on the market. Switch between variations to fit the job you have no matter how high or what is in your way. Convert it from standing to leaning when you hit a wall, then convert it to an extension ladder when you need to get even higher.
It will quickly replace the traditional ladders with its light-weight, high-strength, and non-conductive fiberglass design. With portability and adaptability in mind, the professionals who need to continually transport a ladder from a few feet to up a different level will appreciate this new design. When fully assembled the weight is either 24 or 32 lbs. But don't let the light-weight confuse you its fiberglass material makes it durable to handle the most rigorous of job sites.
But with all durability and lightweight what's the downside? None. All the ladders measure out to only 24 inches in width reducing weight even more. The King Kombo is slim enough to fit between studs and will allow you to work overhead into beams no problem. Not to mention anywhere else you need to get to that would be difficult for other step stools and ladders.
Security with Padding
Little Giant Safety designed padding on every King Kombo that will reduce marks on any wall while adding protection with a firm grip. When set-up as a leaning ladder you have padding that allows for better grip on a wall. But if your work were to lead you into a corner, you can flip the pad out and can work either inside of it or around one. The padding also has a divot in it when facing out that allows for working on studs. It will securely fit standard studs between the divot that way the bonus of the ladder fitting between two studs doesn't take away that it can be used to work on them.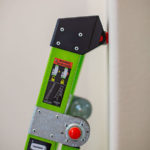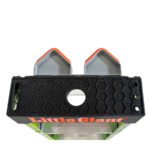 What're the Specs?
These ladders tackle a multitude of jobs, so they come in varying heights. You have the 13580 model with a height of 5′ to 8′, the 13610 model with a height of 6' to 10', and the 13814 model with a height of 8' to 14'. This range of height will cover most tasks on a site with ease and will reduce the number ladders needed.
To also reduce potential accidents the color of the ladders are a Hi-Viz green. This choice of color makes them more noticeable from anywhere on the jobsite during any part of the day. This way workers can avoid walking or driving over it by accident. But its fiberglass material makes it durable with a duty rating of over 300 lbs. 375 lbs to be exact.
Image
Part Number
Ladder height(s)
Weight Rating
Ladders Weight
13580-001
Standing/ Leaning: 5ft

Extended: 8 ft.

375 lbs.
23 lbs.
13610-001
Standing/ Leaning: 6ft

Extended: 10 ft

375 lbs.
23 lbs.
13814-001
Standing/ Leaning: 8ft

Extended: 10 ft

375 lbs.
32 lbs.
Who Can Use Them?
Anyone can use these ladders if your job requires that you be in anywhere higher than the ground your standing on. For the electrician who needs to get to the ceiling to feed in wires. The trades professional who has to add insulation to the building before installing the walls. To the construction team who has to set up the frame of a house and makes sure it's stable. If your job ever requires you to use a ladder, this King Kombo 3-in-1 ladder will change your jobsite and possibly make itself the only ladder you'll need.
Final Thoughts
Made to eliminate an issue where you need multiple ladders to finish a job. King Kombo's Pro Combo Fiberglass Ladder will reduce the amount you will need to fit a specific task. From having five or six to maybe one or two of these to meet the majority of the projects. Reduce the risk of injury with this bright and light-weight device. With a simple push of a button adjust it to fit the situation you need. While not worrying about losing grip or footing. Whether on a stud, a corner, or along a wall stay assured that you will be safe while working.
---
Would you like a King Kombo Pro Combo Ladder on your job site? If you did how many ladders do you think this will replace? You can pre-order this item now at Acme Tools online store. Expected shipping date for the 13580 and the 13814 by April 15th and the 13610 by March 1st.
If you liked this article and would like to see more like this, along with DIY builds, buyers guide, and seasonal tool help, follow our blog. Always stay up to date with the latest news from your favorite brands and find out about some great tips for your home or shop. That way you can Always Do Your Best Work.