Your garage may seem like a really big space. But that large space fills up quickly after a car or two, bikes, rolling tool boxes, workbenches, outdoor power equipment, and more. An easy solution is taking advantage of all the space above your head with some overhead garage storage.
Your ceiling is too often forgotten as a part of your garage that can keep any clutter out of the way and works great for items you don't need constant access to. There are several different ideas that are relatively easy to install to utilize ceiling space. Our guide will briefly discuss a handful of options to assist with additional garage storage.
Choosing the Right System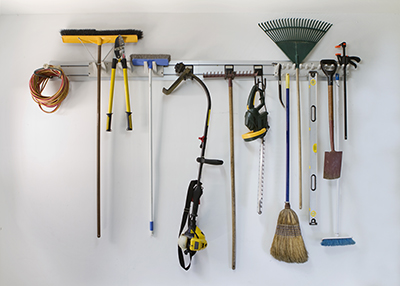 Before beginning any project, you need to assess a handful of things. How much space do you have and how much will you need are the two main concerns on top of accessibility and capacity.
Size and Shape
Figure out what you plan to put in any overhead storage system and measure out the space needed to accommodate all your items to ensure they will fit in your garage. Also, decide how you want to layout any storage and compare that with different options to create the perfect plan to fit your space.
Accessibility
The entire point of an overhead storage system is to keep items out of the way, which usually means you won't have easy access to them. You'll usually need a ladder to reach the shelves, so be sure you're storing items in your system that are seasonal and won't need to reach year-round. For easier access, you can install a motorized system that can be easily lowered to access stored items.
Storage Capacity
There are many different storage systems out there, and they can each hold a specific weight limit. Some are built for lighter loads, while others can carry hundreds of pounds. At the same time, check the weight capacity of your garage ceiling to ensure it can handle the weight of the system you want to install.
Overhead Garage Storage Systems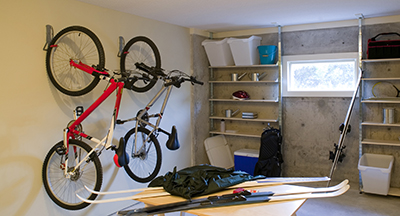 Once you have a general idea of space available and weight capacities, you can look at different overhead storage ideas that best fit your needs. Different options are available to fit any price range, so you don't necessarily have to break your wallet if you don't want to.
Netting is one of the least expensive types of overhead garage storage options that is full of potential depending on the types of items being stored. The biggest draw is the amount of coverage a cargo net can provide, giving you a lot of bang for your buck. There are several sizes with options available up to almost a hundred feet long. They work great for storing light items, such as odd-shaped sporting goods or seasonal decorations and apparel. One drawback to cargo netting is it isn't capable of holding large amounts of weight.
Hooks are simple but very efficient. They're one of the cheapest options out there and the easiest to install. By screwing them into rafters or ceiling beams, they offer a high weight capacity. Hooks are very niche, though, and aren't capable of holding a wide variety of garage items. Their primary function is keeping bikes out of the way during the off-season or holding ladders, chairs, and gear bags.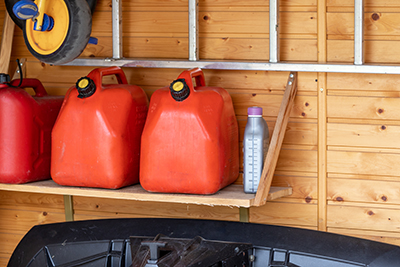 Racks are probably the most popular idea in garages and offer the most size and capacity options. Attached directly to ceiling joists, these racks maximize the use of vertical space. The shelves make it easy to store the majority of items on them without having to worry about storing too much weight. Most shelf storage racks feature adjustable heights, so you can have multiple options for storing different items. You can purchase racks that just need to be assembled, or you can go the DIY route and build a shelf system out of wood.
Pulley System
A pulley system is one of the oldest tools in the book, but there is a reason they're still used today, they work well. They're a great option for keeping items stored high with minimal effort, and they don't require you to pull out a ladder every time you want to access stored items. A pulley storage system is a great solution for storing heavier items, such as bikes, kayaks, or extension ladders.
Motorized Hoist
A motorized hoist is the Rolls Royce equivalent of a pulley system providing the easiest way to access your items with minimal effort. That convenience comes with a price, though, as it is the most expensive option around. A hoist is preferable to the pulley system because they have racks, making them optimal for holding storage bins, boxes, and bags. The system raises and lowers the shelf via electronics, making it both safer and more efficient. Some hoists can even be operated via an app on your phone.
Overhead storage is just one of many areas for garage storage. Check out our overall guide to maximizing all the space in your garage.