Metabo HPT is releasing a new corded rotary hammer, the 36V MultiVolt SDS Plus 1-1/8″ Rotary Hammer, which comes in a kit (DH36DPA), or as a bare tool (DH36DPAQ4). This top-notch rotary hammer offers the ultimate performance with the convenience and versatility of a cordless rotary hammer.
The 36V MultiVolt SDS Plus 1-1/8″ Rotary Hammer accepts all MultiVolt batteries for on the go and accepts the 36V AC adaptor to plug and work, allowing for all-day runtime. If it's ever overwhelmed, it's equipped with Reactive Force Control (RFC) that will sense any tool overload and stop the motor before the tool jerks, keeping the user safe and protecting the tool motor and battery to ensure long-lasting usage. It also has a low vibration handle with a soft grip that will absorb high vibration for user comfortability.
36V Rotary Hammer Features
This new rotary hammer is stocked with many great features. It has a quick-release bit system, which allows one-push bit mounting, making bit replacement quick and easy. It has a three-mode selector that allows you to change from hammer drilling, chipping, and drilling. There is a high impact energy of 2.2 ft-lbs and 1,100 RPM/4,300 BPM for high drilling speeds and great demolition performance. The grip and drill bit head are on the same line of action, giving it an ergonomic design that makes applying force to the drill easier. Its brushless motor extends the product's life cycle, ensuring more runtime, increased power, extended durability with little to no maintenance. It is also equipped with a built-in LED to provide light for dark workspaces.
The drill is covered by Metabo HPT's 1-Year tool body warranty and a 2-year Lithium Ion battery warranty. Pre-order the 36V MultiVolt SDS Plus 1-1/8″ Rotary Hammer online now at Acme Tools.
Metabo HPT 36V MultiVolt SDS Plus 1-1/8" Rotary Hammer Kit (DH36DPA)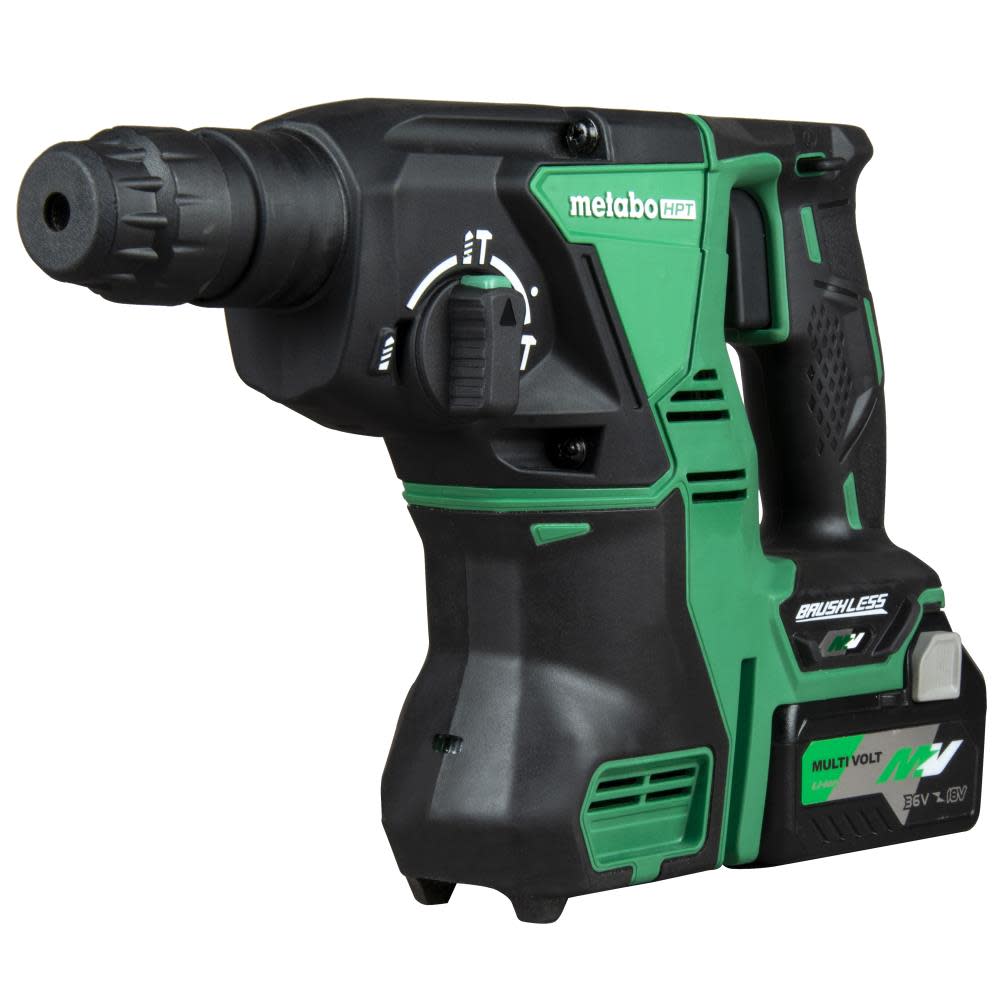 Metabo HPT 36V MultiVolt SDS Plus 1-1/8" Rotary Hammer Bare Tool (DH36DPAQ4M)