For a beautifully elegant finish on wood or metals, you'll need to sand your project. Now, sanding can be a long and drawn out process if you had to do it by hand. Thankfully with technology, you can use power sanders to not only save your arm on elbow grease but save yourself on time. With that said, not all sanders are made equal. There are many types of sanders on the market and picking the best one for the task is crucial. That's why Acme Tools has decided to help the newcomer who doesn't know where to begin. This guide is also helpful to the professional who wants to upgrade or expand his workshop.
We will be going over each specific types price, what power it runs on, the cost, size, and a link to an overall analysis of the machines. That way if you are unfamiliar on a few things, or just need a quick refresher, you can skim through and get the information you need.
Types of Sanders
Belt Sanders
This specific type of sander is perfect for removing large amounts of material or removing old paint. You will use this as a starting point if you are varnishing or updating some old furniture. This tool comes either as a handheld option or benchtop mounted for the user's preference. Handheld gives you flexibility and access into tight corners and crevices, while the benchtop gives you more control over the material. Belt sanders are an ideal tool for any person working with wood or metal; from the DIYer, the trades professional, or even a contractor. Anyone who uses this tool daily can find it has many uses such as flattening table tops and scribing countertops.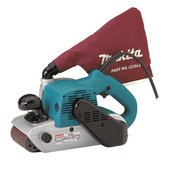 Pros: Fast Stock Removal | Linear sanding movement
Cons: Does not create smooth finish | Can remove too much too fast if not paying attention
Disc Sanders w/Belt
Disc sanders are for larger jobs and shaping materials like wood, plastic, and even metal. This type of machine comes stationary or as a benchtop device that will sit on most work tables. The reason you will find this usually attached to a belt sander is that these two machines are for the beginning steps of any project. Either you are removing material or shaping the piece to either a rough or final layout. With that said this machine is rather expensive since you are paying for two sanders in one frame. This sander is great for wood or metalworking, and any fabrication that deals with plastics or soft metals. This particular device would be perfect for the well-seasoned DIYer and the trades' professional, who would use this machine as a way to make their living or has money to spare.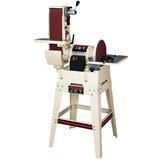 Pros: Shapes, sands, and smooth flat and curved shaped surfaces | Combines both belt and disc sanders
Cons: Large and awkward size | Can be expensive
Drum Sander
A drum sander is a finishing tool and should NOT be confused with a planer. The difference between these two machines is that planers cut and a drum sands. While it may be tempting to use a sanding drum to adjust thickness, it would not be recommended. You face the issues of burnt sandpaper, heat buildup, and ruining your piece of wood. You would use this in conjunction with your planer removing milling marks and giving it a nice smooth look. This type of sander is not meant for the casual DIYer but more the professional who has an eye for detail and wants their work pristine.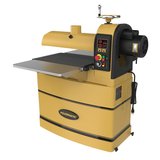 Pros: Quickly removes large amounts of stock | Helps maintain perfectly square edges
Cons: Heavy, not easily portable | Dust collection is a must
Edge Sander
Versatility is what you get with this machine as it allows you to not only edge, but also face, bevel, and contour your pieces. These are stationary machines that take up a lot of space in a workshop and are quite heavy. So, once you set down the sander, you better be happy with where it is, and if it makes your workspace flow better. With this particular model, you can make perfectly flat edges as well as shape, sand, and smoothen, flat or curved edges. A professional grade grinder like this would be in a public workshop or someone who does metal working or woodworking for a living.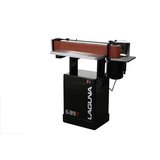 Pros: Creates and maintains perfectly flat edges | Shape, sand, and smooth flat and curved shaped surfaces
Cons: Heavy, not easily portable | Expensive
Finishing Sander
The original sanding machine, the Finishing Sander or Palm Sander still holds purpose today for those who know of it and know how to use it, correctly. The way this sander works is that it spins and turns, never going the same way twice, to produce little to no scratching across the grain of the wood. Necessary when you are creating a finish to a project. Designed to get into corners or hard to reach spaces where a circular sander or the band sanders can't reach. You could also use this tool to remove any old veneers or putty from workpieces. A great device to add to any beginners workshop and has use no matter if you are a seasoned pro or contractor. When you need a fine, smooth, and quality finish, you'll be glad to have this sander.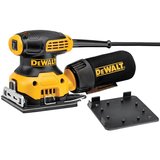 Pros: Can get to hard to reach places | Less likely to leave cross grain marks
Cons: Removes fine amount of wood rather than large amounts of stock | Sandpaper installation is harder than random orbit sanders
Random Orbit Sander
A simple handheld tool that makes the usual sanding process easier compared to hand sanding. Similar to a finishing sander this device works in the same way, but the difference is the kinds of pads it uses. While a finish sander uses a square or rectangle sheet that gets into tight corners, a random orbit sander has circular pads that attach to the machine by velcro. Another change is while they both vibrate in tiny circles, the random orbit sanders spins in circles as well, eliminating swirls from the workpiece. You would use this as one of the final steps before finishing a project and usually sanding the wood, or any material down to a smooth surface before adding any paint, veneer, or stain. An overall must have tool when woodworking and is appropriate for all skill levels.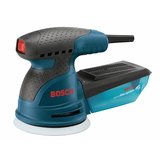 Pros: Quickly removes a large amount of stock | Versatile
Cons: Can't get to corners | Can remove too much if not careful
Spindle Sander
Adding arcs, curves, or even holes to your pieces, you want them to be uniform and smooth. This particular machine excels in giving not only smooth edges but grinding close to your design. Get the accuracy thanks to its oscillating and rotating motions, saving you on time and sandpaper roll replacements, and preventing burn and marks on pieces. This sander or the Oscillating Spindle Sander come in either a benchtop or stationary size, allowing for stability in your grinding. Sanding Grits can easily be changed by using a different sanding sleeve. Along with its built-in flat surface where you lay your work, having this on a stable surface allows for detail and intricacy. A device like this has a project in mind and not needed in every shop. But, if you are looking to grow your skills and have some extra money lying around, a spindle sander is an excellent addition.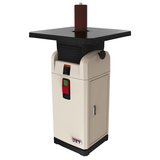 Pros: Can sand both wood and metal | Can make unique edges, curves, and angles
Cons: Not suitable for large projects | Not very versatile
---
Conclusion
Sanding is not a fun job to do, but it is something that needs to be done to get the best out of your work. With the information on the different types of sanders pick the best one for you, and your skill level. If you are not sure about a particular sander or which one to use for a specific job, leave a comment down below. We also have other buying guides on our blog that cover from seasonal tools to items any handy person would want in their home. Let us know if more posts like this are what you're looking for and what kind of content you would like to see from Acme Tools. We are here to help so you can always Do Your Best Work.