The newest member of the M18 family
Milwaukee was very excited to let us in on some new info about their newest M18 product: the M18 Random Orbit Sander!  This tool has some really cool features, so let's not waste any time and dive right into some of them.
Ditch the cords, keep the power
This tool has the capability of delivering true corded power, by reaching a maximum of 12,000 Orbits Per Minute (OPM).  That means no more having to drape an extension cord over all your work while you're on the other side of the shop from the outlet.
This power also comes without having to sacrifice control over your sander, with many features that users expect from their corded models.  Sanding speed can be adjusted for maximum control and a smooth finish, with variable control between 7,000-12,000 OPM.  The orbit stays nice and tight at 3/32", leaving fewer marks on your workpiece.  The power and speed of the M18 Random Orbit Sander still means more material removed in less time, letting you get to the next part of your project sooner and with more energy left.  The M18 Random Orbit Sander has a height of only 6" meaning you have plenty of space to grip it, and it weighs 4.3 pounds with the 3.0Ah battery attached.
It uses a standard 5" hook and loop abrasive paper for efficient pad changes when you need a different level of grit. Don't worry about all the dust you will be making either: the M18 Random Orbit Sander has a durable dust containment system, and the integrated filter brings its A-game for efficient dust filtration.  If you still need even more dust collecting power than this tool has to offer, it also features a universal hose adaptor that connects to most commonly available vacuum sizes.
What about my other power tools?
The M18 Random Orbit Sander uses the Milwaukee M18 battery line, meaning you can get through your entire day of work with only a single battery system for all of your tools.  Milwaukee is committed to improving productivity by providing performance-driven tools, and they now provide more than 150 power tools in the M18 lineup.
What will I be getting with it?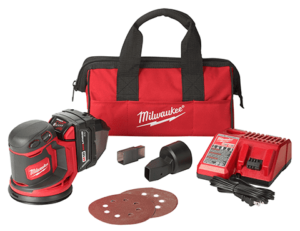 Milwaukee will have this available either as a kit (2648-21) or as a bare tool (2648-20).  The kit includes the M18 Random Orbit Sander, (2) sheets of 80 grit sandpaper, Universal Hose Adapter, (1) M18 REDLITHIUM 3.0ah Battery, M18/M12 Multi-Voltage Charger, and a Contractor Bag to carry everything.  It will be available in April of 2018 so keep watching Acmetools.com for your chance to pre-order one.