The French cleat is a tried-and-true method of hanging a cabinet securely on a wall. Now, here's how you can use this technique to build a highly customizable storage system for your garage. Not only is it simple to build, but once up on the wall, this system is flexible enough to be quickly rearranged on the fly to accommodate your ever-changing storage needs.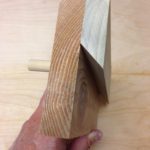 The foundation for this system is a series of wood strips, each with a 45-degree angle cut on the top edge. The strips are mounted to the wall so that storage pieces with mating 45-degree cuts will hang from them.
Step 1: Cut and hang the French Cleat strips.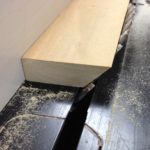 Determine the number and length of your strips. We put up several 3"-wide strips the length of the wall with 16" between them.  (You'll want to make the strips at least long enough to be anchored into two wall studs.)  After cutting your strips to length, make a 45 degree cut on one edge. We used a table saw to make the 45 degree cut, but you can also use a circular saw or a jig saw. Position the strips on the wall with the use of a level and then use screws to anchor them to studs. Note: the 45-degree cut is on the top inside edge.
Step 2: Build your storage pieces.
Start by making an inventory of the things you'd like to store. Then use your creativity to make pieces to hold these items. Below are a few ideas. (Also, you can attach cleats to existing or store-bought storage pieces.)





Step 3: Cut the cleats.
Cleats will be attached to the back of your storage pieces so that they will hang from the strips. (The above photos show the storage pieces with the cleats already in place.) To make the cleats, first cut a 3" wide strip with a 45-degree cut, similar to the way you cut the strips for the walls. Then, cut the strip to the widths of your various storage pieces.
Step 4: Attach the cleats and hang your storage pieces.
Screw the cleats to the back of your storage pieces so that they will hang from the strips on the wall. Hang your storage pieces for maximum accessibility and space utilization. Don't worry about being perfect – the pieces can be rearranged quickly and easily, over and over again.