GEARWRENCH has launched it's latest evolution in its 90-tooth platform, with their new ratcheting wrenches. Introduced at the beginning of 2020, the 90-tooth line was met with praise by trade professionals, but GEARWRENCH decided to go a step further. Their eight new ratching wrench sets (86958, 86928, 86927, 86728, 86959, 86727, 86759, and 86758), which come in both combination and flex-head combination styles, boast a handful of features that are sure to make work easier.
5 New Features
The new ratchet wrenches feature improvement in five main areas. The 90-tooth design creates a 4-degree swing arc for easier turns in tight spaces. The wrenches feature longer and wider beams to give you improved reach and leverage while providing better ergonomics and comfort. The new sets have an improved jaw design of the open end of the wrenches. Their dual-direction off-corner loading gives you a better fit on the nut or bolt, therefore reducing the risk of slippage and fastener rounding. Lastly, the new size markings on the wrenches make identifying which tool you need faster. Each wrench features color-filled markings, with molten orange for metric sizes and black for standard sizes.
12 Pc Metric
Ratcheting
Wrench Set (86927C)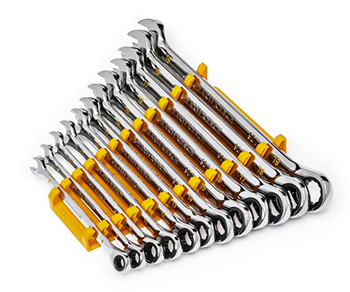 Other Features of the Ratcheting Wrenches
All the wrench sets are finished in full-polish chrome, making them easy to clean and resistant to corrosion over time. Each wrench features a 12-point ratcheting box-end for use on six or 12-point fasteners. There are 36 open-stock combination ratcheting wrenches available individually. The single wrenches come in either metric or standard sizes and four sets ranging from 10 to 16 pieces. The other option is a flex-head open-stock wrench, of which there are 30 individual tools available in either metric or standard sizes. There are four flex-head set options ranging from 10 to 16 pieces. Each set comes with a solvent-resistant compact rack with drop-in wrench placement to keep the wrenches organized. The racks are color-coded to match the wrench style of either metric (orange) or standard (black).
14 Pc Flex Head
Ratcheting SAE
Wrench Set (86759)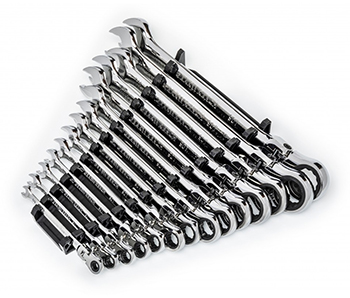 Shop more GEARWRENCH products at Acme Tools.