The Latest and Greatest
Since their founding in 1924, Milwaukee Tool has been committed to innovation and durability in their tools.  This April, they released their new Ratcheting Combination Wrenches, and proved once again how they have not given up on that commitment to excellence.  If you think that a wrench is just a wrench, you need to look again.
Nothing Short of Revolutionary
These wrenches don't need to revolve, but they're still revolutionary.  They have 144 teeth in them, meaning they have an absolutely miniscule arc swing of just 2.5 degrees!  Pretty crazy, right?  You can get into the tightest spots and still get your work done.  The ratcheting mechanism has double-stacked pawls for durability and longevity.  Without confusing you folks with too much detail, this basically means that these wrenches will grab the ratchet teeth twice as much as a traditional competing model, and it is part of what gives them the ability to work in such amazingly close quarters.
Get a Grip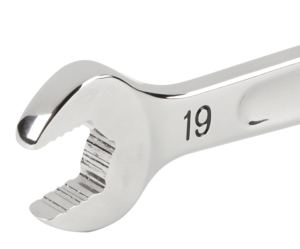 The open ends feature the Milwaukee MAX BITETM geometry to provide 25% more torque than other wrenches with smooth open ends.  This special grooved geometry also catches the corners of your nuts and bolts and prevents rounding and stripping.
And speaking of bite, Milwaukee took care to make sure these don't bite into your hands.  The I-beam design keeps them from digging in even when pulling or pushing hard for getting that extra leverage.
Can You Read That?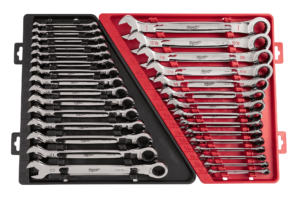 You can now!  The size labels on each wrench is inked-in and easily visible, so no more trouble reading the chrome trying to figure out which wrench is which.  They are even color-coded either red or black to tell the SAE from the Metric (red for SAE and black for metric).  To make it even easier, the sets all have color-coded trays, so you can tell them apart from a distance.  The 7-piece kits come with portable, locking storage trays, so you can stay organized on or off the jobsite.  The 15-piece kits come with trays designed for long-term storage, and fit snugly into any of Milwaukee's popular steel tool cabinets.
Final Notes
If you need to reach tight spots and your current wrenches just can't swing it, these are the solution for you.  Milwaukee put extra work into them to make them easy to use, compact, comfortable, and durable.  Small details make a big difference in the long run, and you will notice the care that went into these wrenches.  They are available for sale now on our website.
Kits Available:
48-22-9406 7pc Ratcheting Combination Wrench Set (SAE): 3/8", 7/16", 1/2″, 9/16", 5/8", 11/16", 3/4″, and Storage Rack
48-22-9506 7pc Ratcheting Combination Wrench Set (Metric): 8mm, 10mm, 12mm, 13mm, 14mm, 15mm, 17mm, and Storage Rack
48-22-9416 15pc Ratcheting Combination Wrench Set (SAE): 1/4", 9/32", 5/16", 11/32", 3/8", 7/16", 1/2″, 9/16", 5/8", 11/16", 3/4", 13/16", 7/8", 15/16", 1", and Storage Rack
48-22-9516 15pc Ratcheting Combination Wrench Set (Metric): 8mm, 9mm, 10mm, 11mm, 12mm, 13mm, 14mm, 15mm, 16mm, 17mm, 18mm, 19mm, 20mm, 21mm, 22mm, and Storage Rack