Professionals who grew up using bubble spirit levels, plumb bobs and chalk lines for years are just now beginning to use laser levels. And since they're familiar with the technology, now the question is whether to use a green- or red-beam laser; an issue that's been kicking around for more than 20 years. But new technology, both for the beam-generating diode and managing power consumption, have made the green option available to more professionals in a variety of fields.
The green beam is up to four times more visible to the human eye than the traditional red beam. And that's true for all interior applications, it's especially useful in bright ambient lighting. The real choice of best option comes down to application and price.

Clear Choices
Until recently, the green beam option was costly to the point of being beyond consideration. But diode technology has both improved, dropped in price and become accessible to the everyday user. Tools that incorporate a green laser are about 25 percent more expensive than a comparable device with a red beam. Traditionally, a green laser draws more power than a red laser. Over the years, power consumption of green diodes has been reduced to make the green option more practical for virtually every laser option.
Due to the high output of green lasers, they operate at higher temperatures making the diode more susceptible to the effects of ambient heat (direct sunlight, for example), which can cause damage to the diode.
Bosch laser levels incorporate VisiMax™ technology to address this issue. This exclusive technology constantly monitors the laser's temperature to ensure diodes maintain their operational integrity and deliver the best line visibility while preserving the life of the tool.
Green is a great option if the job takes place in bright ambient lighting conditions or requires greater distances. But what about red beam? The red beam laser still offers strong performance for interior applications with standard lighting conditions over typical distances.
Real-World Examples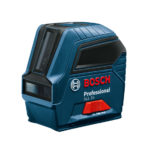 The recently introduced Bosch GLL 55 red beam laser covers distances up to 50 ft. while the companion green beam GLL 100 G extends to 100 ft. These professional cross-line lasers include conventional vertical, horizontal and cross-line modes, which can project two lines independently or together. And each has a manual mode that turns the self-leveling feature off to allow the user to lock the vertical, horizontal or cross lines and use the tool at any angle. The tools provide a long vertical laser line that extends line visibility to a nearly 360° vertical plane when placed next to a wall. In addition, an easy-to-use keypad makes choosing the right mode among layout options simple.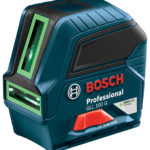 Bosch's GLL 55 and GLL 100 G Self-Leveling Cross-Line Lasers feature the locking Smart Pendulum System, which ensures accuracy, reliability and durability. This system self-levels and indicates out-of-level conditions, giving the user added confidence in the accuracy of the measurements. To ensure consistent accuracy, the system locks the pendulum in place when it's switched off for secure transport.
Bosch laser devices are constructed to withstand harsh jobsite conditions thanks to sturdy over-molded construction built to an IP54 rating for water and dust protection. A magnetic L-bracket base that attaches to threading of 5/8 In.-11 and 1/4 In.-20 for use on a tripod and other accessories makes use on any jobsite easy. The bracket also attaches magnetically to metal surfaces, such as steel studs, and has retractable feet that allow the laser to be used as a freestanding device.
Making the Call
In the final determination, choosing a green or red beam option comes down to the job and price consideration. Both options are excellent for applications like drop ceiling installation or leveling tasks. Green beam lasers offer greater visibility for any task, but red beam options still provide the level of performance demanded by professionals.