Autumn has officially arrived, and winter isn't too far behind. Along with preparing your home for the changes in weather, your grill needs a little extra TLC as well. Whether you're a year-round outdoor chef or you plan on storing your grill during winter, here are a few grill maintenance tips that will help you embrace the cooler months of the year.
How To Clean Grill Grates
One of the most common questions grill owners ask is ""how to clean a gas grill."" Charcoal grill cleaning questions are at the top of the list as well. Cleaning the exterior of your grill is simple. Dirt and dust are easily wiped away with a soft, damp cloth. Soft-bristled brushes work well for stuck-on dirt.
The real mess comes when addressing the grill grates. There are different types of grill grates available, including porcelain, cast iron and stainless steel. Many Weber® grill owners wait all year before cleaning these Weber gas grill parts. Each type of grate is different and requires a different method for cleaning.
How To Clean BBQ Grill Porcelain Grates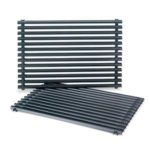 Whether you own charcoal or propane grills, porcelain grill grates are excellent options for keeping your grilling surface heated well. This material holds in heat and is resistant to corrosion. However, you must be careful when cleaning; if you scrape or nick the porcelain, you let air and water under the protective coating, which can lead to rust. For this reason, a soft-bristle or nylon brush is best for grill maintenance on these types of grill grates. Make sure the grates are cool before starting for your safety.
Grill Maintenance and Cast Iron Grates
Cast iron Weber gas grill parts are tough and durable. They heat evenly and do well when exposed to high temperatures. They are very vulnerable to water, however. To clean these types of grates, you should use a nylon cleaning brush. Burn off all the food on the grates, and then scrub them clean with the brush. Coat them with vegetable oil after cleaning to help prevent corrosion.
Cleaning Stainless Steel Grates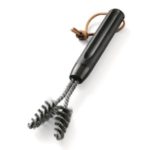 Stainless steel grates are rust resistant, easy to clean and extremely tolerant of high heat. The best way to get them clean is to turn on the grill (or light the charcoal in the case of charcoal grills) and place aluminum foil over the grates. This helps the heat center on the grates instead of rising to the top of the grill so leftover food falls off easily. Once the grates are cool, scrub them clean with a non-metal brush.
Storing Your Grill For Winter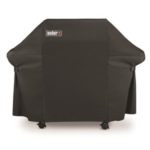 Once you've taken care of a few grill maintenance steps, you have the option of either storing your Weber grill or continuing to use it. If you decide storage is the best choice, here are a few tips:
Cover – Even if you are storing your grill in a shed or your garage for the winter, always use grill covers. These covers keep the grill protected from harsh weather when they are outdoors and protect against leaks and ambient moisture indoors.
Turn off the Gas – Using a propane grill? Always turn off the gas at the tank before storing the grill. If you take the grill inside, disconnect the tank, and store it outside away from children's play areas, vents and dryers.
Tape it Off – Gas line openings and tubes make comfy homes for insects during winter. Prevent them from moving in by taping off the openings before storing the grill.
Using Your Weber Grill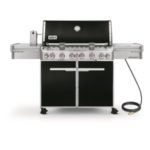 Now that you know how to clean a gas grill, why not extend the use of your grill a little longer this year? You can always clean the grates a month from now. Grilling outdoors is possible and even fun after the summer months. Many people even grill some dishes for the winter holidays. Vegetable dishes, potatoes and even the turkey are easily prepared in your grill and will give your holiday meal a special taste and look.
Are you and your grill ready for fall and winter? Use these tips to clean, store and use Weber gas grill parts and grill accessories during the cooler months.