An air compressor is a machine that compresses air to power air tools, such as impact wrenches, air hammers and air chisels, paint sprayers and others. DIY enthusiasts, technicians and contractors use these tools for a number of jobs, such as finish work, roofing, and cutting wood, and metal and pipe work. Homeowners benefit from other air compressor uses such as inflating sports equipment and tires.
There are many different types of air compressors, and each is designed for a certain use. This air compressor buying guide will help you decide which is the best suited for your needs so that when you buy an air compressor, you'll be sure to purchase the right one.
Air Compressor Grade
Air compressors come in three distinct grades: consumer, contractor and commercial. When deciding which grade is best for you, consider the type of job you'll be doing, how often you'll be using the compressor and whether you'll be powering multiple tools. You may also want to consider whether you need a unit that is easy to move around or one that can be bolted in place.
Consumer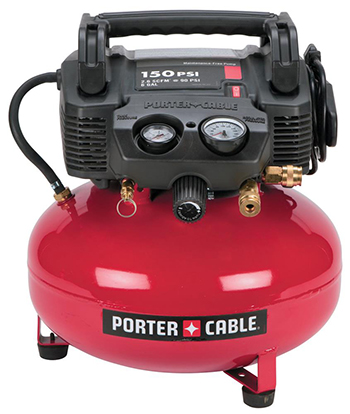 Consumer-grade air compressors are made for smaller jobs and are ideal for use around the house. If you need something on hand to inflate tires, toys and sporting equipment, then this may be the grade for you. Of course, consumer-grade air compressors can do more than merely inflate things. They can handle smaller, low-powered air tools such as pneumatic staplers and brad guns.
However, if you want an air compressor that can run larger tools and air compressor accessories, you might want something more powerful.
Contractor
Contractor-grade air compressors are built to be sturdy and can survive a busy jobsite. These machines are designed for building professionals, and most are portable, either hand-carried, on a wheeled cart or carried on a vehicle. Contractor-grade air compressors are useful for a broad variety of jobs but are typically used to power pneumatic nailers and tools for roadside repairs. When performing air compressor comparisons, consider a contractor-grade machine if you run multiple air tools that have large air demands.
Commercial
If you're looking to buy an air compressor with a steady supply of compressed air, a commercial-grade model may be what you need. These heavy-duty machines offer superior performance. Industrial air compressors are often found in manufacturing facilities, auto-body shops and for enormous jobs such as powering machinery on oil rigs and amusement park rides.
Air Compressor Types
Another part of learning how to choose an air compressor is deciding which type is best for your needs. Obviously, a simple inflator won't power heavy-duty tools, and a truck-mount compressor is probably a bit too powerful to inflate a soccer ball. There are numerous types of air compressors available, and you should choose one that will work best for you.
Inflators
Inflators are small air compressors ideal for pumping up sports equipment and toys. They are also able to inflate a car tire, but they may take up to 20 minutes to reach the proper pressure. They are portable, inexpensive and ideal to keep in the garage or the trunk of your car.
Pancake
A pancake compressor has a one- to two-gallon tank and weighs about 16 pounds, making it easy to carry around and store. Most models don't have any belts and are oil free, making them virtually maintenance free. These tools are ideal for inflating but may not be powerful enough to run air tools. They're also quite noisy.
Hot Dog
These compressors have enough power to run small tools such as staplers and air brushes, making them popular with hobbyists. They have slightly bigger air compressor tanks and pumps than pancake models and can be heavier. Hot dog compressors have handles for easy transportation. Like pancake compressors, they also have no belts and are oil-less, which means they're virtually maintenance free, but they can be noisy.
Twin-Stack
Twin-stack air compressors have two air tanks so you can store more air, meaning the machine doesn't have to run as often. They have enough power to run finishing tools such as nailers and brad guns and are popular with DIY enthusiasts. While they're considered portable, they can weigh up to 70 pounds.
Single-Stage
Single-stage air compressors are available in portable and stationary models. Portable ones are popular with people who need to run air tools such as nail guns often. They have stronger engines and pumps than other portable compressors but can be more expensive. Stationary models are great for around the garage or home. They're ideal for automotive work and other small jobs.
Wheelbarrow
Wheelbarrow compressors are made for jobsites. They have powerful engines, large air tanks and heavy-duty components. They can handle harsh conditions. Wheelbarrow compressors have a single wheel and handle so that you can pull them around the work site.
Truck-Mount
These are the biggest and most powerful portable compressors currently available. Since they are lifted by a truck, they can come with large air tanks and pumps and sturdy materials which can make them weigh hundreds of pounds. Truck-mount air compressors can easily run large air tools for hours without any problems.
DC Compressors
Popular with show cars, race teams and RV enthusiasts, DC compressors are hardwired into a vehicle's voltage system and provide lots of air while taking up little space. They can inflate large tires and perform other small jobs. DC compressors can be found in race car support vehicles and show cars that "hop."
Two-Stage
Two-stage air compressors can be found in manufacturing facilities and garages. Some typical air compressor uses for this type of machine include powering die grinders, air hammers, nail guns and impact wrenches. They can even be powerful enough to run more than one tool at once. Two-stage air compressors are powered by electricity or gas, although most models are electric. With two pistons, these units compress the air twice delivering more air than smaller units.
Rotary Screw
Rotary screw compressors are the most powerful and biggest compressors currently available. They are usually found in factories and professional garages where a lot of compressed air is needed most of the time. This type of air compressor is powered by two counter-rotating screws which compress air as its pushed through the grooves of the screw. These units are the most technologically advanced models on the market and are efficient and quiet.
Other Considerations
Obviously, when you buy an air compressor it's important to choose the right type, but that isn't the only thing you should consider. It's also important to think about your specific needs, such as how often will you be carrying it around and what type of tools you will most often be using.
Portability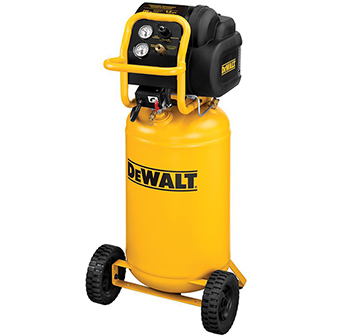 One of the key factors when you buy an air compressor should be portability, and you can purchase portable or stationary models depending on your needs. Portable compressors are available in a variety of styles and sizes. Some are light enough to carry, while others are equipped with wheels and handles. Stationary models are designed to be bolted down and wired into a buildings electrical circuit. They are usually equipped with 60-80 gallon tanks and have 4-10 horsepower motors.
Power Source
Air compressors are powered by gasoline or electricity. Gas-powered models are often used by building contractors because of their convenience and high output at the work place. However, they emit exhaust fumes and should only be used in well-ventilated areas or outdoors. Electric models typically run on standard household voltage, with units under 2 running horsepower running on 110-120V while units with more than 2 running horsepower requiring a 220-240V outlet. As electric compressors don't emit exhaust fumes, they are a better choice for indoor use.
Performance Ratings
Perhaps the most important consideration when you buy an air compressor is how much air the machine can deliver. This is measured in standard cubic feet per minute (SCFM). All tools powered by compressed air have an SCFM rating, which indicates the air flow required for optimal performance. The actual SCFM can change depending on how pressurized the air is in the compressor, which is represented by pounds per square inch (psi). When comparing SCFM ratings, look for the "SCFM at 90psi" number.
Another important factor is the compressors horsepower (HP). This number indicates how powerful the engine is rather than how much power the compressor provides to tools. Typically, compressors have a horsepower rating of between 1.5-6.5HP.
Tank Size
Tank size is important because it determines how long you can run an air tool before the compressor kicks back on. They're rated in gallons and range from 1-80 gallons depending on the unit.
Tools You Will be Using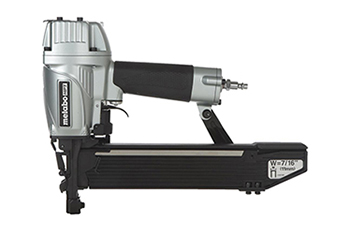 Be sure to consider the tools you'll be using. All air tools have a cubic feet per minute (CFM) rating, and the air compressor you choose should be able to produce enough air to get the job done. Additionally, if you plan on using multiple tools, add the CFM of each tool to decide on the size air compressor you need. The approximate CFM of some popular air tools is listed below.
| Type of Tool | Average Required CFM |
| --- | --- |
| Angle Disc Grinder | 6 |
| Chisel/Air Hammer | 4 |
| Die Grinder | 8 |
| Dual Action Sander | 6 |
| Grease or Caulking Gun | 4 |
| Nailer | 1 |
| Brad Nailer | 0.5 |
| Stapler | 6 |
| Circular Saw 8-inch | 12 |
Additional Features
Some other things that you may want to consider when deciding how to choose an air compressor include:
Air-Cooling System: This cools the pumping machinery and can extend motor life.
Thermal Overload Switch: This option will automatically shut down the air compressor if it overheats.
ASME Certification: Identified on the tank with a certification label, an ASME certification ensures high-quality craftsmanship and materials went into building the unit.
Roll Cage: Ensures the compressor is protected on the job site.
Air Compressor Safety
As with all power tools, it is important to follow safety guidelines when using an air compressor:
Wear gloves, earplugs, goggles and a respirator when appropriate
If you use an electric compressor, ensure it's plugged into a socket with the correct voltage
Don't power an electric compressor with a generator
Don't exceed the recommended pressure for a tool or the job
If you have an oil-lubricated machine, remember to check the oil
When finished, open the drain to get rid of moisture
If you aren't sure how to choose an air compressor, this information should help you feel ready to make the right choice. Just follow these tips, and you should be able to buy the right machine for your needs.