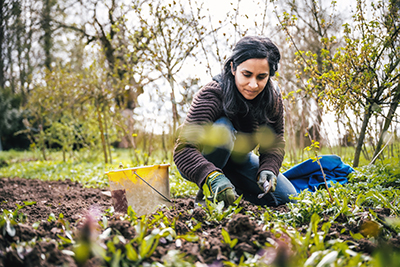 As winter comes to an end, it's time for the beautiful colors of spring. Unfortunately, winter can leave its mark, leading to the clean-up and repair of the mess left on your lawn. Cleaning your yard will help it look better and more colorful, and make it healthier for the rest of spring and summer. We'll cover how to clean your yard properly in a handful of steps, including prepping the grass and garden beds, trimming plants and trees, and detailing your patio. These steps will keep it looking greener throughout the season. 
Prepping Lawn
Once the last snow and frost are gone, your lawn is ready for some spring cleaning. To begin your yard work, you'll want to start by clearing your lawn. This means removing any twigs or branches you may find and removing any pet messes or other litter your neighbors may have left behind. As well as raking any leftover leaves from the fall when the ground is completely dry. As well as any other sort of debris you may find on your lawn.
Now that you have cleared off your lawn of debris look around and see if you have any spots in your grass that are ruined or need some repair. If you find any patches of grass that could use some rejuvenation, lay out some soil over the designated areas with grass seeds and fertilizer. It's important to make sure that you keep the dirt a bit wet until the seeds sprout into the grass in these areas.
The last step would be the disposal of your debris. Luckily, much of your debris can be utilized for a compost pile instead of just being thrown away or recycled. Gather small debris such as twigs, leaves, and dead grass from your yard and begin your pile.
Trim Trees, Shrubs, and Perennials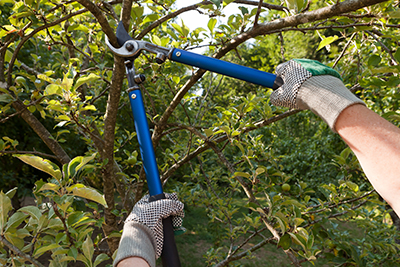 Once you have prepped your lawn, the next step is to trim and prune. You may even want to consider incorporating this step into the previous one if you have a lot of clippings that will be leftover on the ground so that you can rake them for the compost pile as well.
So start by getting rid of any dead or dying branches or branches intruding walkways and shaping shrubs. Doing so will make your landscape healthier and allows more sunlight for more nutrients.
Lastly, make sure to prepare your perennials properly. First, begin by cutting off the old stems; you'll want to cut them right above ground level. If you see new green leaves growing, then cut the old stems right above them, so you don't damage the leaves.
Preparing Garden Beds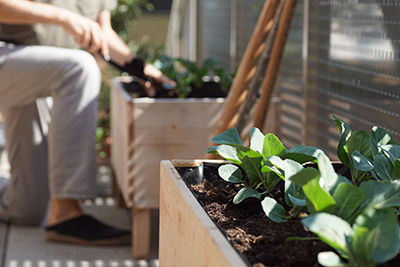 Now that you have trimmed away all unwanted branches on your plants, it's time to prepare your garden beds. Like your lawn, your garden beds most likely have a lot of dead foliage and other debris or even weeds. You'll first want to start by removing all of these. Also, dig up any dead plants.
After your garden bed has been cleaned, you'll want to replace the mulch. Shovel out your previous mulch and add the new layer once your planting is complete. If you're looking to add more garden beds, make sure you start early in the spring and use a tiller on the area of your new garden bed. Then you can go ahead and start planting.
Lawn Upkeep
Next is to upkeep your lawn. It's necessary and visually pleasing to keep your lawn in good condition. If you don't actively keep up with your lawn and other yard work, eventually, the wear and tear of nature will get the best of it.
Weed Removal. It's important to weed your yard. They not only look horrible on your grass or garden, but they are harmful to your plants, taking away the nutrients and other valuable resources that they need.
Aeration. Making sure you aerate is going to keep your lawn super healthy. Aerating your lawn will penetrate and reduce thatch build-up. It's also important to note that you should aerate when your grass is growing fast so it will be able to recover quicker.
Fixing Patches. Nobody wants a big patch of dead grass on their lawn, so it's best to know how to fix them. First, clear out the area of any dead turf or other debris and then loosen the soil and begin scattering the seeds. After this, you can begin fertilizing it.
Fertilizing. Lastly, it's always good to fertilize your lawn at least twice a year. Fertilizing your lawn will help strengthen the grass's roots allowing them to absorb more water and give them that beautiful green color.
Patio and Pathway Cleanup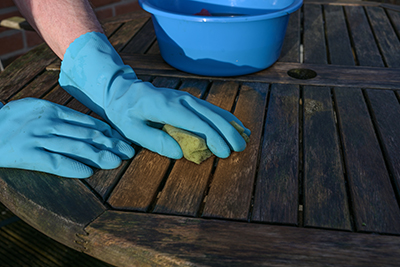 After your yard looks clean, the last step is to clean up your walkways, patios, and outdoor furniture. Once you're finished with this, all the hard work will pay off, and your yard will look spectacular.
First, start with your outdoor furniture. You may want to move them into the yard so you can clean your patio/deck after. If your furniture needs to be cleaned, start using a hose and spraying the furniture down. After spraying it, grab some water and soap and scrub all the tougher spots thoroughly. Finally, one more rinse with the hose and some drying off, and your furniture will be ready for the warm weather.
Once your furniture is clean, you'll want to get rid of all the mud and debris left on your patio or deck. Sweep away the debris as much as you can. Depending on what material your patio/deck is made out of, clean with the right solution geared towards that material. Then lastly, hose it all off, so you don't miss anything or leave any film or build-up.
Check out our other blog Guide to Summer Lawn Care and keep your grass healthy and flourishing in the summer.