Here in the midwest, spring is all about yard restoration and maintenance. In order to Do Your Best Work outside, lawn equipment is essential, and the new Husqvarna Automowers are just what do-it-yourselfers and professionals need. Equipped with superior innovation, the Automowers frequently clip grass instead of cutting at once, leaving users with a picture-perfect lawn.
Husqvarna AWD Features
The new AWD series contain the most cutting edge features creating a yard that's better than your neighbors and easier to maintain. The new series ensures full lawn coverage with integrated GPS navigation. With all-wheel-drive technology, the mowers can tackle steep slopes up to 35 degrees and uneven ground. Additionally, the Automowers save time, produce less noise, and feature LED headlights.
Husqvarna Automowers Robotic Platform
The new Automower lineup features a robotic platform with excellent slope performance, terrain capabilities, and maneuverability. In order to serve a variety of customers, the mowers come in both .9 and 1.25-acre capacity. Additionally, they have a 1.2-2.8″ height of cut.
Pro Lineup: 535 AWD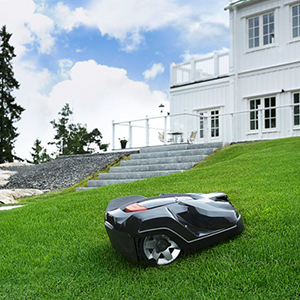 For all landscaping and professional lawn maintenance needs, the Husqvarna Automower 535 AWD is best. The Automower automatically adapts the amount of mowing to the lawn growth rate with the integrated weather timer. The wheel brushes and rubber bumper increase durability while the all-wheel-drive adds extra maneuverability. The mower comes with triple guide wires that create a reliable return path. With remote object detection (Ultrasonic), the mower reduces speed when it senses an object nearby. For easy handling, the PARK button on the charge station quickly calls the mower back to the charging dock, and passage handling automatically guides the mower through narrow passages. Also, to improve theft protection, the Automower comes with remote control surveillance and map localization to gain control.
For increased user experience, the mower comes with Automower Connect and FOTA, Firmware-Over-The-Air. FOTA automatically updates software over the air through Automower Connect. Automower Connect allows users to connect your mower to your smartphone in order to monitor and control the device. As a result, users can pair the mower with an Amazon Alexa or Google Home for a smarter connection.
| | | | | | | |
| --- | --- | --- | --- | --- | --- | --- |
| Image | Model | Cut Height | Acre Capacity | Slope | Noise Level | Weight |
| | 535 AWD | 1.2"-2.8" | .9 | 35° | 62 dBA | 38 lbs |
| | 550/ 550H | .8-2.4" & 2-3.6" | 1.25 | 24° | 61 dBA | 31-33 lbs |
X-Line: 435X
The 435X Automower comes with unmatched slope handling, which is ideal for the homeowner who has steep slopes that frequently need cutting. Integrated dual guide wires create direct and reliable return paths. Similar to the Pro-Line, the 435X Automower also features FOTA, automatic passage handling, ultrasonic detection, a weather timer, and Automower connect.
| | | | | | | |
| --- | --- | --- | --- | --- | --- | --- |
| Image | Model | Cut Height | Acre Capacity | Slope | Noise Level | Weight |
| | 435X AWD | 1.2-2.8" | .9 | 35° | 62 dBA | 38 lbs |
| | 450X/ 450XH | .8-2.4" & 2-3.6" | 1.25 | 24° | 58 dBA | 31-33 lbs |
| | 430X/ 430XH | .8-2.4" & 2-3.6" | .8 | 24° | 58 dBA | 30-32 lbs |
| | 315X | .8-2.4" | .4 | 22° | 60 dBA | 22 lbs |
| | 115H | 2-3.6" | .4 | 17° | 60 dBA | 20 lbs |
Automower Club Solution
Husqvarna provides lawn care solutions for yards big or small, including sports fields. Because grass maintenance on a field is a whole new ball game, and the new Automowers provide a solution. By combining two or three Automowers, users can cut 1.5-2 acres, producing high-quality turf. To minimize the impact on the grass, the Automowers cut the field every day, increasing the amount of fertilization and moisture. As a result, the grassroots grow deeper for stronger and healthier turf.
FAQs
How does a Robotic Mower Work?
Automower consistently clips grass a little at a time instead of traditionally mowing all at once. As a result, your yard is always picturesque.
Does the Automower have Theft Protection?
Yes, the Automower comes with a unique PIN code that must be entered before the unit starts operating. It also comes with an anti-theft alarm and GPS tracking to pinpoint the device.
Is Automower Safe Around Kids and Pets?
Yes, the Automower is safe around pets and children. The blade automatically stops if the mower is even slightly lifted, and the outer body is extra wide to provide enough space between the blade and outer edges. With Automower, users can schedule the mower to dock when pets or kids are in the yard.
Does the Automower Work in the Rain?
The Automower continues cutting in light rain and dew. If the rain becomes too much, the device will return to the charging station. It is recommended to store the Automower indoors in extreme weather.
How do I Install an Automower?
Users can install by themselves by following the instructions in the operation manual. Expect the installation to take 2-5 hours depending on your lawn size and complexity.
Shop Husqvarna Automowers at Acme Tools.