Woodworking tools need to be just as dedicated to the project as woodworkers are. Here at Acme, we're committed to finding the best tools for you so that you can avoid the headache. So we've put together a list of woodworking tools that will have everyone completing their woodworking projects this year. With brands like Jet Tools, Supermax, Rikon, and more, we've got the tool that'll help you Do Your Best Work.
7 Woodworking Tools for 2020:
13 in. Benchtop Planer 110V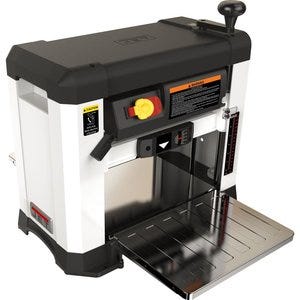 Add the Jet 13 In. Benchtop Planer to your shop for the power and efficiency that your project demands. With a helical style cutter head, the Planer delivers a smooth and consistent cut surface. The helical head has six rows of 24 quick-change inserts that are easily replaced. The benchtop planer reduces noise due to the 2 HP motor turning at 10,000 RPM. The Planer also has a four-post design, adjustable folding tables, a sturdy cast iron base that reduces snipe, and more.
15 in. Stationary Helical Head Planer 230V/1Ph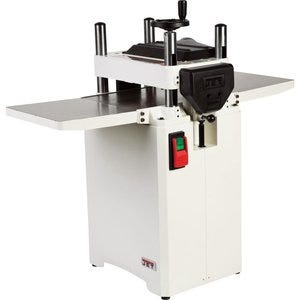 Quickly and quietly transform lumber into smooth boards with the Jet 15 in. Helical Head Planer. The combination of a 3 HP motor and a helical cutter head with 48 quick-change knives creates the power woodworkers demand. With the integrated Precision Air Strut System, the Planer delivers consistent pressure in order to reduce the chance of snipe. The two-speed gearbox provides a quick and easy feed rate adjustments, allowing for a smooth finish. Additionally, the Planer features a cast iron table.
REVO 15|24 110V Lathe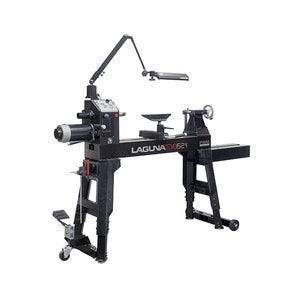 The Revo 15|24 Laguna provides users with more power and space capacity. The infinite electronic variable speed goes from 50 – 4200 RPM with a 3 step pulley. For increased user control, the new Precise Point feature allows users to dial in the tailstock quill to meet with the headstock center. Also, adjustable-height legs provide an ergonomic working position for increased user experience.
19-38 Brush/Drum Sander Combo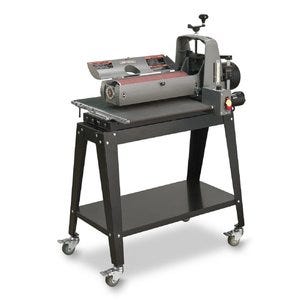 The 19-38 Brush/Drum Sander Combo simplifies sanding. Easily align the conveyor to the sanding head with the simple alignment feature. The indexed alignment setting accurately adjusts the conveyor when sanding stock wider than 19 inches. To be considered a commonly used tool in your shop, the Brush/Drum Sander also features easy height adjustments and effective dust extraction. Lastly, the Sander features a heavy-duty cast iron construction for strength, rigidity, and reduced vibration.
4″ x 36″ Belt / 8″ Disc Sander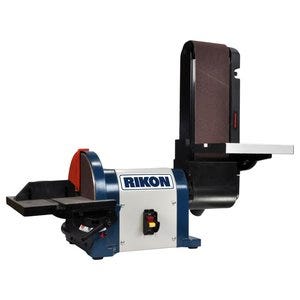 Control and shape your project with the 4 In. x 36 In. belt / 8 In. Disc Sander. The powerful Sanding Machine delivers a direct drive power system driving both the disc and belt, powering speeds that eat through wood effortlessly. The belt frame adjusts in any position in order to meet an individual's sanding needs. Also, both the disc and belt accommodate angled work with a tilting fence that supports 0-45 degrees. Additionally, the machine features a precision die-cast metal base, quick release belt lever, and more.
14 in. Open Stand Bandsaw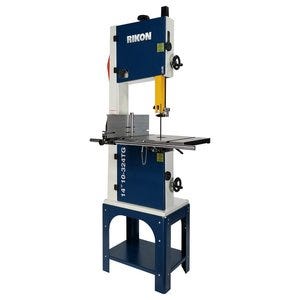 Due to features like tool-less blade guides, a quick release blade tension lever, large adjustment handles, hinged safety blade guard with sight window, and more, the 14″ Bandsaw is RIKON's most popular model. The dual voltage and 1-1/2 HP motor provide users with plenty of power. For difficult cuts, the pre-lubricated, sealed thrust, and side ball bearing guides give smooth blade support. Additionally, the Bandsaw is wired for use with 3-wire 120V receptacles.
PM1200 Air Filtration System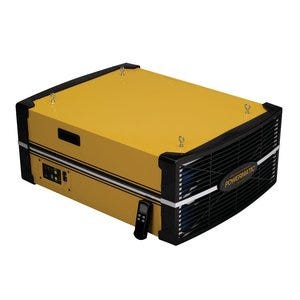 Although your shop looks clean, are you confident that the air is clean too? The Powermatic Air Filtration System can trap up to 99% of all 5-micron particles and 85% of all 1-micron particles. Users can easily control the system with a remote transmitter that utilizes radio-frequency or at the cabinet. The integrated allows continuous operation while you're away and automatically shuts off after nine hours. Also, the filter guards have a tool-less installation.
Final Thoughts
These tools will not only assist woodworkers but help complete the task at hand faster, throughout all types of woodworking projects. Shop Woodworking Tools at an Acme Tools near you or visit our online store.