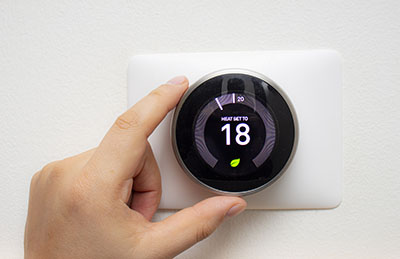 Saving energy means saving money, and everyone wants to save money. Installing a smart thermostat will do just that, along with plenty of other benefits as well. Smart thermometers offer ease of use, allowing you to control them from anywhere using your smartphone. Its smart algorithm can learn from household habits and begin to save energy when you're not home, taking the stress off your shoulders. Following our steps below, learn how to quick and easily replace your thermostat with a smart thermostat.
Will a Smart Thermostat Work in Your Home?
Before deciding to change out your current thermostat, there are a few things you should know before upgrading to a new smart thermostat.
First, check the wiring under the faceplate. If you have wires labeled "C" or "common," you should be able to install a smart thermostat. If you don't have this wire, you may not be able to, or you can ask your electrician about rewiring. If you don't have a C-wire and the wires are bundled together by wire nuts, you will also not be able to install a smart thermostat (see step 3 on how to identify a C-wire).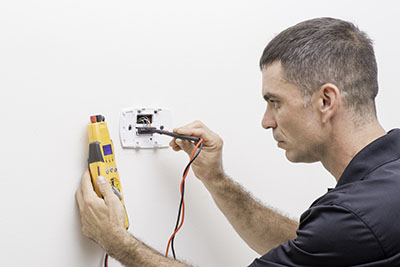 Next, it's important to check your current thermostat's voltage. If the thermostat exceeds the manufacturer-specified voltage, you should not install a smart thermostat. If your new thermostat has a higher voltage, its wiring will damage the controls and possibly become an electrical hazard to you and your home. If you don't know how to check the voltage of your thermostat, grab a multimeter to test it.
The last step to see if a smart thermostat can work in your home is to check your internet and WiFi. If your router is more than a few years old, it may not be able to power a smart thermostat, so you may be required to upgrade your network.
Benefits of Installing a Smart Thermostat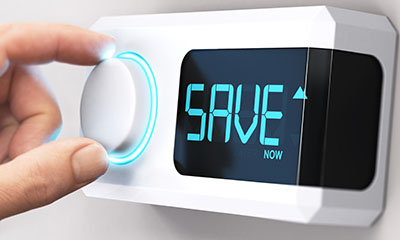 Installing a smart thermostat has plenty of benefits that will save you money. Smart thermostats are designed to be more accessible and easy to use. With its compatibility with a smartphone app, you can use it anywhere and receive energy reports on your phone as well. Its programming system also allows you to create schedules, so it isn't using much energy when you're not home. They also have the ability to learn and create schedules based on the users' habits.
Tools and Materials Needed
To begin installing a smart thermostat, make sure that you have the proper equipment so you're ready to go:
Screwdriver
Third-party add-a-wire adapter (if needed)
Pencil
How to Install a Smart Thermostat in 7 Steps
1. Turn Off Power to the HVAC System
The first step for a smart thermostat installation is uninstalling your current one. To begin replacing your thermostat, you have to make sure that you cut off the power to the HVAC system at the breaker panel. Doing so will ensure that you aren't accidentally shocked while working with the wires.
2. Remove Existing Thermostat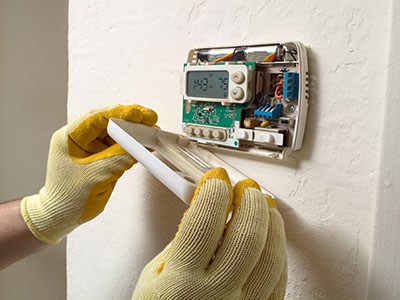 Now that the power to your thermostat is off, it can safely be removed. Grab a screwdriver and begin removing the faceplate. Once the faceplate is off, label or take a picture of the wiring so you know which lines connect to each screw terminal. Next, you will begin removing the wires from the backplate. Then unhook or unscrew the wires and then the same to the backplate. Now you're ready to install a C-wire (read step 3 if needed) and a new thermostat.
3. Install a C-Wire (If Necessary)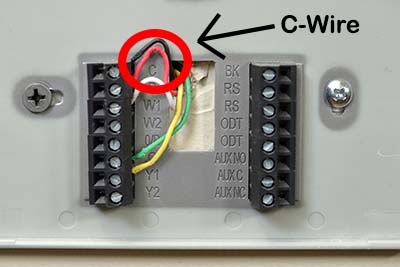 When changing your thermostat, it's important to know and identify if you have a C-wire (common wire). The C-wire provides constant power to the thermostat and is essential to have.
Check to see if your thermostat has an adapter already installed which will allow you to add a C-wire. Another option is that you may have to buy an "add-a-wire" adapter that'll have additional instructions on how to install it. Otherwise, consult with your electrician to see what's best for you.
4. Install the New Thermostat Mount
Once your old thermostat is completely off, it's time to install your new smart thermostat. Put the mount against the wall and mark all the holes with a pencil. Then use a small bit to drill holes at each mark. Then, put the mount against the wall and begin screwing it in. Make sure to pull the wires through before screwing in the backplate.
5. Wire the Smart Thermostat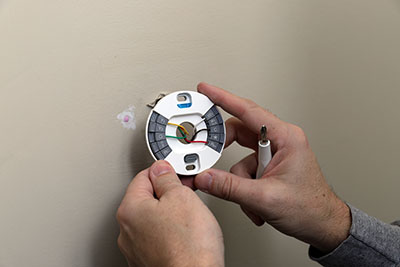 With your backplate mounted, the next step is to reconnect the wires. If you labeled your wires, connect each wire to its corresponding terminal. If you didn't label your wires, use the installation diagram in the manual to properly connect your wires to the correct terminal.
6. Attach the Faceplate and Restore Power
Now that all your wires are connected, you can snap on the faceplate. If you're finding that your faceplate won't snap on, check the wiring to see if they need to be tucked back so they aren't in the way.
Once you've attached the faceplate, you can turn on the power to your HVAC system at the breaker panel. Then give your thermostat a few minutes for it to fully startup.
7. Connect the Thermostat to WiFi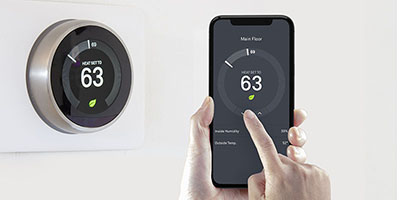 Once your thermostat has power, you're almost done. The last step is connecting your thermostat to the WiFi. The thermostat should take you through some prompts to connect to the WiFi. You may also want to check the manual for additional instructions on setting up the smartphone app.
Conclusion
Overall, you should highly consider installing a smart thermostat. Not only are they easy to use, but their benefits heavily outweigh the price tag over time. You will save lots of money by managing it yourself remotely or having the system develop its own schedule as it adapts to your household lifestyle. Their long-lasting impact will be a great addition to your home and to your wallet.