The circular saw blade market is dominated by top brands such as Diablo, DEWALT, Irwin, Makita, and so many more. Crescent is looking to drive itself to the top of the saw blade market by introducing its new circular saw blades. These new blades aim to be longer-lasting, more precise, and handle longer use without warping. The release saw over 57 different blades in various categories, including NailSlicer Framing, FineCut Finishing, and SteelSlicer Metal Blades.
NailSlicer Framing Blades
NailSlicer Framing Blades are built primarily for framers, general contractors/construction workers, home builders, and more. They are available in sizes from 5-1/2 to 8-1/4-inches to fit the majority of circular saws on the market. These blades offer up to 8 times longer blade life with high-impact carbide teeth. An Active Sheild blade coating provides up to 70 percent more cuts by preventing gumming and corrosion. Laser-cut expansion slots reduce blade warping, and laser-cut vibration slots reduce blade vibration so you can get straighter cuts every time. An anti-nail kickback tooth design resists nails on impacts for a smoother cut in the toughest of situations.
8-1/4-Inch NailSlicer Framing Blade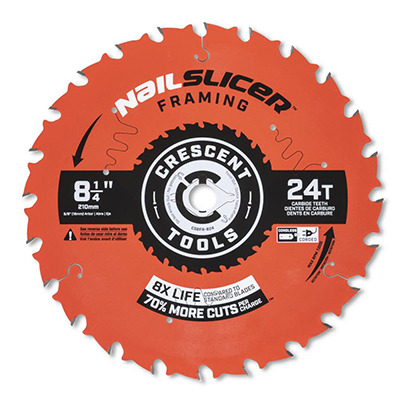 FineCut Finishing Blades
FineCut Finishing Blades are designed for woodworkers, trim carpenters, and flooring installers. These trades need a very precise, clean cut on their materials, and these blades offer a 40 percent smoother cut with their Precision carbide teeth. The finishing blades offer ten times the blade life of other blades on the market for a much longer lifespan. Laser-cut expansion slots prevent the burning of finishes on cuts, so they are more polished. FineCut Finishing Blades are available in sizes 6-1/2 to 14-inches.
10-Inch FineCut Ultimate Fine Finish Blade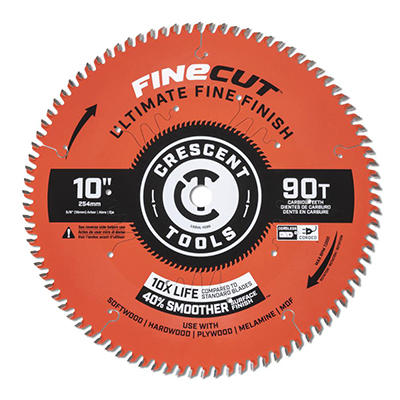 SteelSlicer Metal Blades
Crescent SteelSlicer Metal Blades are specifically built to handle the tough cutting jobs of ironworkers, metal workers, and commercial electricians. When cutting metal, the blade and the material can get very hot. The Active Shield protective blade coating allows for 40 percent cooler cuts. Heat defense premium cermet teeth provide 20 times longer blade life for added durability during hot temperatures. Modified alternate tool bevel along with laser-cut vibration slots provide cool, smooth, and clean cuts.
8-Inch SteelSlicer Metal Blade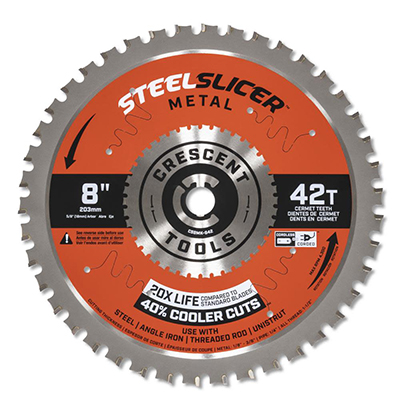 Other Blades
Crescent offers various other blades as well. The Fiber Cement Blade features an ultra-thin kerf that provides up to 50 percent less dust during cuts. Laminate Flooring Blades feature premium polycrystalline diamond teeth for 75 times longer life than comparable blades. The precision triple chip grind on their Aluminum Blades provides fast, clean cuts, and Active Shield protective blade coating allows for two times faster cutting speed. The Wood & Metal Blade's ultra-hardened premium carbide teeth provide up to ten times longer life than other standard blades.
7-1/4-Inch Fiber Cement Blade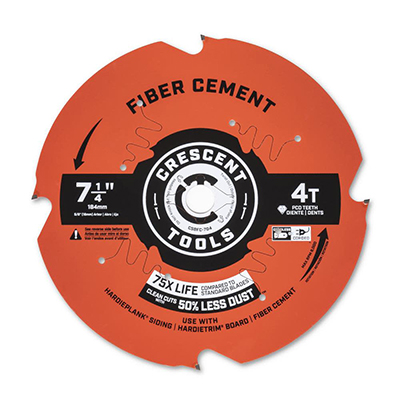 Crescent is one of the premier providers of hand tools on the market. Shop their top-of-the-line ratchets, wrenches, pliers, screwdrivers, and so much more at Acme Tools.