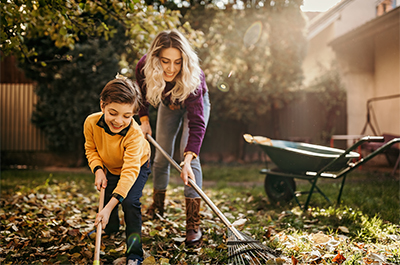 With winter knocking on our door, fall is a perfect time to prepare your yard. Fall lawn care is extremely important for making your yard look healthy and colorful for next spring. There are many important steps in making sure your yard is ready to endure the cold winter. Following these steps will also gift you with plenty of benefits for the springtime after you have kept your yard healthy. Using these tips, you can have your yard ready and winterized so you won't have any worries once the warmer weather lets your yard flourish again.
Lawn Care
Knowing how to properly prepare your lawn for winter is important for maintaining healthy soil and having a bright, colorful lawn come spring. Below is a list of five things you should do to winterize your lawn.
Mow Lawn. Until the grass stops growing, make sure to keep mowing your lawn. Continuing to mow will not only make your lawn look more appealing but will also keep it healthy. Keeping your grass to around 4 inches will protect it from causing bare spots or damaging roots during the winter.
Aerate. Whenever you find a day where your soil is moist, it would be a perfect day to aerate your lawn as it allows the ground to be penetrated easily. Aerating your lawn will help give easy access to air, water, and nutrients into the soil.
Fix Bare Spots. During the fall, the temperature is perfect for fixing your lawn's bare spots. Once you loosen up the soil, you then can reseed spots that need fixing. After you have planted all the new seeds, make sure to cover them up with mulch or something similar to prevent birds or other animals from possibly ripping up your lawn and seeds.
Tackle Weeds. After a rainy day is a perfect time to remove all the weeds from your yard. Weeds are constantly taking away nutrients from the soil, so it's best to get rid of them using weeders before winter.
Fertilize. Distributing fertilizer before winter is very beneficial for your lawn. Using a spreader, you can effectively fertilize your lawn to ensure your turf stays healthy.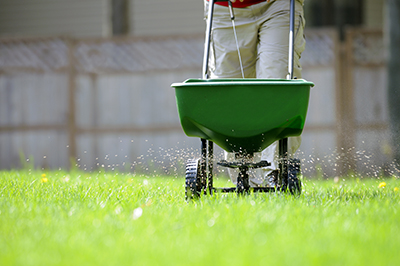 Planting
Plant Cool-Season Flowers. Another way to make your lawn ready for springtime is to plant some flowers. Planting cool-seasoned flowers will give more life to your yard once winter begins to leave.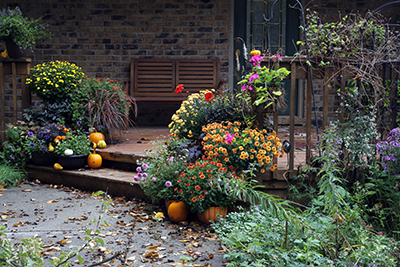 Plant Fall Flower Bulbs Now. A second thing to think about is planting flower bulbs. These flower bulbs can still bloom and give your yard some life even after the snow has fallen. Even during the coldest day of winter, some bulbs like snowdrops and crocus can still bloom and be there for springtime.
Sow Fall Season Crop. About 10 weeks before the first frost, you'll want to begin to sow your fall seeds. The fall and winter keep your vegetables preserved and ready for when spring comes. When you begin, try your best to sow as evenly as possible for the best outcome. Later on, you may have to adjust your work and thin out crowded areas as plants begin to sprout.
Grow Cover Crop. A cover crop is purely for your soil and its health. They are meant to act as organic matter to the soil, and if used correctly, they can be used as mulch and improve the soil overall in a single growing season. A cover crop can additionally draw in varieties of insects and pollinators to your yard.
Cleanup and Maintenance
Rake Leaves. Raking your leaves before the snow comes down is very important for your lawn. Make sure to use a leaf rake to clean up any fallen leaves during the fall season. With leaves on the ground, it can deprive the grass of sunlight and nutrients. Mowing leaves is another alternative, and after, you can use all the clippings for other purposes, such as mulch for flowers.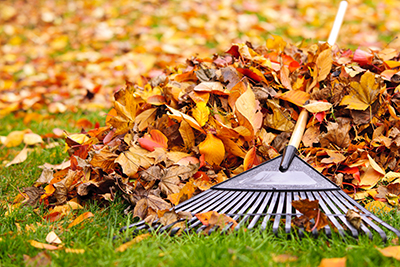 Tidy Garden. Picking up anything in your yard that's not supposed to be there will help reduce the chance of damaged plants and any pests overwintering.
Upkeep Lawn Tools. One of the last things to make sure you do is make sure everything is ready to go for next year. Preserving your lawn tools from the harsh weather is essential for making sure they stay in the right condition.

Store and Cover Lawn Equipment and Furniture. Once you've tidied everything up, it's important to properly take care of your equipment and furniture. Using a safe environment from all the weather like a shed or garage would be a great spot to store your outdoor amenities. Using any covering or tarp is also useful to preserve the condition of any equipment or furniture.