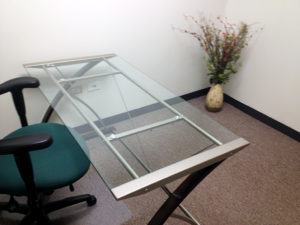 You can easily transform an inexpensive desk purchased from an office supply store into a thing of beauty.  Just make an eye-catching wooden piece that sits over the existing top and you have a quick desk upgrade.
Start by edge gluing ¾" thick boards together. Once the boards are glued, you'll want the resulting panel to be about 2" over sized, both length and width, to allow for trimming and to accommodate the apron which you'll add later. (Tip: We used a Freud Glue-Line Rip Blade on the table saw to cut the boards to width which left an edge that was perfect for gluing, eliminating the needs for biscuits or other reinforcements.)
Next, make an apron by cutting 2" strips using the same type boards used for the top. Use a miter saw to make 45-degree cuts on the ends of the strips. Glue these strips under the desk top, around the outside edge of the panel. The strips form an apron on the underside of the panel and meet each other at mitered corners. This apron allows you to simply place your new desk top over the old one.
Then, we added a decorative edge. It's this edge that will transform your common boards into a professional looking finished project. (We used a chamfer bit in a hand-held router to create a 45-degree bevel.)
Finally, add a finish to make the grain pop out on your desk top. Make sure you apply a final coat of protection such as polyurethane for added durability.