Learn about one of the most useful accessories that can save your life this winter.
Winter is here, and that means icy streets and sidewalks. Now we have all experienced that terrifying moment of slipping on ice. You're just walking minding your own business, and then you step on the ice wrong, and you tumble over. Incidents like that happen often, but the results can vary from getting back up or having to head to the hospital.
What if there was an easy solution to this issue? What if there was a simple device that you could put onto any pair of shoes or boots that would help give you traction? These little devices are Ice Cleats. They come in a variety of designs and sizes to fit any shoe and to fit your work.
How Do Ice Cleats Work?
Ice Cleats work by allowing for more gripping and traction by either having protruding studs or using a chain lining the bottom of the shoe. There are different kinds for different situations, but the idea works the same no matter the job. Made of heat-treated steel each small stud allows for tenacious grip and stability. The chain variation works similarly but for more extreme conditions.
What Kind of Design Should I Get?
Now, that all depends on a few things. Will you be using it for walking around only? Will you be working in them? How extreme are the work conditions? How cold will it be while you're outside? Will you be driving while using these cleat? A few simple questions to ask but they help slim down your choices. Getting you to the one that will best suit your needs.
To categorize them I've split them into one of three categories: One-Piece, Heels, or Chain. They all have the same use but with a specific job in mind, so without further adieu let's break them down.
The one-piece items are named for the fact they are one item that goes over each shoe. With a simple slide on design, they can go over most shoes and boots and come in varying sizes. These ice cleats are made with a stretchable rubber so they can easily slip on and adjust to different shoe designs.
One-Piece
Three types of cleats fall under this category the TREX 6300, 6304, and the 6310. The difference between the 6300 and 6304 is the number of studs built into the design. The 6300 has eight studs in the soles, and then the 6304 has twelve studs in their rubber soles. The 6310, on the other hand, has a different design and stud count. With a T-shape design and ten studs on the sole, you can easily slip it on as well but with the added benefit of tightening the top to fit your boots or shoes.
Thanks to its rubber material and studs, the one-pieces makes it ideal for jobs or terrains that do not have level areas or ground. Take them out on icy construction jobs, installations, deliveries, or even walking around, you will get more support and traction with these on compared to walking out with only your bare shoes.
Chain
The next design to discuss would be the chain traction ice cleat. The only model under this name would be the TREX 6320 Aggressive Spike, and its title speaks precisely to how effective it is on the ice and snow. Designed with an orange rubber sole, a durable stainless steel chain, and spike system, this makes for jobs that require high visibility and a lot of footwork easier. This specific one would be ideal for construction sites that can't be shut down for weather or for road crews that need to be out and clear the snow and ice for others who need to travel.
Heel
The final one to discuss is the heel. Again the lone item in this category is the TREX 6315, with a corrosion-resistant steel heel plate, a rugged webbing/ hook & loop strap, and a rear reflective accent to enhance visibility. This one has your heel covered and keeps the rest of your foot free to drive or climb stairs without worrying about damaging anything. But just because it focuses on the heel doesn't mean you lose any of the stability while working. Perfect for the driver on the crew who needs to load and unload the truck or for the mailman who has to deliver despite the rain, sleet, or snow.
S

o, Only Trades Professional Can Use Them?

By no means are these limited to trades professionals. While designed for them in mind anyone can use them. Especially those who are prone to slipping on ice should get a pair of ice cleats. These can save you from a nasty spill and a trip to the hospital. You can check out more information on the TREX 6300, the 6304, the 6310, the 6315, and the 6320.
Other Tips To Stay Safe During The Winter
At Acme Tools, we like to think of our customers like family. Sharing with them the tools and advice to keep them safe. We have another blog post with other useful tips and information on tools that you will need to stay safe during the winter. A personal favorite that has helped out many people is the penguin walk for those icy walks when you don't have a pair of ice cleats yet.
---
Could you use a pair of ice cleats this winter? Did you find this blog useful? Let us know in the comment section down below what you think of this item. Also, share it with a person you know that falls a lot could use a pair.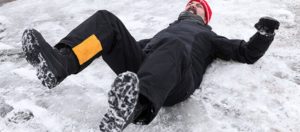 Check out more Ergodyne Products on Acme Tools website for the best tools and deals. Follow us on social media. Also stay up-to-date with the latest tool news and other ideas like this on our blog. Stay safe out there this winter so that way you can Always Do Your Best Work.