The Advantages of a Tool Bag over a Tool Box
There are many different options available to you for storing your tools. You can choose from a tool chest, a rolling toolbox, a cabinet, a metal or plastic toolbox, or a tool bag. They are all wonderful options, but many contractors and tradesmen are choosing to use a tool bag to lug all of their tools around. Let's look at some advantages of a tool bag over a tool box or other options.
Weight Considerations
Tool boxes are large and bulky, and tools can get lost quite easily depending on the style of box that you choose. Hard plastic tool boxes add to the weight of the overall load, and the handles are often very uncomfortable.
On the other hand, a tool bag is lightweight and very easy to carry from one area of the job to another. Most tool bags are made from a heavy duty and durable canvas, so the weight of the tools will not cause it to tear or rip with a lot of use.
Compartments and Pouches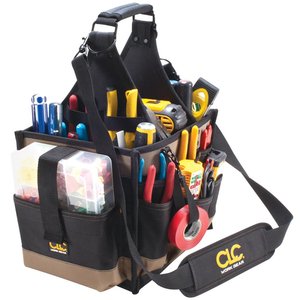 Some tool boxes have so many latching compartments that it makes it difficult to locate tools if they aren't placed perfectly back into their designated place when you're finished using them. An unorganized tool box without compartments can make it even more difficult to find the tools you need when you need them.
When you place your tools inside your new tool bag, take advantage of the pouches. Those pouches will allow you to store your tools vertically, so that you will never have to stop what you are doing to dig through everything to find the proper screwdriver, wrench, or your socket set. Some of our nicer tool bags have more than 20 individual pouches on the inside and outside of the tool bag, making them very convenient for organizational storage.
The compartments in a tool box often latch closed, which is great for transporting tools, but not so great for carrying them around the jobsite. A tool bag makes it much more convenient to reach into one of the many pouches to retrieve a tool instead of stopping to open boxes.
Versatility
A tool bag has the ability to zip closed and be carried like a regular tool box or you can open it up, effectively expanding the amount of interior space. The wide mouth design allows you to throw your extension cord, a few power tools, and a charged battery pack in the bag and carry it over your shoulder. Adjustable and padded shoulder straps make them very comfortable.
A tool box does not offer the expandability or the adjustable shoulder strap for ease of carrying. You would need to juggle the tool box with other boxes or bags for the larger items.
Protecting Small Items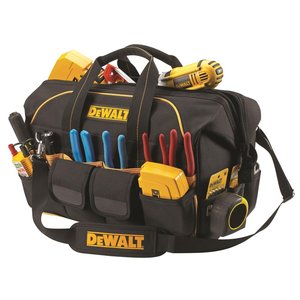 Many of the tool bags have a couple of items that we could never live without and those are padded spaces for our cell phones and tablets, and D-rings for keys and other small items. We love knowing that our gloves, water bottles, and anything else that we need immediately can be clipped onto the D-ring and therefore hangs on our bag where we can get to it easily.
Waterproof and Water Resistant
If you are worried about moisture or rain ruining a tool bag, we can assure you that we do sell tool bags that are waterproof and have water resistant bases. This means that you never have to stop working because it is raining or muddy out. We even carry a tool bag that has its own rain protection similar to a poncho.
Lights
Klein Tools and CLC are among two companies that make lighted tool bags. We all know how inconvenient it is to look into a dark bag for tools. These guys have made it so much easier by implementing lights in their tool bags. This way you don't have to search for your flashlight so you can search for your tools.
Speakers
Remember the good old days in the 90s and early 2000s when we carried a boombox to the construction site to blast cassette tapes while we worked all day long? Today's version of that is to use our cell phone or an MP3 player, right? Some of our best tool bags have built-in speakers to connect your cell phone or MP3 player so you can listen to your custom playlists or Pandora anywhere.
Sizes and Styles
Tool bags are available in many different sizes and styles and we recommend that you choose the one that will work best for your needs. You may find that a handheld bag with optional shoulder strap will work well or you may decide that a backpack version will fit your needs much better.