Southwire has made a tool that will make pulling cables and circuits through conduits seamless. Hassle free that even one man can do this job by himself.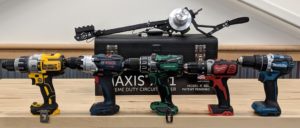 When finished with a worksites skeleton and the frames are up its time for an electrician or two to come in and get the site operational. That means setting up all the wires for the power. Connecting everything while following codes and fitting everything into specs. A demanding job to say the least. And the last thing you need is to have a task that takes up your time.
Time quickly consumed by having to feed and pull circuits and cables through conduits. It's nobodies favorite job to do, and it can be demanding, and frustrating, on any person and team. Regularly communicating between each other about any snags so you don't ruin the cable or the pipe, the cable tangling, and making sure that feeder and puller are going the same speed. This process can take minutes to hours depending on the size of the project. Even longer depending on how many bends are in the conduit along the way. That's where Southwires Maxis XD1 Extreme Duty Circuit Puller comes in and will change the way jobs get done forever.
What Does Circuit Puller Do?
As the title says, it does the same job as a team but can be done by two people, one if done by a seasoned professional. What the XD1 does is that it smoothly and consistently pulls circuits of various types through a conduit. Lessing the strain on a workers body, frustration, and saving them time from a would-be tedious job.
Able to steadily put out 600 lbs of pulling force and with a 1000 lbs. peak. This little device will make any electrician cheer in joy and relief once they get their hand on this device. Able to pull low voltage, branch home runs, lighting cables, and small circuit sized wires safer, faster, and more efficiently.
How Does the Circuit Puller Work?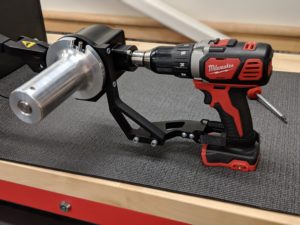 This tool is a simple attachment that accepts most commercial 18V drills and can be set-up and operated by one person. Attach a compatible drill to the XD1 and secure the chuck to the chuck adapter. After that, you're free to work with only the press of your drills trigger. Freely adjust the angle of how high or low you need the puller and extend arm up to 34.5".
But if you need to add more length, the tool can accept any 1" rigid conduit, extending your reach. That way, no matter how high or how low a conduit end is you can reach it without having to put yourself at risk. Not to forget that it also has a removable conduit adapter allowing to help in assisting in horizontal pulls. Adding more versatility and adaptability to a tool that will already save you in time on the jobsite.
Also with its lightweight build weighing at only 8 lbs., working overhead or in weird positions the user won't feel immediate discomfort from extended use. It also makes it easy to transport from location to location, giving you more flexibility to work anywhere on the worksite.
Built to Last
Some other features that this device also has is meant to make it have longevity. To go to the next site day in and day out for years to come. Anodized to resist corrosion, get this tool wet and put it through the works but you will never have to worry about rust. The capstan has a polyline pin to prevent slippage during pulls maximizing your work. Not to mention that it is removable to facilitate polyline removal.
But the polyline pin isn't the only removable piece, in case of breakage you can replace the chuck adapter. So instead of replacing the whole device, you remove the chuck, insert the new one, and get back to work.
Final Thoughts
For any electrician level, be it apprentice, journeyman, or master, this tool would change your work life. The work of a team can now be relegated to two people or even one person, while also making it faster, efficient, and easy to do.
Now, if you like having a team of people pulling and pushing wires this tool isn't for you. But if you like work getting done quickly, safely, and saving everyone some body aches you need the Southwire Maxis XD1 Xtreme Duty Circuit Puller.
---
If you're an electrician, are you excited about this new tool? Do you know an electrician who would appreciate this tool? Let us know in the comment section down below how much time this attachment will save you at work.
Keep updated on the latest tool news by following us on social media and by checking out our blog. There you can learn more about Southwire and other trade tips. As well as awesome DIY videos, tool highlights, and great gift guides.
Acme Tools also has the best online deals on your favorite brands and the latest tools when they are released. Stay on the lookout for this amazing device from Southwire so you can always Do Your Best Work.