A patio is a must-have outdoor feature for many homeowners. Patios provide a perfect space to relax or hold gatherings with friends and family. Besides the comfort and convenience it adds to your home, a patio also boosts the home's market value.
Regrettably, patios are often overlooked during home improvements and remodeling. This is unfortunate because they require fewer upgrades and less maintenance work than indoor living spaces. If you are a new homeowner, it's now the perfect time to consider customizing your patio to suit your preference and comfort needs. Below are the top ideas you can consider to spruce up your patio space without breaking the bank.
1. Patio Covers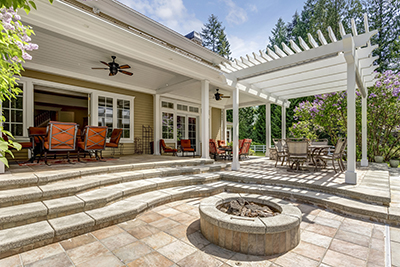 The sweltering summertime sun is the main factor deterring outdoor lovers from spending as much time outdoors as they would wish. Unless you want to turn lobster red, it is vital to consider adding some shade aspect to your home patio. A one-size-fits-all approach to patio shading in your home may not be appropriate. This is because visitors and other people who often relocate may need temporary shade options. Some viable options include;
Pergola– This is a rigid overhead structure that encloses your patio space. This private and cozy nook is ideal for individuals who own homes and are pretty handy with a hammer.
Cabanas– If you need a semi-permanent shade structure that you can pull down any time you wish, then a cabana is the way to go. You can use copper pipe frames with gossamer sheers or linen curtains to flow in the breeze. You can also choose to add swags of fabric to cover the top or leave it open.
Oversized Umbrella– This is a patio classic for several reasons. Umbrella coverage is easy to erect and take down at the end of the season. You can also move this shade when the sun shifts. This option offers a whole new level of versatility and mobility.
2. Invest In Quality Patio Furniture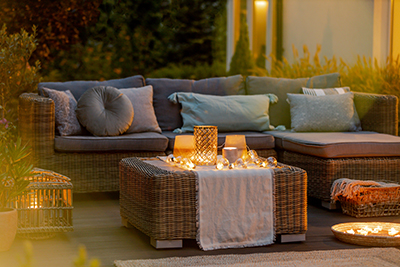 You will likely not want to spend more time outside if you don't have comfortable patio furniture. Armchair seating and patio couches are some of the best patio furniture options to purchase for your outdoor space. Just as you regularly change your interior design, it is important to review your exterior décor from time to time.
If you have recently installed a new patio, it is prudent to budget for furniture since you will be spending a considerable amount of time relaxing in the facility. The main goal here is to achieve comfort and functionality. Patio couches are a popular option because they are usually made of plastic or wicker material. They also include large, colorful, and fluffy cushions for optimum comfort.
Another trendy piece of furniture ideal for relaxing outdoors is a hammock. Hammocks are no longer reserved for lazy days at the beach. Much to renters' delight, many hammocks come with a sturdy structure, and there is no need to have a tree to support this patio furniture. If you have a large patio and planning to host many guests, make sure there is enough seating for everyone by investing in a quality outdoor dining set.
3. Add a Fire Pit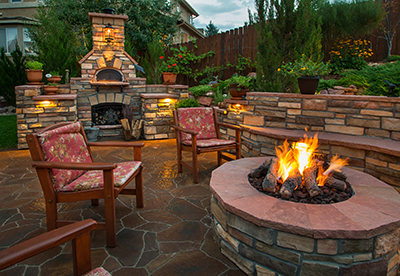 A fire pit is a brilliant idea to bring a cozy ambiance to your patio. The flicker of flames adds a pleasant vibe to your outdoor space while keeping your body warm and boosting the mood. Over the years, patios have become the go-to areas for holding small gatherings and hosting friends. This has fueled the need to make the most of this critical home extension. A fire pit can be used to extend the use of any outdoor living space into the colder night hours or during winter months.
Luckily, there are many fire pit options to fit any patio design and style. A common design is the classic fire bowl. If you love cooking outdoors, you can consider adding a fire pit design that doubles as a nifty grill. Also, be prepared for an impromptu outdoor meal with a fire pit that comes equipped with a detachable BBQ swing. To make your fire pit safe, ensure the fire is nowhere near a wooden structure or any other material that may catch fire.
4. Redo Your Patio Surface Finish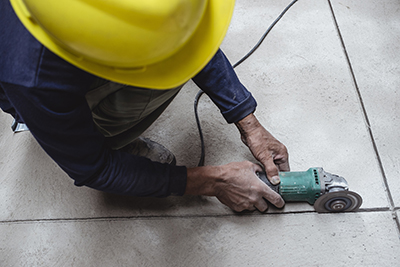 Give your tired patio surface a facelift with a new concrete finish. You can have your concrete surface redone by concrete specialists through scoring, staining, and additional paving. All these surface treatments are only possible on fully cured concrete.
Scoring Patterns- if you are tired of your smooth, old concrete surface finish, you can add scoring patterns to give it a fresh new look. These patterns are made by simply cutting into the surface about a quarter of an inch. An angle grinder can be used to provide precise cuts. These cuts are made in patterns across the paving. Well-implemented scoring patterns give the concrete surface a visual rhythm. Popular patterns for this technique include diamonds, recurring lines, and grids.
Stain- adding a new stain to a concrete field gives it a fresh vibe by adding new colors. Staining cured concrete involves breaking the surface of the concrete and altering the texture, color, or both. However, you will need to add sealant over the stain as this process weakens the concrete surface. Sealant prevents the paving from degradation.
Paving Veneer- you can add pavers to your existing patio surface. This is only possible if the new paved height of the surface does not pose any hazards to walking or drainage. The existing concrete surface will be used as a foundation. Pay close attention to your surface's added thickness and ensure the walkways or stairs match up to the added height.
5. Spruce Up Your Patio With Greenery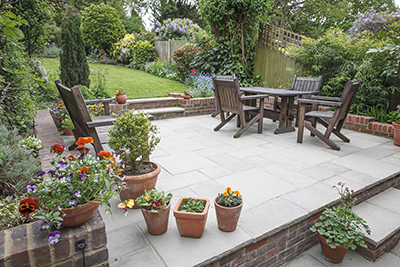 You can never go wrong with vegetation. Patios and other outdoor spaces like decks look rather uninviting if not furnished with greenery. Although there are many ways to achieve this, the simplest way to incorporate greenery into your patio is by using container gardens.
Patio planter pockets, although a viable option, may not offer the same convenience as containers. The main advantage of using container gardens is that they are portable. This means that you can grow tropical flowers in containers during the summertime and move them indoors when winter creeps in.
The beauty of greenery is that plants may eliminate the need to demolish an old patio to construct a new one. This is because they have the charm of hiding eyesores or the unforgiving lines on the hardscape features. However, avoid patio flowers if you are allergic to bee stings. Instead of flowers, which are bee magnets, consider foliage plants.
Bottom Line
A patio is a great feature that brings comfort and style to your home. However, just like any other living space, they need regular repairs and upgrades from time to time. Implementing the above patio improvement ideas will enhance your home's value and transform its appeal altogether.