Klein Tools built on the innovation of its hard hats line in its newest release of safety helmets. With fall protection safety at the forefront, the Class E and Class C helmets feature integrated chin straps. Both are tested for top, side, front, and back impact and penetration. Their compact design is perfect for confined spaces or at-height applications.
Non-vented Vs. Vented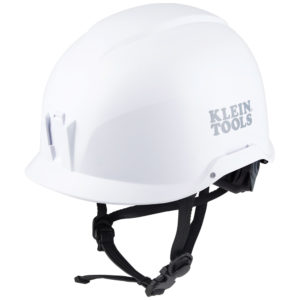 Klein offers two versions of their new safety helmets, Class E and Class C. Specifically designed for electricians, tower technicians and linemen working at height, the Class E provides up to 20kV of protection. The Class C features adjustable vents, which control airflow in both hot and cold weather. The compact design of the Class C is perfect for plumbers, carpenters, arborists, and general construction who work in tight spaces.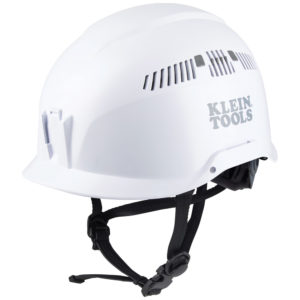 The E Class comes in two different colors, blue and white, with both classes having the option of an included rechargeable headlamp. They each feature accessory mounts, mounting points, and slots for a variety of accessories, including Klein half face visors, face shields and headlamps. Each accessory provides a higher level of safety. For example, front and rear mounts ensure Klein Headlamps attach securely and properly with no straps needed, while still providing comfort.
Comfort on top of safety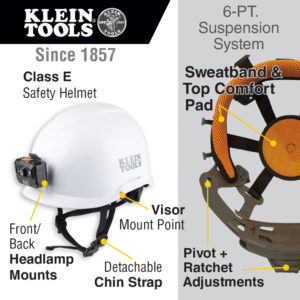 On top of safety, comfort is a priority of Klein's latest line. A four point-chin strap along with six-point suspension maintains stability and provides a secure fit. A sweatband and top comfort pad, made of sweat-wicking and breathable padding materials, provide extra coverage while preventing straps from digging into your head. All padding materials are machine washable. An open-frame design lets air circulate under the helmet providing another level of comfort. Rear neck pad maintains the location of a large-knob ratchet, which allows for easy one-hand adjustments, even with gloves on.