Makita launched a new line of products to address a demand for cordless landscaping equipment by professionals. Their LXT products eliminate the hassle of gas, with zero emissions, lower noise and reduced maintenance. The line includes a new Brushless Lawn Mower, Brush Cutter, String Trimmer, and Connector Series, including a Brushless String Trimmer.
Lawn Mower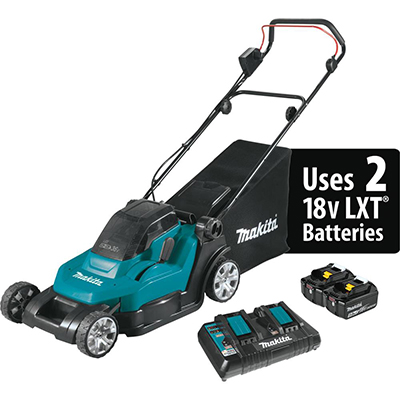 The 18V X2 (36V) LXT Cordless 17 inch Lawn Mower (XML05) operates at a lower noise level. So it provides both user comfort, and won't disturb neighbors and nearby businesses. The XML05's compact 18-inch deck is perfect for detailed landscaping and the 17-inch cutting width provides high-level performance. The mower is available in either a kit or tool only option.
The mower's plastic deck weighs less, making it easier to push, and it's capable of both mulching and bagging grass. Other features include a soft start, making start-ups much easier and providing a longer gear life. It also has, ball-bearing wheels for a smoother push, and a rubberized soft-grip handle for increased comfort.
Brush Cutter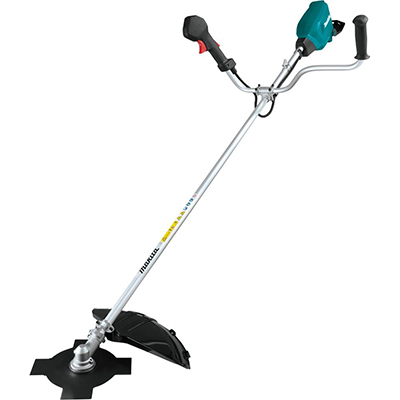 The 18V X2 (36V) LXT Cordless Brush Cutter (XRU16) delivers the power needed for commercial applications, without the hassle of gas. The XRU16 features a bike-handle design for improved grip and a variable speed trigger switch to easily control cutting speed. It includes a 9-inch Star Blade, 4T (B-14118), made of steel for more efficient cutting of grasses, shrubs and thicket. The XRU16 is available in either a kit or tool only option.
String Trimmer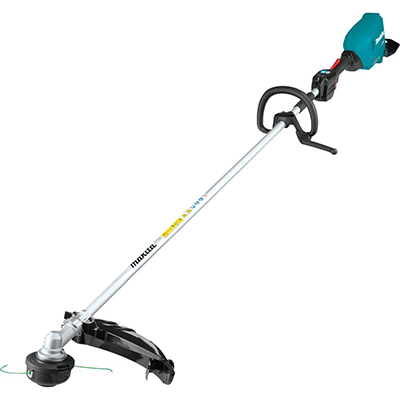 The 18V X2 (36V) LXT Brushless Cordless String Trimmer (XRU17) features a 17-inch cutting swath, therefore providing more coverage to increase efficiency. A loop handle with a barrier bar, shoulder strap, and a wide debris shield creates maximum comfort for commercial jobs. The XRU17 is available in either a kit or tool only option.
Connector Series
The Connector Series uses an external battery connection, moving the battery from the piece of equipment to a backpack. Shifting the battery's weight from the piece of landscaping equipment to the backpack improves balance and creates a longer run time. Paired with the LXT and LXT X2 Portable Backpack Power Supply, a user will gain twice the run time for any LXT X2 product.
"With the introduction of the Connector Series, Makita continues to grow its professional OPE portfolio. The Connector Series offers users a solution with the ideal balance of power and runtime. The cordless CRU03Z has the power equivalent to a 30cc gas-powered string trimmer. When combined with the PDC01 backpack battery supply, users benefit with continuous run time due to its interchangeable battery capability. The CRU03Z is the first of the Makita connector-only products that will allow professional landscapers to continue to replace gas-powered equipment."

Romique Talton, Senior Marketing Product Manager, Outdoor Power Equipment
Brushless String Trimmer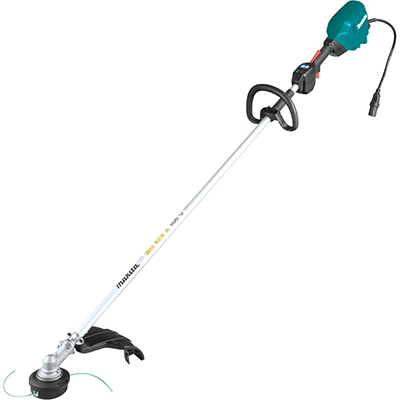 The first product in the Connector Series, the 36V Brushless String Trimmer (CRU03Z), features a 17-inch cutting swath, thus increasing productivity. Its efficient motor delivers power equivalent to a 30cc gas string trimmer, longer run time, and more power and speed.
The Automatic Torque Drive Technology mode of the CRU03Z switches between three different speed options (4,000/4,600/6,000 RPM) to extend run time or add power. It also features a reverse rotation function, allowing the user to quickly clear the trimmer head of any entangled weeds or grass.
Shop landscaping equipment at Acme Tools.