Trust Makita® ImpactX™ bits for reliable performance. These accessories are made from high-strength S2 steel to absorb the force of repeated blows. Makita ImpactX power bits can handle job after job.
Made To Last
The pieces in these sets are precisely machined to fit snugly into fastener heads to reduce cam out, which keeps heads from stripping. A heat treatment process adds even more strength to help Makita ImpactX insert bits hold up under pressure, and their optimized geometry allows them to grip fasteners tightly to prevent drops or skipping. The surfaces of the accessories are coated with manganese phosphate to protect against rust and corrosion.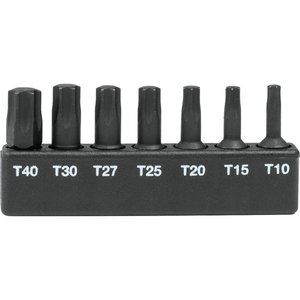 Available Sizes
These Makita ImpactX bits come in the most commonly used head types, including Philips, square (Robertson), slotted and Torx®, so you can work on all sorts of projects. You can get them in both standard insert form and as power bits for added durability and length. This series of tool accessories also includes socket extensions for reaching deep into pipes and machinery as well as magnetic nut drivers for faster installation and removal.
Makita ImpactX power bits and inserts come in professional-quality sets to give you everything you need for a range of jobs. These collections include pieces in several sizes that are designed to match the fasteners most commonly used in trade projects. They're compatible with any impact driver or drill/driver that accepts 1/4-inch hex ends.
These Makita ImpactX bit sets are designed for convenience and include rotating keeper trays for easy access and a loop at the end for hanging on wall pegs. The interior of the case's wide hinge contains a cylindrical storage unit that holds up to 50 loose pieces so you can bring along any other bits in your collection.