Metabo HPT has been innovative to the power tool world with its unique take on power with its MultiVolt System. Now they are ready to introduce a new tool to add on to their 36V line and give the user the freedom to work how they need to work. Metabo HPT introduces the 36V MultiVolt Brushless 10" Table Saw (C3610DRJQ4).
This portable table saw will offer all the power needed to get any task done as well as give the user the flexibility to work where ever the job takes them. Work without any power outlets or save your battery and plug into the closest wall socket. Get industry standard measurements for universal use with any blade but have improved safety with emergency stop innovation.
What's New?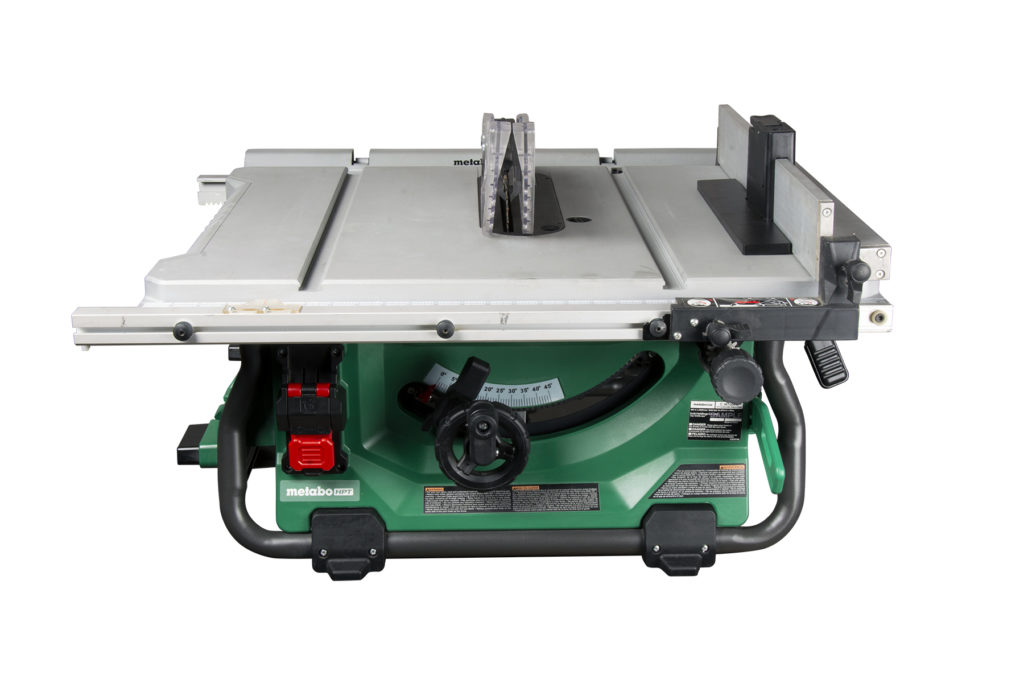 With a new Table Saw comes improvements to make cutting faster, cleaner, and more accurate to what you have planned. The C3610DRJQ4 has a DC Brushless motor that produces 5,000 RPM to cut through the toughest and thickest ripping applications. For increased accuracy, this tool has a bevel range of 0 to 45 degrees for cuts ranging from 3-1/8" (at 0 degrees) to 2-1/4" (at 45 degrees). Then to further increase the accuracy of your cuts this Metabo HPT table saw is equipped with a ¾" T-slot miter gauge. The gauge allows for large scale adjustments with positive stops at 0, 15, 30, 45, and 60 degrees to the left and right to guide material for a truer cut. Both the bevel scale and bevel height adjustment knobs for the blade are situated on the front of the cabinet for access and viewing.
Need More Space?
The one issue most portable table saws have is the limited space you have available. With the Metabo table saw you extend your reach with a telescoping table extension supports that extend 35" to the right for ripping capacity and also 22" to the left. This extended length all extends upon a 28-3/4" 22" working table that also has a 28-3/4" x 2" feed support for stability. So, whether your project works with standard 2×2's or grows into jobs that require bigger wood, rest assured that this saw can handle most situations that any job site or shop could toss its way.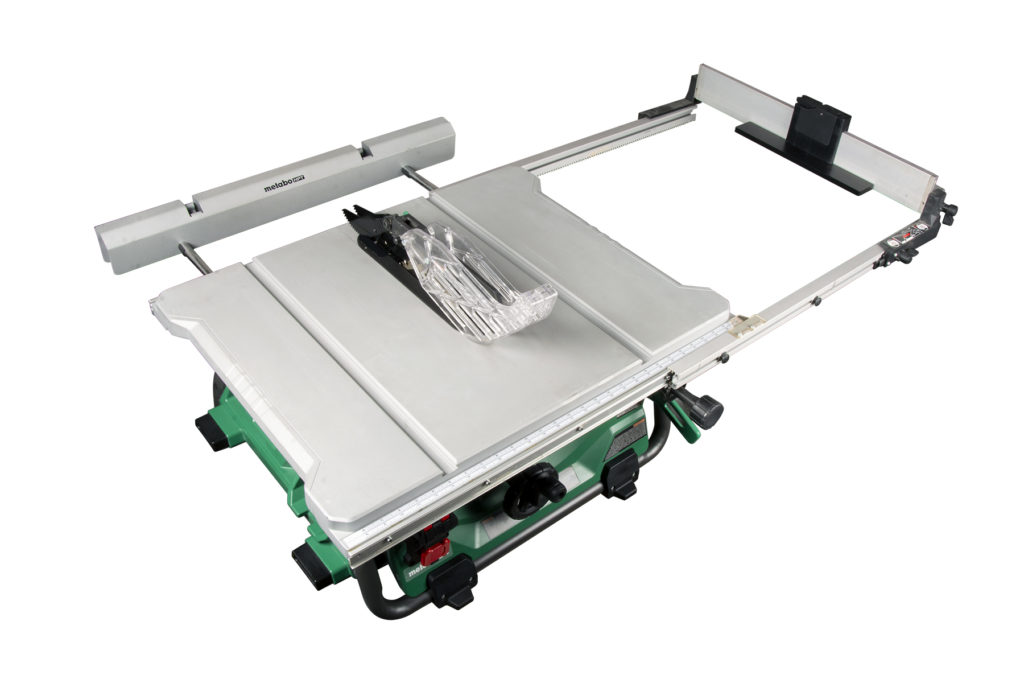 Safety Matters!
With great power also comes great liability for injuries, especially with a tool like a saw. Along with eliminating tripping hazards, the C3610DRJQ4 reduces the chance of getting hurt while using the table saw with multiple integrated functions. Those little features are active from the very moment you turn on the machine to the moment you need to shut it off the unexpectedly.
For starters, the soft start function that the saw has incorporated not only reduces the noise on start-up but also the chance of recoil. Then partnered with the electric brake that halts the rotation of the blade within seconds and the riving knife ensuring cutting material doesn't kick-back or bind, you have a tool that will minimize injury.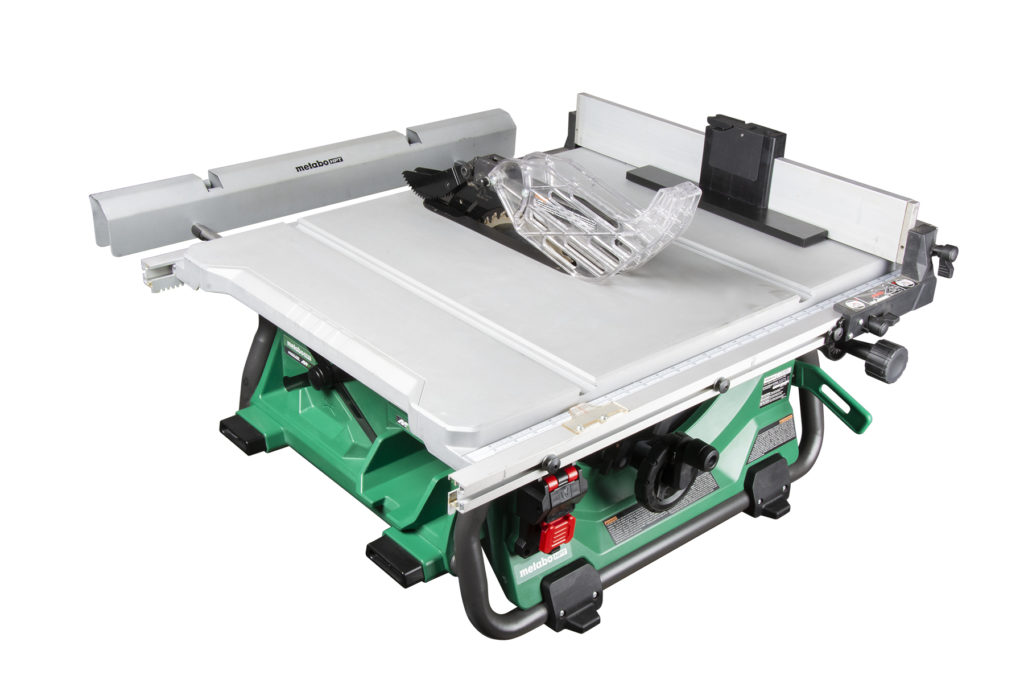 But for rare cases of emergencies and the saw has to be turned off immediately, the C3610DRJQ4 has an oversized power switch with an emergency safety cover. The switch was designed to be at knee level so for abrupt shutdowns you can use your knee to shut it off if your hands are unavailable. Because in a dire situation when the saw needs to be turned off, finding a tiny switch can be a problem, this design change gets rid of that issue.
Other Features
Some other handy features to go over as well is the dust port at the rear of the base that can connect to a shop vac or dust collection system with 2-1/2" port. This dust collection will allow you to maintain a clean work area and keep a clear line of cut. Then with on-tool accessory storage, you don't have to leave things lying around on the floor or counter space. Done with the push stick? Put it back in its compartment where it's out of the way.
Easily adjust your blade height or angle with this tool and even make dado cuts for projects that require them. The table saw can handle up to 8 x 13/16" dado stacks, adding onto the versatility of this device for when you're cutting.
What's In the Box?
With the purchase of this tool, you get a few things to get you started. These include: (1) 10" 40-T Carbide Tipped Blade, Blade Guard Assembly, Anti-Kickback Pawl Assembly, Miter Gauge Assembly, (1) Push Stick, Rip Fence Assembly, VIC Rip Fence Assembly, Out Feed Support Assembly, (2) Blade Wrenches, (1) 4mm Hex Bar Wrench, and (1) 2.5 mm Hex Key. Not to forget the actual saw itself which only weighs 67.3 lbs.
If you are looking for a battery, we regret to inform you that the C3610DRJQ4 does not come with a battery or adapter. As of right now there is not a kit offer either but Metabo is honoring a BUY a bare MutliVolt tool, Get a MultiVolt Battery/ Charger Starter Kit OR Multivolt AC Adaptor free.
Why Do I Need This?
This table saw is part of Metabo's push for power versatility for tools on the jobsite. Before the MultiVolt System, workers would have to bring two versions of the same device to the site. One would work on battery; its use would be for jobs that had no outlets or had electricity set up yet. Then you would also have a corded version for work that was closer to an outlet or generator. A practical idea, it did create problems from safety to inconvenience for the workers. For instance, with corded tools, your main limitation was where you could work dictated by how far your cord could stretch. Having extension cords was a solution but ask any safety manager, and they would say it's a tripping hazard waiting to happen.
Then with battery power, you do get the portability but have a limited run time until all the energy depletes. After that, you have to recharge your battery, which means spending downtime waiting for it to recharge. The option of multiple batteries is there, but if you have numerous battery operated tools running around on a site, it doesn't solve the issue. The worst thing about both types of machine is that it locks you into only one power type. With the MultiVolt System, adapt to your job and work how you need to work.
Final Thoughts
Mobility and power should never be separate when it comes to power tools. This Metabo HPT/ Hitachi table saw combines those two aspects to give you a powerful and portable table saw that can adapt to your job. Handle larger pieces of wood, make dados, and get accurate measurements for each cut. Then pair this machine with Metabo HPT/ Hitachi MultiVolt Power System, and you'll get power no matter where you go.