Milwaukee has done it again, and we wanted you to be the first ones to know about their BRAND NEW CORDLESS RIVET TOOL. This falls under the M12 platform and it doesn't let down. It's not regular for someone who builds and works in construction to complain. When they do it's usually something to listen to. For construction and building, it's always about being efficient and getting the job done as soon as you can while trying to avoid being hurt. The Milwaukee M12 Cordless Rivet Tool will do all this and do it while making you look like a pro.
What's Different?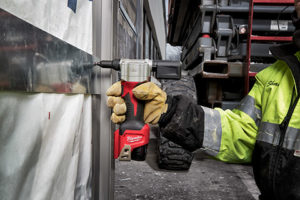 Milwaukee's M12 Cordless Rivet Tool is made for people in the professional trade, so it has some features in mind that would make any construction worker swoon. First, is how small it is and how it can fit in your hand like a glove. Not only that, it can be just as comfortable as when you're wearing gloves, no more worries of freezing fingers and putting your hand in danger. Not to mention it only weighs a mere 4.5 lbs., that's lighter than a Chihuahua.
This tool was also meant to be operated with one hand! So as you're working, you can check your Facebook on your phone, though we wouldn't recommend doing that. It is designed to put less effort on the wrist while using the tool, up to 65 percent less muscle effort compared to hand tools. The simplicity this tool has is great, while still maintaining a pull force of 2,0000 lbs! With these features and changes in design, it will ease you and your workers' load on aching muscles while getting your work done at a faster rate.
Why You Should Take Notice.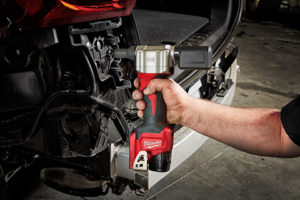 Not only being cordless but the tool has a great versatility. From a range of material: aluminum, steel, and stainless steel rivets, to different sizes: 3/32″, 1/8″, 5/32″, and 3/16″. This tool can fit the job you need that any hand tool could do and do it better.
But the main problem with electrical tools is mistreating it. Though that is a problem and we can't always see the future, Milwaukee's M12 has a way of making that problem small. With its REDLINK Intelligence hardware and software, it communicates between the tool, battery, and the charger. This helps it protect them from overloading, overheating, and over-discharging.
Other Features We Love:
A Variety of Nose Pieces
Long Motor Life
Drop Resistant
Part of the 90+ Solutions on M12 Battery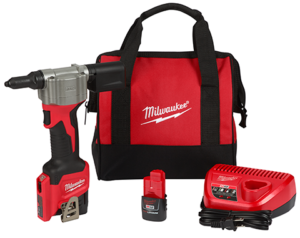 Final Thoughts
If you need portability, versatility, and something that doesn't cause body pain, this Cordless Rivet Tool is the thing for you! But if you like things the old fashion way, things that cause clunky problems, and have a tenancy of breaking down, this would be a hard pass. If you want to get ready for all the projects and get ahead you can order the 2550-22 (2) Battery Kit or 2550-20 Bare Tool at acmetools.com