Milwaukee is introducing their newest Large Angle Grinder, the first of its kind to run on the 18V platform as a kit. If you are in need of a new angle grinder or want to start investing in the Milwaukee tool line, there is no better place to start than with M18 FUEL 7" / 9" Larger Angle Grinder kit.
Why Should I Get This?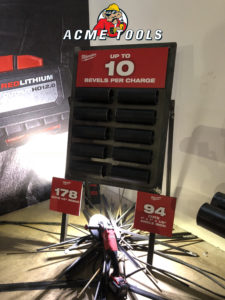 Milwaukee has powered each of their tools with smart technology to maximize their tools and battery for longer life and usage.
Milwaukee has made innovations toward how angle grinders are designed, making it easier to use, maintain, and maximizing its power usage. From the M18 REDLITHIUM High Output HD12.0 battery to the REDLINK PLUS™ Intelligence, everything in this tool had the user in mind to make their job easier and faster.
REDLINK PLUS Intelligence is one of Milwaukee's key features that protect the tool from overload and damage during heavy applications. The last thing you need to think about while doing a job is your battery overheating or your tool breaking on you. With the 2785 Milwaukee Angle Grinder, you won't have to worry.
FIXTEC is one of the redesigns from how other angle grinders work. Milwaukee has gone away with the wrench needed to switch out grinder blades. Instead, they have a "tool-less" system that allows for quick removal and installation. The "tool-less" system saves time from finding the wrench needed for the tool and allowing for faster replacements. No need for another device to get your tool to work as it should.
FUELed for the job
A POWERSTATE brushless motor provides the tool with up to 6,600 RPM and higher speeds under load for corded grinding and cutting performance. Not only does this tool get RPM equal to those of 15A corded angle grinder but with its brushless motor, longevity, and efficiency of the battery life increases significantly. More extended run time, tool longevity, and tool protection, the New 2785 Milwaukee M18 FUEL 7" / 9" Large Angle Grinder is ready for the toughest grinding, cutting, and job site.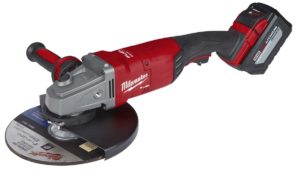 The RED LITHIUM High Output HD12.0 Battery runs 50% cooler and gives 50% more power compared to the standard RED LITHIUM HD batteries. Able to handle any job site with its new design making it more durable and efficient. Metal housing and gearing system provide the legendary durability of this tool making it perfect for demanding job sites.
Specs:
Both the 2785-21HD & the 2785-22HD kits have the M18 FUEL 7" / 9" Large Angle Grinder, M12 & M18 Multi-Voltage Rapid Charger, Type 27 9" Guard, Side Handle, FIXTEC Nut, Backing Flange, Wrench and Contractor Bag. The only difference between the kits is the number of batteries that come with each one. The 2785-21HD comes with only (1) M18 REDLITHIUM™ High Output HD12 Battery Pack while the 2785-22HD kit comes with (2) M18 REDLITHIUM™ High Output HD12 Battery Packs.
Final Thoughts
An angle grinder is a tool that is more versatile then you think. So, when you need a tool that can go from cutting tile, grinding metal, and finishing wood it needs to be reliable. Milwaukee's M18 FUEL 7" / 9" Angle Grinder Kit is perfect for any of those jobs I just listed. With a stable battery, a system that relays information about the status of your tool, a motor that can put in work, and designed to make your job easier, there is no question that if you need a new angle grinder, there is no better place to stop then Milwaukee.
Visit acmetools.com and check out this tool for pre-order and others like it. Let us know in the comment section down below how you have used your angle grinder.