Milwaukee has unveiled two new lighting solutions just in time for the holiday season. First up is the new M18 ROCKET Tower Light/Charger (2136-21), second is the M12 ROVER Service and Repair Flood Light w/USB Charging (2367-20).
M18 ROCKET Tower Light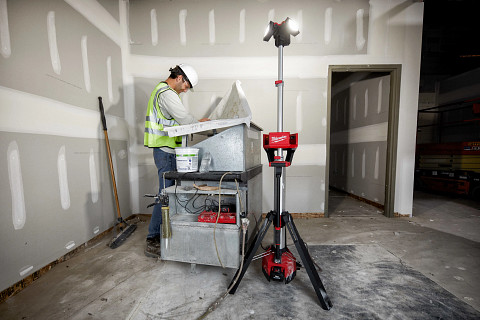 The new M18 ROCKET builds on the old model's success with over 6,000 lumens of light, double the previous version. The new light tower has all the original model features, including a multi-directional light head, allowing light to be directed in three different directions wherever it's needed. It also has three outputs for optimized control over the tower's 6,000 lumens.
An updated carry rail and carry bag allows for easy transport, and the light extends from 4 to 7 feet to light any overhead work or reduce shadows when casting light downward. The ROCKET features an integrated AC plug for use with an extension cord and an onboard M18 Battery charger and USB port for charging cell phones or other personal devices.
M12 ROVER Flood Light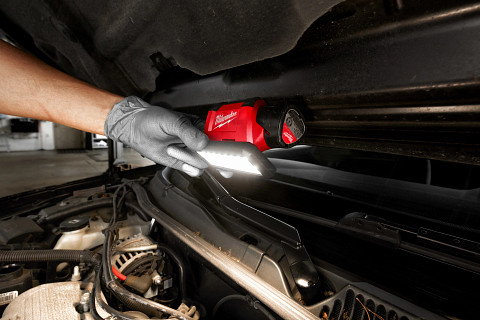 The M12 ROVER joins Milwaukee's extensive M12 Cordless system, providing a flexible light source for service and repair applications across many trades. The ROVER delivers 700 lumens and lights a workspace for up to 24 hours at a time when used with an M12 REDLITHIUM XC 4.0 battery pack.
For improved directional control, the floodlight features a 110-degree pivoting light head. It also has a rear-facing magnet to easily attach to steel studs, job boxes, or overhead I-Beams. The ROVER can withstand the harshest work environment with an impact-resistant lens that can withstand up to a 9-foot drop. It also features a 2.1 Amp USB port for device charging and an integrated keyhole for hanging on non-metal surfaces.
The new lighting solutions can be found at Acme Tools. M18 ROCKET tower light is available now and the M12 ROVER Flood Light is up for pre-order.