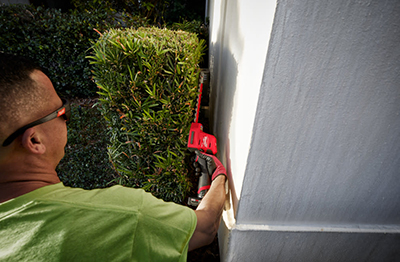 Its spring, and flowers, trees, and bushes are about to begin blooming again. Landscaping professionals will be out in full force, and they're always looking for more power in their cordless tools. Milwaukee is going to prepare you to keep your yard looking tidy with a new M12 FUEL 8-Inch Hedge Trimmer (2533-21).
The cordless trimmer packs a major punch with its brushless motor into a lighter, compact size that makes it easier to handle jobs in tight spaces without fatigue. All those bushes and trees will look well-groomed throughout the spring and summer seasons.
Milwaukee M12 FUEL Cordless Hedge Trimmer Features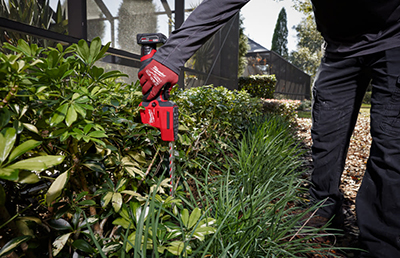 The new Milwaukee M12 FUEL 8-Inch Cordless Hedge Trimmer is specifically designed for unmatched control and access to help create masterpieces of your hedges. A compact design allows for better accessibility of shrubs and maneuverability in tight areas, so you don't have to worry about missing areas you're trimming. The battery-powered hedge trimmer weighs less than 4 pounds when a battery is attached, reducing hand and arm fatigue during projects. 
For more demanding applications, the 2533-21 trimmer features a 2,700 SPM POWERSTATE brushless motor capable of enough torque to give you a 1/2-inch cutting capacity for larger branches. An 8-inch blade length allows a larger cutting path and the ability to reach deeper spaces. The added power doesn't sacrifice any speed as the cordless trimmer is the fastest cutting tool in its class for increased application speed and overall productivity. 
Additional Features of M12 FUEL 8-Inch Hedge Trimmer
The M12 FUEL trimmer features a slim, ergonomic grip for comfortable one-handed use, making it easier to control during tougher applications. For added security, a blade tip guard protects the blade set while also preventing damage to property, such as fences or siding. An on-tool battery fuel gauge makes it easy to stay aware of how much charge is left on the power tool. A hang hole on the bottom of the trimmer allows for convenient storage of the trimmer when not in use.
Shop more outdoor power equipment from Milwaukee, such as their new cordless lawn mower, blowers, chainsaws, and string trimmers at Acme Tools.
M12 FUEL 8-Inch Cordless
Hedge Trimmer (2533-21)