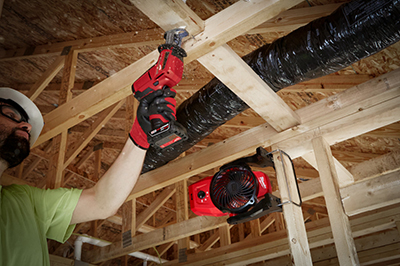 Summer months can get very hot for tradespeople, especially when working in areas with limited airflow. Milwaukee has just announced its new M12 Mounting Fan (0820-20) that provides enough power to compete with larger 18V fans. This new fan has 6-inch blades that propel air at a high-speed rate for an air velocity and volume comparable to their larger counterparts. The new cordless fan is perfect for cooling, drying, and ventilation and is compatible with all M12 batteries.
Being compact with excellent integrated features, this fan allows you to easily mount it in plenty of places around the jobsite, so you don't have to worry about staying cool no matter where you're working. That versatility combined with the extended run-time of the new cordless fan will ensure you're cool all day long.
Features
This new mounting fan is equipped with many great features. It delivers 18V air speed with a max air speed up to 14 MPH and a max air volume of 400 CFM. It offers even more top-notch performance with its 3-speed dial that has over 4 hours of run time on high and 16 hours of run time on low with an M12 XC 6.0 Ah battery allowing for all-day run time on a single battery charge.
For size, it's compact and smaller than the M18 Jobsite Fan making it easier to be used in tight space applications as well as its ergonomic design with two integrated handles.
Lastly is its outstanding versatility. It's equipped with powerful magnets, a 2-inch spring-loaded clamp, keyholes, and pass-through holes making this fan extremely adaptable to various jobsite mountain situations. No matter where you mount this fan, it has 360-degree head rotation for limitless directional airflow.
Milwaukee M12 Mounting Fan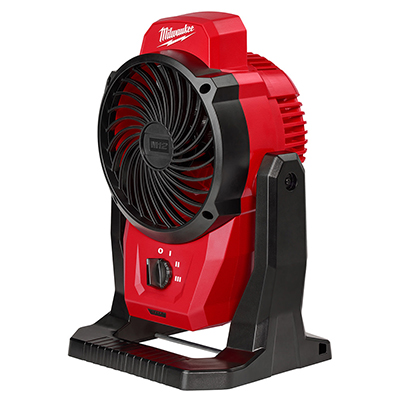 Shop the new Milwaukee M12 Mounting Fan now and other Milwaukee products at Acme Tools.