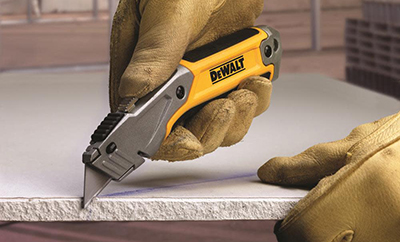 There's nothing in your toolbox that can make up for a quality knife. Whether it's a utility knife, hunting knife, pocket knife, or an everyday carry knife, you need a sharp, solid blade in your arsenal. There are a lot of things to consider when choosing the best knife, including blade type and material, weight, blade length, or non-assisted or assisted opening type. These features sometimes come down to personal preference but are also based on the main use of the knife.
But, before worrying about the features of the blade, you need to pick a style of blade. There are several styles of knives on the market, and choosing the best blade comes down to how you plan to use the knife. Maybe you're a tradesperson who needs a very specific knife for your profession or just looking to have an everyday carry knife available for various cuts. Our knife overview will briefly explain and compare a handful of utility, snap-off, everyday carry, and fixed blade knives.
Utility Knives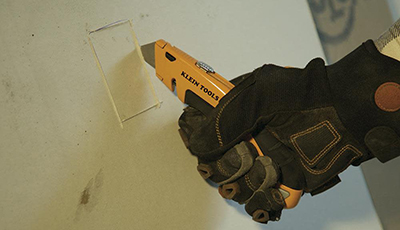 A utility knife gets its name basically because it has many uses for both trades and hobbyists. Ease of operation combined with the razor-sharp blade makes it a vital tool for anyone who needs to make a quick cut, whether it's something as simple as cutting open boxes or as large as slicing drywall. There are various features available in different utility blades, such as built-in blade storage, quick-blade removal, or a line/string cutting notch.
The main things you're looking for in a quality utility knife are:
A comfortable, ergonomic grip.
Sturdy body construction.
Smooth opening.
Easy access to blade storage.
There are two main styles: a retractable or folding utility knife. No matter the style, they fit easily in your pocket or tool belt for quick access, as you'll need them often.
Snap-Off Utility Knives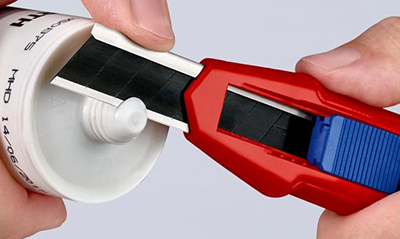 Snap-off utility knives work very similarly to traditional utility knives. The major difference between the two is that snap-off utility knives feature a blade made of several sections that can be broken off when the knife-edge gets dull. This essentially provides several blades out of one long blade that slides through the housing with a push trigger.
Snap-offs are built more for precision cutting that doesn't require a lot of power, such as cardboard or paper. The majority of these knives feature a plastic housing, but some have a metal housing for a little more heft while making cuts.
Other features that set the snap-off utility knife apart from a basic utility knife are a longer blade exposure, a quicker blade change out, and a safer alternative. Utility knives usually only expose about 3/4-inch of the blade, so you have a limited cutting depth. Snap-offs retract around a couple of inches if you need to make a deeper cut in something like foam insulation.
The snap-off feature allows a quick break of a dull section, while utility knives usually require the removal of the housing and flipping of the blade. While making that blade change, it's also safer in snap-offs as pliers are used to break the dull section with the tool acting as a barrier to the blade.
Everyday Carry Knives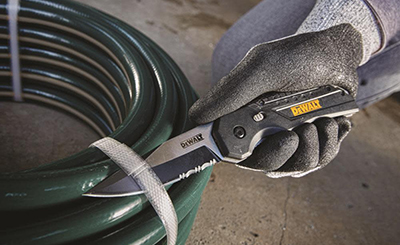 An everyday carry knife is aptly named because you carry it with you all the time, similar to a wallet, keys, or cell phone. Sometimes called pocket knives, they are compact, lightweight, durable, and multi-functional; and fit easily in your pocket for quick access whenever you need it during your everyday work. EDC knives are the most varied selection of knives with the largest selection of features, many different blade types, and blade materials.
The benefits of an everyday carry knife include convenience, utility, and emergencies. The size of an EDC blade makes it easy to carry on you at all times for whenever you may run into small, random cutting tasks, such as can cut tags, rope, or open packages. Most feature a pocket clip so you don't have to go digging through your pocket or tool belt.
Also, while camping, they're a good alternative to carrying around large, cumbersome hunting knives. In an emergency, they can be the thing that saves your life; for example, they can easily cut through a seat belt after a car accident.
Fixed Blade Knives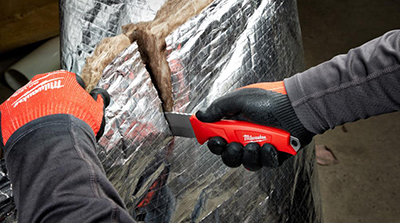 Fixed blade knives are the stronger counterparts to a foldable everyday carry knife. They are either full tang or partial tang, meaning they extend through the entire handle or partially, which gives them added durability and strength. Because of their design, fixed blade knives are ideal for tougher cutting applications such as field dressing or other tough camping tasks, where an EDC knife wouldn't be able to provide the same amount of leverage.
The straight, simple construction of a fixed blade knife makes them more durable as they're easier to clean and withstand the elements better. The durability of these blades also gives them a longer life span, so you don't have to worry about replacement for many years. There are some disadvantages to fixed blade knives, though. Their large size makes them tougher to carry with you at all times, so you have to know you're going to use the blade and remember to bring it with you.
Shop even more knives from some of the top brands in the industry, such as Milwaukee, DEWALT, Irwin, Gearwrench, Crescent, Stanley, Lenox, Klein Tools, and more at Acme Tools.