DeWalt Utility and Pocket Knives
An ideal knife for work is portable, easy to use, has multiple functions, can be handled with one hand, and is always easy to find. For most pocket knives it can be a hassle to find two or three of these things on one. With DeWalt's expansion on their knives, these new ones check all the boxes on the list.
Four new knives are coming into the market summer of 2018, and they are something to look for if you need a new blade or want the latest and greatest. All of them, compact and are comfortable in your hand (with or without work gloves). Depending on your job though you might need a particular knife, so which one do you choose?
The Fixed Folding Lockback Knife (DWHT10916)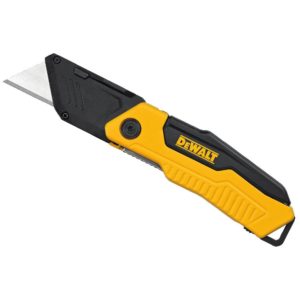 This particular knife is similar in its design to a box cutter so that it will have the portability of one. Along with the portability of this knife, you will also have blade storage integrated into it. Meaning if the blade brakes or dulls you already have a replacement ready. Another great integrated feature of this tool is that it has a belt clip and lanyard hole, to keep track of the knife if your pockets are full. With a durable aluminum housing, this tool can handle the toughest job sites.
The Spring Assist Pocket Knife (DWHT10911)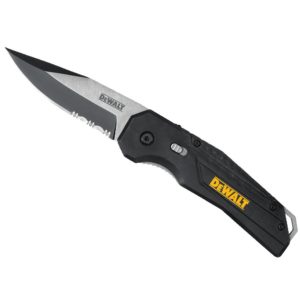 With a lightweight nylon composite grip, spring assisted opening for easy blade deployment, and a heavy-duty steel blade, this knife can get most jobs done with ease. Same with its Fixed Folding Knife counterpart it also has an integrated belt clip for easy storage on your belt when not in use. Perfect for the worker who has to cut through tough material and can't be bogged down with weight.
The Premium Spring Assist Pocket Knife (DWHT10912)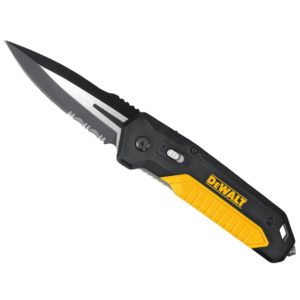 This knife is very similar to the Spring Assisted Pocket Knife but comes with a few different features. First off is the handle, a bi-material grip which gives comfort in cutting a series of materials. Second and probably the most important is the integrated glass breaker at the heel of the knife. Great for emergency responders, rescue workers, or to have in your glove compartment in a worst-case scenario.
The Pocket Knife with Ball Bearing Assist (DWHT10910)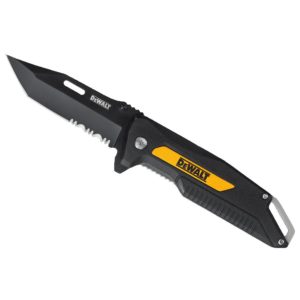 Designed with easy deployment in mind, you can open this blade with one hand. With a stainless steel blade, a piercing tanto tip, integrated belt clip, and comfortable rubber grip, this is a knife for a worker or for anyone who needs a handy pocket knife.
Final Thoughts
Every knife in this line can handle cutting through multiple materials; rope, plastic lining, cables, heavy fabrics, and more. Ranging from a low $7.99 to a high of $19.99, this is the perfect time of year to pick up one of these knives. Whether it be for work or recreational use, these knives can handle any job tossed their way.