Milwaukee tools is known for their cordless tools and improving on old tool designs. Personal lighting was no different in the eyes of Team Red for improvement and upgrade. Introducing not one, not two, not even three, but four new Milwaukee Rover lighting products to add to their tools.
In Blackest Night or Darkest Corner
You need to see to do your work, that's an undeniable fact. But there are sometimes when you can't bring in a work lamp onto your site. But then you remember that "handy" flashlight you got from the supermarket. Only to realize it's not bright enough for you to see. What do you do then? With Milwaukee's newest lights you can have a light that will be bright but not blinding.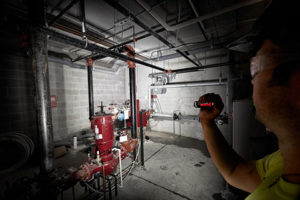 With other personal lights, they avoid higher lumens, but that means you get softer light or the opposite and you have a blinding beam that you can't see through. Milwaukee's new lights range from 300 to 550 lumens giving your light the ability to shine further. All the while not sacrificing the brightness you need and giving you a warm glow for your work area.
All the lights come with a variable light stage setting giving you the chance to tailor your light to fit your job. So you can have one that is perfect for pinpointing a certain spot on the job site to having another one that can illuminate a whole work area.
But in the dark, unexpected things can happen and you drop your light. These lights aren't delicate though and can take a drop or two. Though if you know you are a clumsy worker these lights also have clips to secure themselves to any belt or shirt. All are also water and dust resistant, which is perfect for any job site.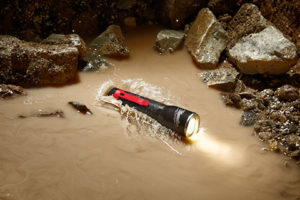 Milwaukee Rover: It's Above, Behind, or Beside You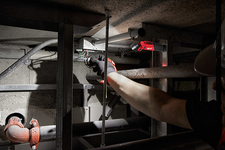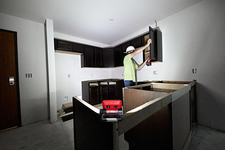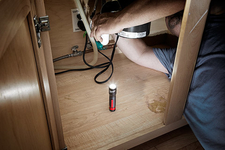 Designed to fit your job situation no matter where. In an electric box, or any place with a metal case, 2113-21, 2114-21, and 2108, all have magnetic bases that can stick to most metal surfaces. You can also adjust the light thanks to the pivoting heads on the 2113-21 and 2114-21 models. Giving you light where you need it to get the job done.
With the magnetic bases, this frees up your other hand to get your work done faster. Along with their pivoting heads that can adjust so, you don't have to keep moving the whole light to shine on your work. These features save time on the job site. No more unneeded postures to hold a light stable so you can see. Also, it can relax that one trades professional who is still afraid of the dark (you know which one.)
Hang it above your head to illuminates everything beneath you. Prop one up behind you to have an arc of light. Even have one in your shirt pocket or on your belt to shine on where you're working.
Rechargeable and One-Time Use Batteries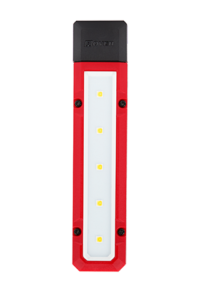 In an exciting move by Milwaukee, they are offering two of the new lights to run on standard batteries. The ROVER is operating on two AA and the 325L on three AAA.
This move will give those who don't want to invest into the battery platform an outlet to try the Milwaukee line. Great for those people who don't want to spend in a tool line that they might not even like. The tools will still be up to Milwaukee's standards of construction. While giving the option to use any batteries lying around in your truck, your toolbox, or at home.
While those who are invested into the Milwaukee line, or would like to be. You can choose between the Rechargeable ROVER Pivoting Flood Light or the Rechargeable Pivoting Flashlight. Both come with a REDLITHIUM USB battery, that can charge via micro USB.
Final Thoughts
You don't want to work in the dark, and you don't want to have to wear sunglasses inside to do a simple job. Milwaukee has created a medium for the personal light segment of tools. That way you can still see and not have to look away or squint at the work area.
These tools are perfect for jobs that have you working in dim lit areas. These lights will not only get the job done but will ensure you get it done in comfort, quick, and efficient.
Do these lights have you interested in more Milwaukee Tools? Check out the Milwaukee section at Acme Tool to find the coolest tools for your job. We also have articles about DeWalt, Bosch, and other tool lines that you can see as well on our blog. But no matter what brand you choose, Always Do Your Best Work.