A Strong Cordless Tradition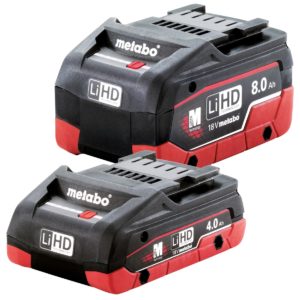 Metabo has long been known for their strong heritage of grinding and metal working tools, and in recent years they have also established a solid reputation for their battery technology.  They were the first brand to release a Lithium-Ion battery with 4 amp-hours, all the way back in 2013. They kept pushing the limits of their cordless power capabilities in 2015 by creating the LIthium High-Density compact batteries.  
Their latest innovation is the world-premier of 8.0 Amp hour and 4.0 Ah slim battery packs, delivering far greater function and usability than any previous generation, without any additional bulk.
Good Things In A Small Package
Don't let the slim profile deceive you: these new compact battery packs have more might than meets the eye.  Metabo Ultra-M technology serves as the foundation, holding more power and lasting longer than older models. The new 4.0AH pack is the same size as the previous 3.1Ah while delivering roughly 29% more power per charge.  
It also weighs 2.4 pounds less than a full-size 4.0Ah Lithium-Ion battery. The slim and light design make it perfect for small tasks such as drilling, and the low weight keeps it easy on your wrist and hand after using it all day.
For tasks that call for more energy, the new 8.0Ah battery is here to feed the high demand by tools such as angle grinders, saws, and rotary hammers.  The high-density technology lets you use these taxing tools without worrying about petering out at an inopportune time.
Made For Industrial Users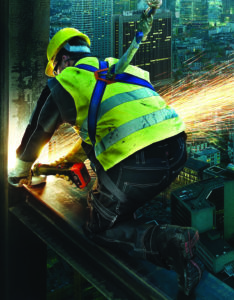 As a member of the Ultra-M family, these two new additions are compatible with all past, present, and future Metabo using the battery system.  The Ultra-M designation means that the batteries have an integrated computer chip that monitors discharge rates to ensure that no individual cells within the unit are working harder than others, as well as protecting the pack and distributing power evenly when it is placed on the charger.  
Importantly, the new high-density 18-volt batteries are fully compatible with the largest system of cordless specialty metalworking tools offered anywhere.  From angle grinders, pipe sanders, drills, and even the world's first cordless automatic tapping tool, they are endlessly exploring new niches to expand their ingenuity.
Other features we like
Batteries can be placed directly on the charger after use, with fans to keep it cool

Rubber molding on foot prevents tools from slipping with standing upright, as well as protecting surfaces from marring

3-year warranty on batteries and charger

Battery fuel gauge on the front of the unit is easy to see while working

An improved seal keeps harmful debris from infiltrating the casing
New Units Available Soon
625367000 4.0Ah 18V Li-HD Battery unit
625369000 8.0Ah 18V Li-HD Battery unit