The TrapSnake™ by Milwaukee is an innovative tool for any plumber. But if it is your first time using one, it might be confusing. So to help out any first timer with this issue we have made a step-by-step guide on how to feed and retract the second half of the cable for the TrapSnake™.
Feeding The Second Half of The Cable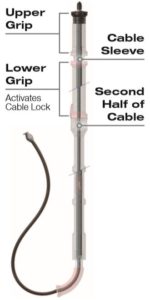 Now, once done with the job, you will have to retract that excess cable, or you'll have a huge mess.
Retracting the Second Half of Cable

Once done, snap the remaining cable onto the exterior of the machine. The clog gone, the job finished, and the tool ready for storage.
Though a short post it was because this is a straightforward process. Did you find this helpful at all? Let us know in the comment section down below. Share this post with any new plumbers and be sure to check out this tool at acmetools.com. Also, check out our blog for other helpful tips and buying guides.