When you're tired of pneumatic and need a battery option that fits the rest of your red tool collection then look no further than the M18FUEL 18 Gauge Brad Nailer. This nailer will be one of the most versatile tools needed when it comes to securing your wood projects. Not to mention leaving smaller holes which will save you time and money on filling each one.
Key Features
When it comes to finishing a project or needing to secure a beam on a job, having something bulky is not ideal. With other pneumatic nailers, you have to deal with a large machine and not to forget you have to connect a long hose to an air compressor. These attributes limit your reach, are inconvenient, and take up a lot of space where ever they go.
With the 2746-20 Brad Nailer, you ditch the hose and replace it with a battery that will offer you the power you want with the consistency you need. No need for gas cartridges either as this tool will run on one M18 battery. Use that battery to run your machine until the job is done or until the battery dies. When that happens, connect it to a charger and be back to work in no time.
With zero ramp-up time, save yourself from waiting, and being surprised when the nail shoots. Press the trigger and secure the nail into your work material with no wait time in-between. To save you more time, Milwaukee has also incorporated tool-free drive depth adjustment and a tool-free jam clearing latch. Giving you back the time you would have spent looking for a tool that would be in your bag to adjust the depth or make shifting one to remove a stuck nail.
Speaking of Safety
With any tool that can shoot out nails, Milwaukee has incorporated many safety features to prevent any misfires. A compact design that can fit in your bag or tool belt with ease means grabbing the trigger and squeezing when you're not thinking or in a rush. To avoid firing a nail into your belt, or worse, the brad nailer has a sequential and contact firing modes. That means to discharge a brad; you have to follow a specific order, an order you would use while working, for the tool to work.
Another handy feature is for the device itself to keep it functioning at its optimal efficiency. This feature is the dry fire lock system that prevents firing when you have run out of nails. Dry fire lock works on two fronts to protect the workpiece from unnecessary marring and scrapes and also extends the life of the tool.
Made to Fit You
Finally, this machine can be made to fit your job and your work habits as you need. A handy feature like a reversible belt hook gives you the option to set the hook for optimal performance. Grab your tool and start firing nails into the wall without having to waste time readjusting. Then switch between three interchangeable tips that are included to get the best result for your job.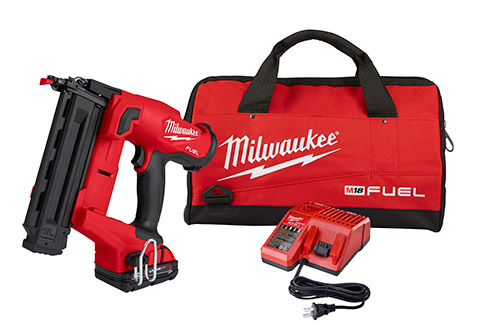 Final Thoughts
Made to reduce wait time, bulky material, and money spent, the M18 FUEL 18 Gauge Brad Nailer will do that and increase your productivity. For those who are already loyal fans of Team Red, you can buy this as a bare tool to add on to your growing collection. By chance, if you are new to Team Red purchase the tool as a kit and receive: the tool, a CP 2.0 battery, M18 and M12 Multi-Voltage Charger, reversible belt hook, and a contractor bag.