Milwaukee Tools has been one for innovation for tools and making the worksite a better place, that means any worksite. Working can sometimes lead you out of the ordinary jobsite, like hospitals, homes, and retirement homes, and these places usually don't like loud noises. That's where the new Milwaukee M12 FUEL SURGE ¼" Hex hydraulic Driver comes into play and will save your day. This tool is the first 12V hydraulic driver and offers you a solution to otherwise awkward situations.
What's New?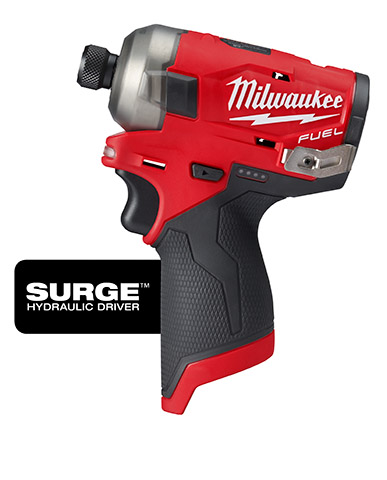 The first thing to notice about this tool is how quiet it runs during its operation. That's due to the FLUID-DRIVE hydraulic powertrain integrated into the driver. This new feature not only reduces sound, making it quieter to operate the tool but also causes less vibration to reduce fatigue, all the while not slowing you down. If anything, this machine can drive faster than other standard impact drivers.
What're the Features?
Beside the FLUID-DRIVE this machine also integrates POWERSTATE Brushless Motor, allowing the tool to deliver 0-3,000 RPM. It also comes with the REDLINK PLUS intelligence system, allowing you to prevent damage to the machine and overheating or overloading the battery.
Then 4-Mode DRIVE CONTROL provides the user greater control over output speed and power for the versatility needed to handle a variety of jobs. Also, the driver includes a Self-Tapping Screw mode to reduce walking when starting a self-tapping screw, as well as reduce breaking, stripping, and overdriving the screw.
Power this tool with either the REDLITHIUM Compact Batteries or the Extended Capacity Batteries. That way, you can get the power you need for the length of your job. Then with this tools light-weight, you can easily fit it into your tool belt or backpack and never notice the difference.
Final Thoughts
This tool is ideal for job sites that need silence or at least reduced noise. For those jobs that take you into those places, you don't want to waste your time hand screwing everything in, and you don't want to disturb your clients. The SURGE Hex Hydraulic Driver will give you the ability to work inside and outside with no problem.