DEWALT is making the construction industry one power tool better with the introduction of the SDS MAX Combination Hammer. The latest addition gives users the drilling power and innovative features that make concrete applications easier.
FLEXVOLT 60V MAX 1-3/4″ SDS MAX Combination Hammer
For fast and efficient drilling, the DEWALT Combination Hammer achieves 10.5 Joules and 380 RPM to get through the hardest concrete. For the best drilling experience, the Combination Hammer has an optimized drilling range between 5/8″ and 1-1/4″. The Hammer stands out from the others in the collection because of the integrated innovation.
DEWALT PERFORM & PROTECT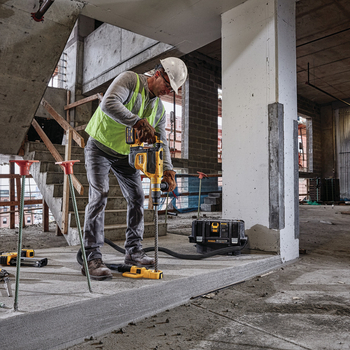 As part of the PERFORM & PROTECT collection of power tools, the Combination Hammer incorporates a design that provides a better user experience. The design offers a high level of control, dust containment, and low vibration, without sacrificing performance. It also comes with SHOCKS Active Vibration Control System. Additionally, the system reduces vibration that operators feel at the handles.
Constant Speed Control
Integrated Constant Speed Control allows the tool to maintain RPM for speed of application regardless of bit size or depth. Additionally, the variable speed dial provides accurate hole starting and controlled chipping and demolition work.
Wireless Tool Control
The DEWALT Combination Hammer utilizes wireless tool control, which is a feature also found on DEWALT Dust Extractors. The control allows users to pair the tool and extractor together for remote activation. The First Line of Defense dust extraction tools reduce silica dust exposure while also delivering unmatched performance.
SPECS
SDS MAX Combination Hammer (DCH614)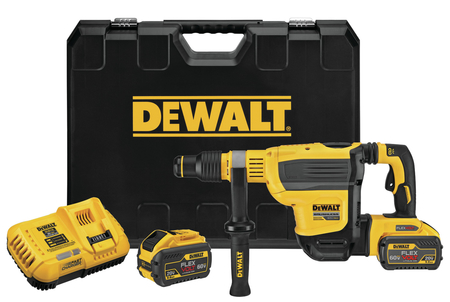 Battery:

(2) 9.0Ah

BPM:

1,450-2,900

Weight:

15 lbs

Length:

20.7"

Warranty:

three-year limited warranty, two-year free service contract, and a 90-day money-back guarantee

Also available as bare tool
Final Thoughts
DEWALT continues to make demolition work more powerful and efficient. As a result, the new 60V Combination Hammer exceeds user's expectations while breaking through masonry, tile, and concrete with ease. Shop Combination Hammers at an Acme Tools near you or visit our online store.