Fastest Drilling and Hardest Hitting SDS Max Rotary Hammer
A new tool is added to Milwaukee's ever-growing line of battery operated solutions.
Milwaukee is introducing a new and improved version of their Rotary Hammer the 2718-21HD SDS Max. This is Milwaukee's largest capacity drill, able to drill 1-3/4" of material with ease. Gaining new features such as being ONE-KEY equipped and AUTOSTOP technology. Innovations to the tool will increase worker productivity as well as their safety.
Battery Powered but Not Losing Power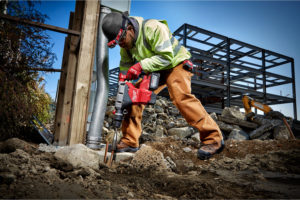 Able to generate power equivalent to a 15 amp corded hammer of the same size, this tool can handle any demolition job around the sight. Capable of chipping off a ½ ton of material per charge with the M18 REDLITHIUM HIGH OUTPUT HD 12.0 Battery. Able to perform at that capacity this tool can make you take notice of the battery platform and may even tempt you to try it out, at least once. Having the new HIGH OUTPUT HD 12.0 Battery installed provides 50% more power, runs 50% cooler, and delivers 33% more run-time than the M18 REDLITHIUM HD 9.0 Battery. This new battery will still run on other Milwaukee tools at a lower voltage and even improve productivity.
Saving you time looking for outlets to plug in your tool, as well as extension cords that can clutter the floor. With battery power have the freedom to walk around your jobsite, get to the spot you need to and have the power to chip or drill through whatever material work places in front of you.
AUTOSTOP to Stop You from Hurting Yourself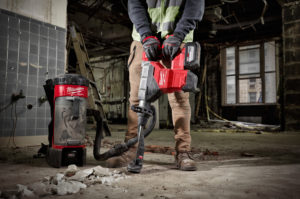 Even the most experienced worker can slip, and no matter your skill level, an injury is painful and costly. To avoid situations like those issue with the SDS Max Rotary Hammer, Milwaukee has engineered AUTOSTOP, an electromagnetic clutch. The clutch will kick in during lockups when in use, preventing over-rotation and minimizing it to only 45 degrees. That is significantly less compared to the usual 360-degree rotation users often experience with other hammers.
Keep Track of Your Tools with ONE-KEY
ONE-KEY being integrated into the 2718-21HD allows the user to identify where and when this tools last use is on the jobsite. The tracking can work with any device with the ONE-KEY app that comes within 100ft of the hammer, giving the user instant information on any tool. With that information you can share with other managers if a certain tool needs maintenance, if the battery needs a charge, and how the tool is performing. Saving you time while making you more efficient.
ONE-KEY also provides an extra layer of protection on the jobsite. For instance, if a tool should leave without authorization, you can remotely shut off the tool from your phone. The app will also send information about any tampering done to the device.
The final thing to note with ONE-KEY is that you can use the app to maximize the use of your tool and get the most out of each battery. Say your workers are working out in the daylight, you can adjust the how long the LED stays on, saving you energy on the battery. The same can be done in reverse if you're working in a dimly lit area and need more light. Adjust your tools use of power to start up, how high a settings RPM can go, and a plethora of other options.
Keeping Dust Away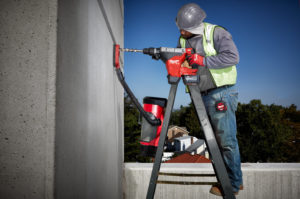 This tool is designed to make quick work of drilling and making large holes in any material. That said, if you are working with concrete, you will be around silica dust. The  SDS Max Rotary Hammer is compatible with the Universal SDS Max Dust Extraction Solution. Meaning that you can connect this tool to the dust extractor and get to work without having to worry about harmful dust entering your lungs.
What Does It Cost?
You can get this tool either as a 2-battery kit (2718-22HD), a bare tool (2718-20), or even corded if you prefer (5546-21). Corded lovers, unfortunately, will have to till March to get their hands on this tool if they want their plug.
The bare tool will cost $799 MSRP; the 2718-21HD will include the tool, (1) M18 REDLITHIUM HIGH DEMAND 12.0 Battery Pack, M18 and M12 Multi-Voltage Charger, Grease Tube, and Case costing $899 MSRP. They also have a variation kit where you can get two batteries with everything else and that will cost $999 MSRP. No word yet on the price corded rotary hammer, but we will update you as soon as we find out.
---
Final Thoughts
On a jobsite, a tool is an investment, and you need equipment that is of high quality. Milwaukee has developed a tool that has an AUTOSTOP system that protects the user from extreme injuries, a tracking system that allows for customization and security, a compatible dust extraction system, and can go toe-to-toe with other corded rotary hammers. If you believe that battery power can't compete with a plug or gas, this tool will have you thinking otherwise.
Did you find this blog useful? Want to stay updated with the latest tool news? Be sure to follow our blog and out social media for the latest posts and deals. Check out Milwaukee's brand page on acmetools.com, and you can find great deals daily.