A vacuum that can work as hard as you, go where you go, and will not slow you down with weight, sounds like a pipe dream. That's the thing with Milwaukee; they always like to work on making your dreams come true. The new 3-in-1 Back Pack Vacuum can handle the load of your work without holding you down with tedious issues like extension cords and bags.
Quiet and Powerful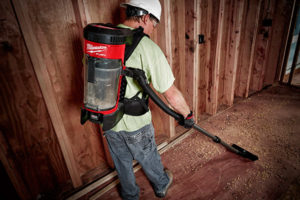 Work can already be loud, and you don't need a deafening vacuum going right next to you while you are cleaning. The Milwaukee 0885 Back Pack Vacuum operates three times quieter than other traditional job site vacuum emitting only 76 dB of noise. That's about equivalent to a dishwasher or washing machine running in someone's house.
Though it is quieter, don't think that you lost power from this tool, offering 55 CFM, 76" water lift, and 159 air watts. Able to quickly and efficiently take in debris as fine as concrete dust, bulky and heavy as wood/metal shavings, and any other common job site debris in-between. Don't worry though, Milwaukee has made sure that their filters are up to OSHA regulations when it comes to handling the threat of silica dust.
It Can Go Where You Go
One of the most outstanding things about this tool is its portability. Now, you hear portability and you might think it's just light to carry, and that's true in this case. It isn't just light though; strap it on your back, your cart, on your ladder, or carry it in your hand and take it anywhere you need to go. So depending on the job you're doing the vacuum can adapt to best fit for your comfort.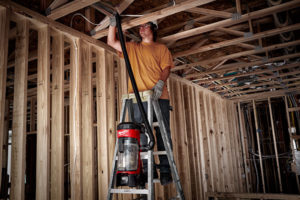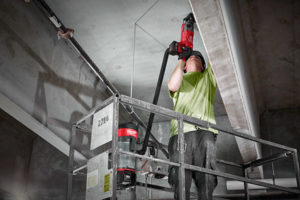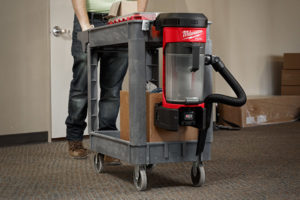 Have to move to another floor? Connect the vacuum to your cart and roll it with you. Have to get some wood shaving off from the rafters? Hang it off the ladder with the canister hook. Need to clean the whole floor after an entire day of work? Strap the vacuum to your back and run through the job in no time.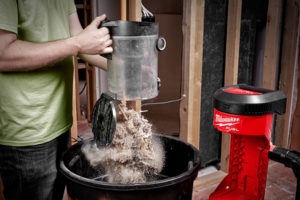 Cleaning the tool that cleans your job site can sometimes take a while but not with this vacuum. To dispense of a full container of dust, debris, or shavings, takes a push of a button on the canister. Once you have disposed of your waste appropriately in the proper container, reinsert the canister, and you are ready to start cleaning again.
Powered by the M18 Battery Platform, you can rest assured that if you own other Milwaukee tools, your vacuum will have power. With over 150 power tool products that work on the same platform, you are bound to get a lot done without ever having to slow down. Go from drilling to cleaning with just a click, and be done before the day ends.
Final Thoughts
Not many people enjoy cleaning, especially after a long day at work. The Milwaukee 3-in-1 vacuum cleaner won't make you enjoy it, but it will get the job done fast. Debris, residue, of shavings anywhere, won't stand a chance with this thing.
Pick up this vacuum either as a kit or as a bare tool. Check out this tool and many others at acmetools.com. Follow our blog for more tool news and the latest updates from your favorite brands. Rember, here at Acme Tool we encourage you to always "Do Your Best Work."