A new tool for plumbers and HVAC installers that solve some of the safety issues on the jobsite while making things more efficient.
For plumbers and HVAC installers drilling into corners, overheads, and through multiple layers of wood can be difficult. Not to mention tedious when you have to drill at least 40 or more holes to install pipes. That's why DeWalt is releasing a new In-Line Stud & Joist Drill to help this long and repetitive task easier on the worker.
DeWalt's new drill (DCD470) is a powerful instrument with a long run-time and a high-speed drilling capacity. Running off the FLEXVOLT Battery, this high torque right angle drill gets the job done. With fast application speed and adaptability to the job, it will also keep the user safe from harmful accidents.
Stay Safe with Mechanical and E-Clutch Systems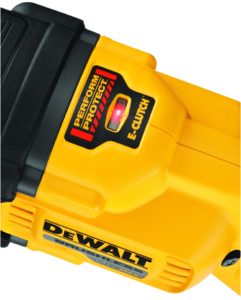 With a tool that rotates at high RPM, even while being precautious you can get hurt. Even the most experienced person can lose their grip on a tool when it hits a notch. That's why the DCD470 includes two clutches to protect the user from potential injury. You have both mechanical and E-Clutch Systems active to control the tool in high or low speeds. The E-Clutch will sense tool motion and eliminates torque when binding occurs by stopping the motor.
The problem of your old drill getting caught on a hard spot, escaping your grip, and hitting you, significantly decreases thanks to this technology. But it won't just shut off without letting you know why. Nothing is scarier than getting a new tool and thinking you already broke it in a matter of seconds. The E-Clutch System will indicate it has been activated by turning on an LED light on the drill. To restart the tool it is as simple as letting go of the trigger and pressing down again. Resetting yourself can be a bit time consuming, but it is far better to be safe than sorry. But DeWalt has included other features into the tool to help save you on time.
Shift Between Speeds and Get Into Tight Spaces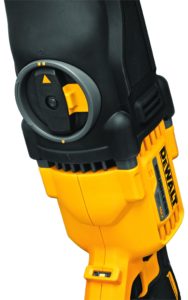 2-Speed Quick Shift allows the user to effortlessly shift between two speeds without having to feather the trigger. Saving you time from having to stop, set down the drill, adjust the speed, and start again. Depending on the material you're working on you can keep drilling and adapt as you go with the job. Sometimes you can feel the material needs a bit more power so you can ramp it up another gear. You can also slow it where you feel it may be too fragile and have to ease off a little.
Designed to make working in hard to reach and dark areas easier. For example, a shallow nose to get into tight spaces where a standard drill couldn't fit. An LED lights to illuminate your work area. Letting you drill in dark, tight areas of a home or site without having to carry a flashlight around or. Adding a bit more convenience with a 2-position side-handle adjustable to allow for more stability. For those rough spots that you can't always set your hand behind the head of the tool but still need to put more pressure. You can connect the pole and on either side and get better leverage that way. Then with a ½" keyed chuck you can use most drill bits and heads in your tool, and never lose track of the key with the onboard chuck key holder.
Protect Your Knuckles
Along with the E-Clutch System in the Joist Drill, they have also redesigned the handle to have a knuckle guard. The guard had the user in mind as nothing is worse as drilling, getting jerked a bit by the drill, and slamming your hand into a beam. It's painful and a bit embarrassing if anyone saw what happened. With less stress about this potential injury, you can work assured that you will be fine using this tool. That way even the newest member of the team or the do-it-yourself home renovator can pick up this drill and get to work.
Bluetooth Tool Connect Tag
The DeWalt Joist drill also has a mount for the Tool Connect Tag. If you worry about your tools getting stolen, or wondering where it is on the jobsite, these tags allow you to find it. As well as if the tool goes out-of-range you will be notified immediately. These are huge expenses on a single person or a company so being able to keep track of who has it, who had it last, and where it is, will put anyone at ease. With its distinct bright blue light, you can easily pair it and find it through almost any jobsite.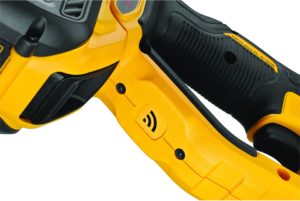 Get it as a Kit or a Bare
For anyone not already invested into the DeWalt line of tools and batteries getting this as a kit would be a significant investment. The kit will include: (1) 9.0Ah FLEXVOLT Battery, Charger, Kit Bag, and the drill itself for $549 MSRP (DCD470X1). For the established DeWalt tool user, you can pick up this tool bare for $399 MSRP (DCD470B).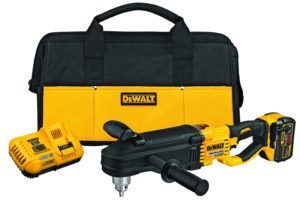 ---
Final Thoughts
For HVAC and plumbers, this tool will solve some of the problems when it comes to setting up a new system in a home. Allowing you to get up close to the beams, protecting your knuckles, and giving you comfort and stability while working. This tool is adaptable to most situations, intuitive to help protect you from injuries on the job, and comfortable that it fits in your hand seamlessly.
Check out Acme Tools for more DeWalt tools and accessories where you can find great deals. Also, check out Acme Tools Blog for the latest tool news from various brands, various tooltips and tricks, buying guides, and DIY projects from amazing Youtubers.