Do you need more space in your workshop? We'll show you how to utilize an overlooked area in your shop, the space underneath your table saw. Going step-by-step transform an otherwise unused area into your custom table saw cabinet.
I've been making an awful lot of storage cabinets and drawers lately. They are always a handy
piece of furniture to have, and the drawer space is always a welcome addition for clutter
prevention. If you went back over the last year and looked at all the videos I've done on the
subject, you'll notice I've never made one the same way twice.
I enjoy making shop furniture because it gives me an opportunity to practice an existing skill, or
learn a new one on something that isn't of any critical importance. I'm not making it as a gift, or
as a piece to sell – it's just for me. So I like to make them as nice as I can, but if it has flaws,
nobody cares and I can look at those flaws as learning experiences and lessons on how to do a
better job the next time.
First Time Using a Dado
In this case, the big difference is using a dado stack in my table saw for the first time to cut the
joinery. This is something I wasn't set up to do before with the small jobsite saw that I used to
have. When I was shopping for a new table saw, having the ability to do precise dado and
rabbet cuts was a high priority on my checklist.
Since this is my first time using a dado stack, I'm not going to try and give any sort of guidance
on the right way to use them. I was pretty cautious about setting up the different blades and I
worked carefully as I made cuts. The end result was one of the most stable cabinets I've ever
built, and it was really easy to put together because all the pieces lined up perfectly and held
each other in place. All I had to do was add glue and a few brad nails to hold it together.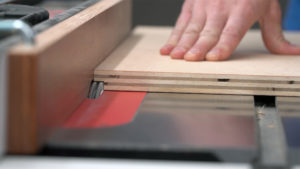 Decoration
The small pieces that I put across the front don't actually serve any functional purpose. I
decided I was going to use the front edges of this plywood box as a sort of face frame. So these
three strips, which I'm calling fake rails, are just cosmetic and will show through the gaps
between the middle drawers.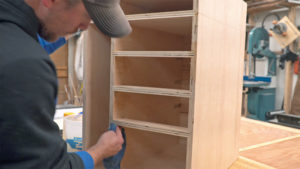 Let's Begin! But First, Measure Again.
I worked out the sizing of my drawers in my plans, but what works out perfectly in the virtual
world doesn't always line up in reality. To compensate for plywood that doesn't necessarily
measure up to it's claimed value, I measured the real space that the drawers would fit into.
I held one piece of plywood in place to account for the width lost in the drawer sides, then took
that measurement and subtracted another inch to account for the pair of drawer slides.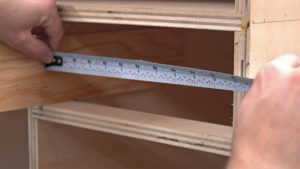 It Dado and Rabbet Season
After cutting all the drawer parts to their corrected sizes, I used the dado stack once again to
add a rabbet to the ends of the side pieces. Then I cut a thin dado into the inside face of every
drawer piece to create a channel for the drawer bottoms.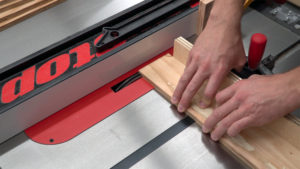 Assembly is a Piece of Cake
Assembling the drawers was once again, a piece of cake – thanks to having these pre-cut
grooves all set up correctly. I just provided a little encouragement with a mallet to get the drawer
bottoms in place. Then I put glue on the rabbets and slid the front and back pieces in place. A
few more brad nails held things together while the glue dried.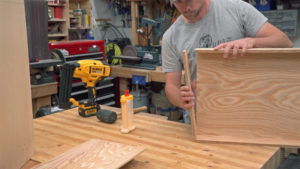 Installing the Slides
When putting the drawer slides on the vertical sliding panel, I just let them sit flat on the
workbench as a reference point. Next, I had to install the other pieces of the slides inside the
cabinet, and I like to do this with the cabinet laying on its side to avoid fighting gravity.
More out of sheer dumb luck than any sort of planning, I was able to push the slides uptight
against the top and bottom of the space and that put everything in perfect alignment.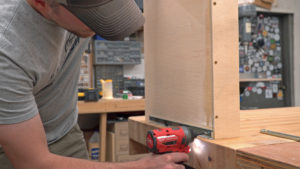 Time For the Drawers
Switching to the drawer bodies, I attached these slides with a half inch plywood spacer
underneath. This makes the full slide line up exactly with the bottom of the drawer.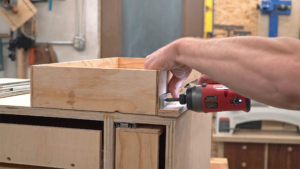 Use Scrap to Get Dummy Proof Installation
I used 2 scrap pieces cut just a shade higher than the top fake rail to reference off the bottom of
the cabinet. I butted the slide up to that and screwed it down, then flipped the cabinet over and
did the same thing.
Then I cut the scrap pieces to the height of the middle rail and repeated the process, and so on
until all the drawers were in. This is a good way to get a dummy proof installation with a very
minimal amount of waste material.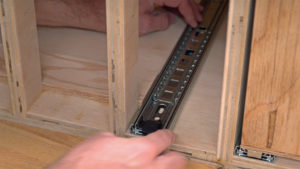 Making Drawer Fronts
I flattened and squared a rough sawn black walnut board then cut it down to size to make
drawer fronts out of it.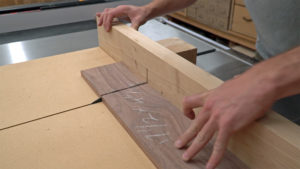 Getting a Good Angle
I used a bevel cutting jig to add an interesting profile around the face of each drawer front. You
might think you could make these cuts just by running the board along the fence, especially on
small pieces like these, but this jig makes the process much easier and safer by firmly holding
the workpiece and letting you keep your hands far out of harm's way.
Prepping the Draw Faces
I drilled holes for the handles at the drill press. Then I added some fast drying satin
polyurethane to make that black walnut pop.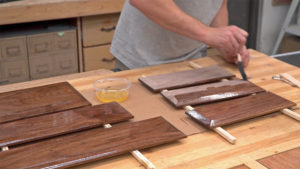 Lining Everything Up
I cut a strip of wood to exactly one-quarter inch to use as a spacer when lining up the faces on
the cabinet. Laying the strip on the workbench, I lined up the first face then fastened it to the
drawer behind it by running screws through the handle holes. I used another spacer to line up
the vertical face and attached it as well.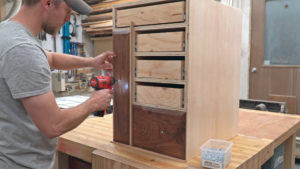 Coming Together
Then I just moved the spacers and worked my way up. I was actually pretty nervous that I would
have gotten one of my measurements wrong and these wouldn't line up right at this point. But
when I got to the two corners that would that would make or break this look, they were exactly in
line.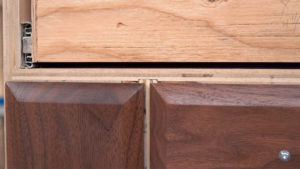 Installing Drawer Pulls
With all the faces lined up, I could pull the drawers out then run screws in from the back to hold
them in place permanently. Then I pulled the front screws back out and installed the drawer
pulls in their place.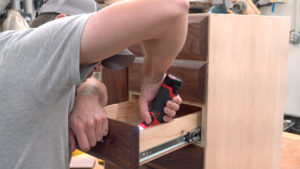 Marking Out Spaces
I spaced out the different things I wanted to hang from the sliding panel. Then made marks,
drilled a few holes and glued in dowels.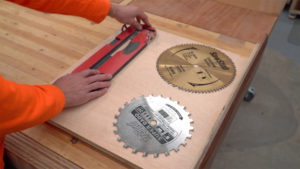 All Done!
At this point, the cabinet was finished, so I cleaned out space under the table saw, put the
cabinet in position and started loading it up. I want to point out that I didn't put wheels on this
because I don't intend for it to move around. And without wheels, I was able to get 3 to 4 more
inches of useable hight built into the cabinet.
My cabinet is sized to fit under a SawStop PCS with a 36-inch table. It should be very easy to
modify this design to fit with whatever table saw you have in your shop.
---
The Video and Blog Post was Created by Mark Chryst of Gunflint Designs in partnership with Acme Tools.  Check out more of Mark's work on his blog or on his website at Gunflint Designs.
Did you find this build useful? Interested in other builds like this? Follow our blog for the latest tools news, DIY builds, and other amazing tool information. Looking for a new saw as well? Check out our Top Table Saws of 2018 to find the best one for your shop or garage.