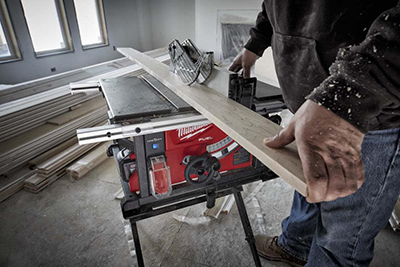 A table saw might be the most important tool in any workshop. The primary function of a table saw is to cut larger pieces of wood into smaller, manageable sizes. A table saw is much more versatile though. They're capable of ripping, crosscutting, bevel cuts, cutting rabbets and grooves, kerfing, and cutting joints.
Once you reach the point where you decide to purchase a table saw the task can seem daunting. There are many things to consider, such as model type, blade size, and rip capacity. One of the largest considerations is the type of table saw. There are portable types, such as benchtop, compact, jobsite, and stationary types, such as cabinet, hybrid, and contractor. Ultimately it comes down to your specific needs when choosing a table saw, whether you have a smaller shop, will be making many cuts, on a tighter budget, or are worried about the portability of the saw. We are here to help with the decision on a table saw with a list of the best ones in multiple categories and a detailed breakdown of a handful of features.
| | | | | | | |
| --- | --- | --- | --- | --- | --- | --- |
| Category | Product | Style | Blade Size | Rip Capacity | Weight (lbs.) | Product Info |
| Best Overall | DEWALT 10 In. Jobsite Table Saw with Rolling Stand | Jobsite | 10" | 32.5" | 90 | More Info |
| Best Portable | Skilsaw 10 In. Worm Drive Table Saw with Stand | Portable | 10" | 30.5" | 94 | More Info |
| Best Jobsite | DEWALT 8-1-4 In. Compact Jobsite Table Saw | Jobsite | 8.25" | 24.5" | 46 | More Info |
| Best Budget | SKIL Jobsite Table Saw | Jobsite | 10" | 25.5" | 60 | More Info |
| Best for Home Use (DIY) | Delta 10 In. Table Saw | Benchtop | 10" | 25" | 65 | More Info |
| Best Hybrid | Shop Fox 10 In. Hybrid Table Saw | Hybrid | 10" | 30" | 243 | More Info |
| Best for Professionals | Powermatic 3 HP Table Saw | Cabinet | 10" | 50" | 628 | More Info |
| Best for Small Shop | Laguna Tools 10 In. Fusion Table Saw | Cabinet | 10" | 30" | 195 | More Info |
| Best Cabinet | Sawstop 10 In. Professional Cabinet Saw | Cabinet | 10" | 36" | 426 | More Info |
| Best Cordless | Milwaukee M18 FUEL 8-1/4 In. Table Saw | Benchtop | 8.25" | 24.5" | 44.9 | More Info |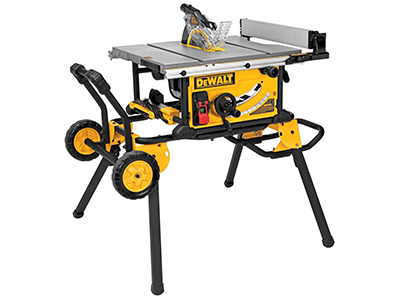 DEWALT's DWE7491RS 10 in. Jobsite Table Saw packs a punch and cuts through even the hardest woods. From its powerful 15amp motor and 32.5 in. rip capacity to its integrated dust vacuum and easy to transport rolling stand, this DEWALT Table Saw is ready to tackle your biggest woodworking projects.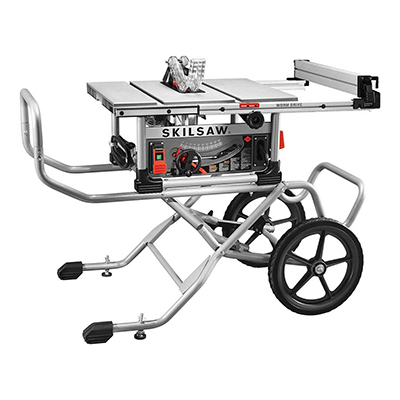 Skillsaw SPT99-12 is a sturdy table saw that features a worm drive with a 3-5/8" depth of cut and 30-1/2" rip capacity. Easily transport this around any terrain with its rugged rolling stand with 16" wheels. Take it up or down stairs with ease and manage going over grass, dirt, and thick roots. Work with increased productivity with a maximum RPM of 5,000 and motor that produces 4.4 hp. Get all your cuts done by yourself, no matter what the size, thanks to the left support allowing for larger pieces.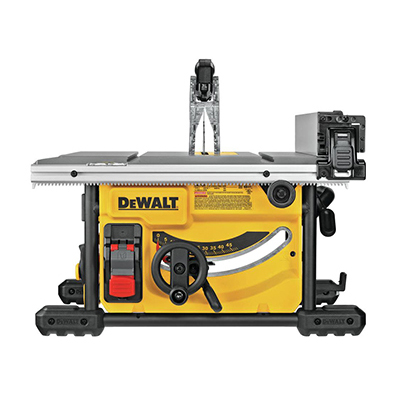 The lightest saw on this list, the DEWALT Compact Jobsite Table Saw is perfect for loading and unloading from your truck. At 15 inches wide by 23 inches long it's one of the smaller table saws on the market so it takes up less valuable space in your loadout. The rack and pinion telescoping fence rails extend out to make 24.5-inch rip cuts. The rails make fence adjustments fast and accurate for more efficiency on the jobsite.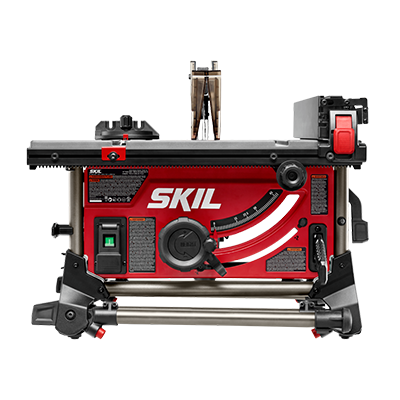 If you're looking for a saw that has tons of features but won't break the bank this is the table saw for you. This SKIL 10-inch Jobsite Table Saw has a 25-1/2-inch rip capacity and a 15-Amp motor, integrated foldable legs, rack and pinion fence rails, and a dust port elbow to keep your jobsite clean. Integrated foldable legs create a portable table saw that can be stood up to a height of 32 inches for comfortable cuts anywhere on the jobsite.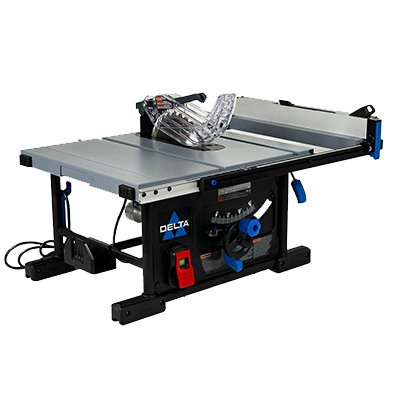 Working on projects around your household doesn't require a large cabinet table saw. This Delta 10-inch Table Saw is perfect for DIYers and at only 65 pounds can easily be transported around the home or sit atop your workbench. A telescoping rail system that creates a 25-inch rip capacity combined with an aluminum table-top capable of supporting almost 46 inches this saw is capable of downsizing larger sheets of material.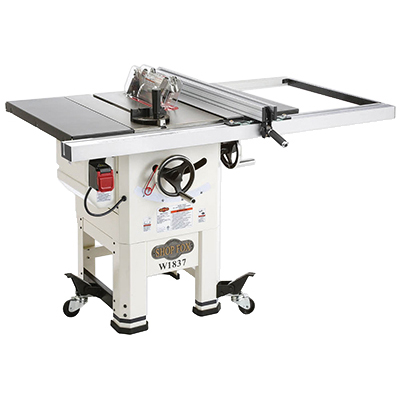 This hybrid open stand table saw from Shop Fox is the perfect solution for those looking to upgrade their workshop saw without the high price tag of a large cabinet saw. The 2 horsepower motor provides additional power and a larger rip capacity of 30 inches than a benchtop table saw. The W1837 also features a serpentine belt and pulley system for a smoother, quieter operation.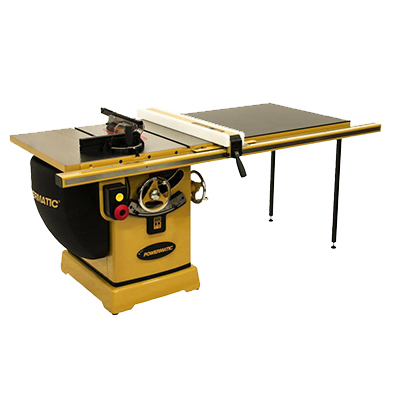 The Powermatic 3HP Table Saw is the best answer for professionals who need power and precision across many cuts. The blade tilt scale on the saw features an integrated digital read-out as well as adjustable angle indicators for jobs that require repeated identical cuts. The PM2000B also features a newly designed arbor lock for quick and easy blade changes, eliminating the need for dual arbor wrenches.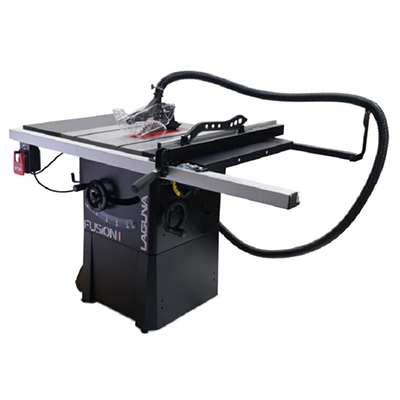 In a small shop, dust accumulates quickly and can be a huge pain. The Laguna Tools F1 Fusion Table Saw includes an overhead guard with an incorporated dust collection pickup to keep all that unwanted dust contained underneath the saw. The table saw is rather light for cabinet-style model at only 195 pounds so it can be moved around the shop if needed with less effort than larger table saws. The switch between the overhead saw guard and the riving knife is seamless with an easy lock nub.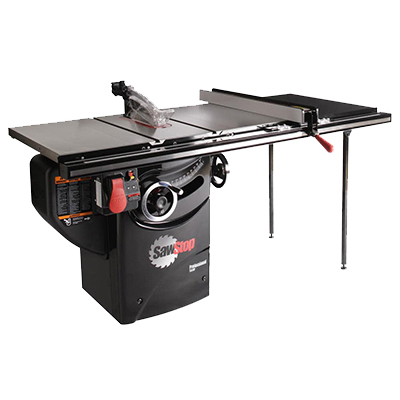 The SawStop 3 HP Professional Cabinet Table Saw features a 60 Hz motor for exceptional power and heavily constructed arbor bearings for increased durability. To reduce dulling, the saw features carbide-tipped saw blade teeth. The durable cast-iron table comes with extensions wings that offer 44 x 27 inches of space. Keep your workspace clean with the dust collection port that removes up to 99% of dust. Additionally, the tool features the SawStop Safety System that shuts down automatically when skin comes in contact with the blade.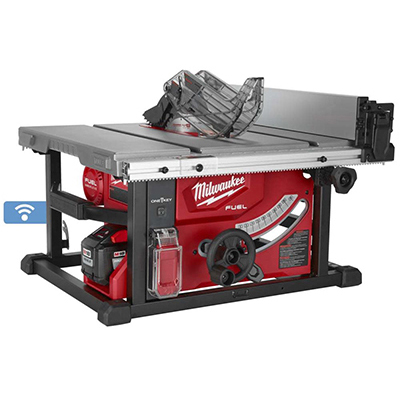 The battery-operated Milwaukee 2736-21HD Saw relies on a single M18 REDLITHIUM HIGH OUTPUT HD 12.0 battery that generates energy equivalent to a 15 Ah corded saw and produces 6,300 RPM. For the professional carpenter, remodeler, and general contractor, this table saw optimizes for power, productivity, and portability. Included in this machine is the REDLINK Plus intelligence to maximize the performance of your tool and will also protect from overload, overheating, and over-discharge. Keep track of where your saw is on the site with the ONE-KEY app and manage the output of how much energy the saw uses from your phone.
Shop many more table saws from some of the top brands in the industry at Acme Tools.